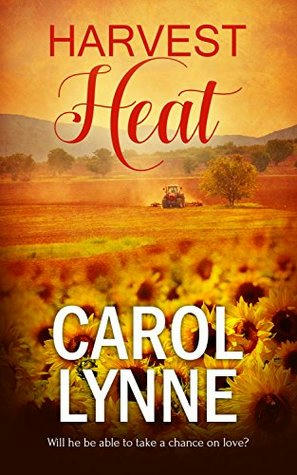 Title: Harvest Heat (2nd Edition)
Series: Australian #1
Author: Carol Lynne
Genre: Contemporary
Length: Novella (106 Pages)
Publisher: Pride Publishing (14th March 2017)
Heat Level: Moderate
Heart Rating: ♥♥♥♥ 4 Hearts
Blurb: Love blossoms in the heat and dust of the Outback.
Touring Australia before starting his life as a lawyer back in Kansas seemed like the perfect escape for James. A trip to the Mandarra Horticultural Show has him itching to work on an authentic Australian farm. What he doesn't expect to find in the bush is a field of sunflowers and a man who makes him tremble with need.
Lachlan has resigned himself to living alone in the Australian bush. Since returning from Sydney to run the family property, he's put his sexual desires on hold, knowing his mates would never understand. When he takes a chance and hires a good-looking young tourist to help him on the homestead, Lochie begins to wonder just how heated this year's harvest will be. Will he be able to put his worries aside and take a chance on love?
Publisher's Note: This book is a prequal to Sunshine, Sex & Sunflowers. This book has perviously been released elsewhere. It has been revised and re-edited for re-release with Pride Publishing.
ISBN: 978-1-78651-542-1
Product Link: https://www.pride-publishing.com/book/harvest-heat
Reviewer: Veronica
Review: While I can say that this is not the first story that I've read from this author, I can say that it's one of her best ones yet. I love her stories and will definitely be reading more of them. James' father wants him to continue in his footsteps and become a Lawyer, but that's just not James wants. He did everything that his dad wanted him to do, even attend Law school.  From the time that he was small, and visited his grandfather on his farm. That's what he wanted to do. Work with his hands in the soil.
James is in Australia visiting and he wants to experience as much of the beautiful country as he can, but he's running low on funds and have to find someplace where he can find some cheap labor working on a farm for cash. He's given a heads up about a farmer, but is told that he might or might not be hired. Lachlan is a farmer, who took over the family business when his dad died. He's trying to make ends meet and knows that it will be another difficult time harvesting alone.
From their first meeting, Jamie and Lachlan don't seem to have much in common other than their love of the land.  But as they get to know each other, the attraction between them is strong, and the lust between them begins to grow both in and out of the bedroom. Lachlan however is in the closet and none of his friends knows that he is gay, and Jamie isn't going back in for no-one. He's proud of who he is. At a get together, with friends, Jamie is attacked and beaten very badly. Lachlan has to decide if he will lose the man he loves because of hateful men, or because of his stubbornness, and Jamie needs to figure things out and decide if he can commit his future to be with a man that isn't willing to fight for what he wants.
This is a story that I would gladly recommend to anyone interested.