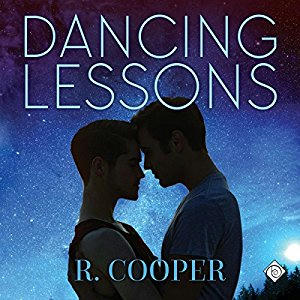 Title: Dancing Lessons
Author: R Cooper
Narrator: Brian Schell
Genre: Contemporary
Length: 5hrs, 17 mins
Publisher: Dreamspinner Press LLC (25th May 2016)
Heat Level: Moderate
Heart Rating: ♥♥♥♥ 4 Hearts
Blurb: Two years of living with his controlling boyfriend left Chico worn down long before that boyfriend revealed he'd been seeing someone else. With no other choice, Chico moves in above his cousin's garage in a small town in the redwoods, where he merely goes through the motions. To get him out of the house, his cousin pushes him to volunteer at a local dance studio to help with their annual show.
He's not expecting to end up in a dance class, or to start feeling alive again in the arms of his dance instructor. Rafael is the studio owners' son and was once a well-known dancer in his own right, but now enjoys being a teacher. Although Chico likes him, he's afraid of taking a chance. But Rafael is determined, and it only takes one dance for Chico to start to realize he might still have something to learn.
Product Link: Audible US | Audible UK
Reviewer: Prime
Review: Overall, I've given this story a 4/5 and that is mostly because of the actual story itself. Let me just put it out there: I was not a fan of the narration, it was bland and left a lot to be desired for – I just couldn't feel that the character's emotions were adequately conveyed throughout out the book. Although I have no doubt that there is plenty of emotion because I heard the words actually spoken.
The story itself is wonderful and terribly sweet and just has so much potential to pull at your heartstrings. I really do think that if people had issues with the narration reading the story would be a better option because honestly, if I hadn't been able to finish this audio I would have definitely gone for a copy of the ebook instead.
The story follows Chico and Rafael. Chico, I have to say, is the cause of most of the drama in this book. Which makes sense, the story is from his POV. Chico is down on his luck in life and love but a move to live in the apartment above his cousin's garage is slowly changing that. I mean slowly because Chico isn't in a rush to go out and meet new people and neither is he in a rush to improve his situation in general. Chico's cousin wants Chico to get out of the house and to do so sent him to the local dance school to volunteer for the big upcoming recital, which the whole town seems to get involved with.
This is where Rafael steps in – he comes from a family of famous dancers, he was been a professional dancer before turning towards the family business of teaching. He doesn't realize that Chico is actually lost and looking for his cousin when Chico stumbles into Rafe's class. What starts is Rafe's battle to try and get through Chico's defences and somehow find something that Chico can lend his skills to.
This is where I think that the narration really lets the story down. Part of the story is the ballet that the school is doing, the Clockwork Dancer. It's a whimsical story which is woven through the book and is very smartly used to reflect what's actually going on with Chico and Rafe. Unfortunately, boring narration did not let me feel this connection between the ballet and the story.