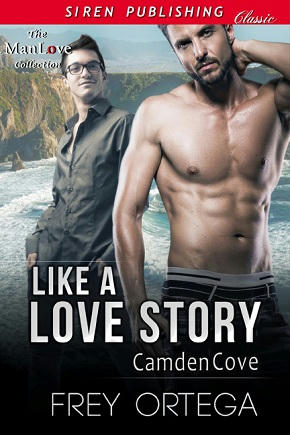 Title: Like A Love Story
Series: Camden Cove 01
Author: Frey Ortega
Genre: Contemporary
Length: Novella (39K words)
Publisher: Siren-Bookstrand (26th January 2017)
Heat Level: Moderate
Heart Rating: ♥♥♥♥♥ 5 Hearts
Blurb: Seth Stanford has had a pretty easy life for the past quarter of a century. But he's never quite fallen out of love with Hunter Rodriguez, his first crush—and his older brother's best friend.
Seth isn't idealizing a picture-perfect version of Hunter in his head. Seth knows all about the pros and cons of dating Hunter. But all of that changes when, one day, Hunter asks him out.
Maybe it has to do with the people around them meddling in their love life. Maybe it was Fate.
Seth just knows that whatever is happening between him and Hunter feels too much like a love story, and he's just waiting for the other shoe to drop. The fact is, this all feels just a little bit too fast and too much for him, and he doesn't know what to do.
Will he accept his happily ever after, or will Seth's worrying ruin his chance at happiness? 
ISBN: 978-1-68295-821-6
Product Link: http://www.bookstrand.com/book/like-a-love-story
Reviewer: Prime
Review: Like A Love Story is a super sweet story that would have you going into a diabetic coma – and totally the type of sappy story that I love to read. Number one, Frey Ortega is a go-to on my Siren Publishing authors list. I like the writing – the style and the pace of all the author's books is definitely an attraction. However, secondly, and most importantly this is the type of story which has a massive draw to me because I can't resist a love story between a guy and his brother's best friend, who in this case had left their small town home.
The story is about Seth Standford. His life appears to be in a bit of a slump, though he doesn't see it that way. Seth lives in his parent's basement playing games in his spare time. He's become a bit of a hermit, something that everyone around him worries about more than himself. Seth enjoys his online friends and his family is enough contact he needs at the moment. But then he hears the news that his secret crush – Hunter Rodriguez – his brother's best friend, is coming back to visit their small town of Camden Cove.
The Standford's and the Rodriguez's seem to be well to do upper crust of the local society, and add in the fact that Seth's brother is the mayor, it's the start of a clique group. When Seth's brother is sent to hospital after being hit by a drunk driver, this clique gets planning when they discover that Seth doesn't hate Hunter, but likes him. When Hunter does return he doesn't need much pushing in Seth's direction – at first it felt a bit shallow but it does quickly develop into something more.
There is a small dose of drama, which I have to admit that I saw coming a mile away. Nonetheless, it gave the story the little bit of a kick it needed to get Seth and Hunter to the end of HEA. Seriously can't wait for the next installment! Here's me hoping to read the story of Seth's brother (the town mayor) and Hunter's boss (a millionaire looking to invest in the town).