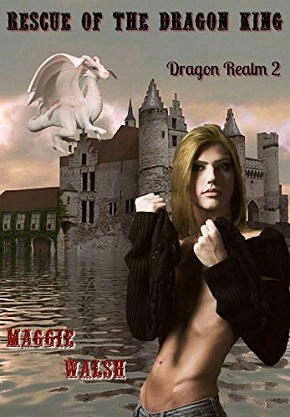 Title: Rescue of the Dragon King 
Series: Dragon Realm 02
Author: Maggie Walsh
Genre: Paranormal
Length: Novella (108pgs)
Publisher: Maggie Walsh (February 28, 2017)
Heat Level: Moderate
Heart Rating: ♥♥♥♥♥ 5 Hearts
Blurb: Leigh is the King of the Adaquo Clan of dragons, but he is unlike the other kings. Instead of being big, strong warriors, like his friends, he is a tall, slender, twink, who is very feminine in his features, and has the mouth of a champion in sarcasm. Due to Leigh's looks, his father, the previous king, taught Leigh how to fight so that he could not only lead his people, but defend himself.
Leigh has always had a crush on Grin, a soldier and warrior for the Ingenium Clan. When Grin comes to Leigh one night flirting, it shocks Leigh to his very core. The man of his dreams wants him too, and Leigh will not let this opportunity pass. Leigh and Grin declare their undying love for each other and claim one another as mate, but a new evil in Leigh's clan threatens to pull these two lovebirds apart.
When members of Leigh's clan go missing, he knows it is up to him as their king to protect them and stop this evil force, but to face it he must leave his warrior mate behind and fight this battle without him. When Leigh becomes a victim of the very evil that is threatening his people, Grin calls upon their friends, the other kings, as well as two magics, to aid him in his search for his missing mate.
Leigh finds himself in a very strange palace, surrounded by a veil of fog created by a very powerful sorcerer, with no hope of escape, and no hope of rescue. Can Leigh fight his way out of the hands of this madman? Is he destined to live his life without the man he loves? Or will his mate Rescue the Dragon King? .
ISBN: B06XCGBDRL
Product Link: https://www.amazon.com/dp/B06XCGBDRL
Reviewer: Shorty 
Review: In this exciting addition of the series we see Leigh in action as his people go missing he is determined to find out who took them and rescue them. The culprit is a race that is vicious and only wants to breed to ensure their race' survival. Unfortunately for them instead of humans they kidnapped dragon shifters.
I loved this story. Leigh is so delicate and beautiful yet deadly. I loved how he never backed down from a fight despite his small stature. He is fierce and a force to be reckoned with. I was thrilled when he and Grin finally got together as mates. 
Highly recommended.