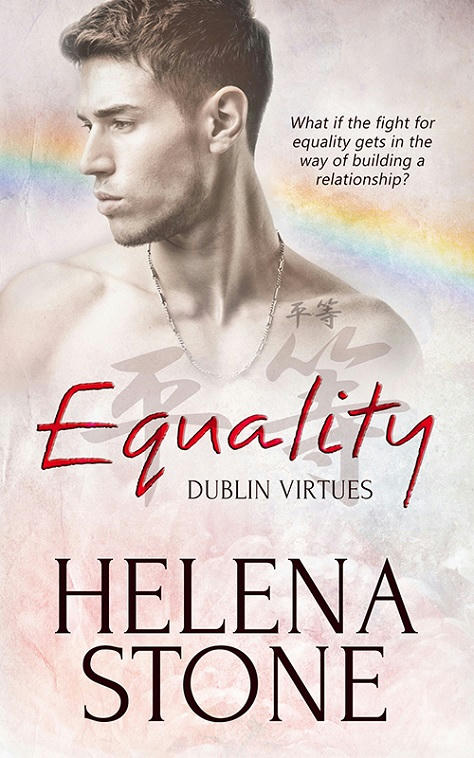 Title: Equality
Series: Dublin Virtues 02
Author: Helena Stone
Genre: Contemporary
Length: Novella (156pgs)
ISBN: 978-1-78651-553-7
Publisher: Pride Publishing (23rd May 2017)
Heat Level: Low – Moderate
Heart Rating: ♥♥♥♥ 4 Hearts
Reviewer: Pixie
Blurb: Love is love. But what if the fight for equality gets in the way of building a relationship?
Lorcan Barrett has never considered himself relationship material. After his parents made it perfectly clear they'd never welcome a partner of his into their home, he learned to love his own company and now can't imagine sharing his life with another. After a single passionate kiss with Eric Kavanagh—the night before he travels to Canada for three months—Lorcan's no longer sure he wants to be on his own. The problem is, he has no idea what sharing his life with someone else might entail.
Eric Kavanagh grew up in a loving and supportive family and had always assumed he'd end up in a committed relationship. Sure that he's found the one, Eric doesn't worry about the fact that Lorcan has no experience when it comes to love and relationships. They are good together, so what could possibly go wrong?
When both men get involved in the marriage equality referendum in Ireland, it appears to bring them even closer together, until Lorcan's insecurities get the upper hand and he shuts Eric out. Will the fight for a Yes vote cost them their relationship, or will they be able to find a balance between the love they share and the need for equality?
Purchase Link: https://www.pride-publishing.com/book/equality
Review: This book is part of a series and is best enjoy read in order.
Lorcan never really thought he'd ever have a relationship, while his parents might begrudgingly accept him as gay they made it perfectly clear that they would never accept any man that he was with, so he's closed himself off. But when Eric came along Lorcan's feelings blossom and now Lorcan eagerly awaits Eric's return from Canada.
Eric has always been accepted by his family and his family welcome Lorcan with open arms, but Eric knows that something is gnawing at Lorcan and as they get involved in the marriage equality referendum in Ireland Lorcan finally begins to open up about his family.
This is a great story about two men with different experiences of family trying to find a balance in their relationship, while seeking equality from not only a country but from family as well.
Eric is the perfect boyfriend, he's confident and secure in his place in the world and he knows what he wants… and he wants Lorcan. Lorcan has his share of worries; he has never had a relationship but Eric calls to him. Lorcan struggles to share his feelings with Eric, and he longs for acceptance from his family.  
This story is about so much more than a relationship between two men, it's also about the relationships that they have with their families as well. Because while Eric's family are fully supportive Lorcan's are far from it. We see Lorcan worry and angst about his family's reaction to his having someone in his life, his gran turns out to be an angel and his sister and brothers supportive but his parents; well they are another matter completely.
Lorcan has a lot of internal struggle; it begins to test his relationship with Eric especially when he begins to pull away from Eric. Eric tries to be understanding and he tries to remember that this is Lorcan's first relationship and he's experiencing everything relationship for the first time.
This is a wonderfully written story, while Eric and Lorcan's relationship does have its moments of tension it's Lorcan and his family problems that draws the focus. We get an amazing feeling of realness as Lorcan struggles; we get the pure frustration that just pores off him as he just wants what everyone 'hetero' has… just to be treated the same as everyone else. Equality.
I recommend this to those who love characters who have struggles, who adore lovely couples just fitting together, who cheer for equality, and those that love a wonderful ending.