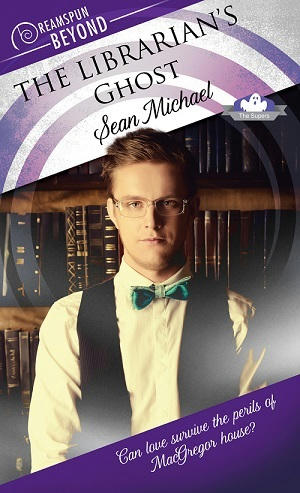 Title: The Librarian's Ghost
Series: The Supers 02 / Dreamspun Beyond 29
Author: Sean Michael
Genre: Paranormal, Spirits
Length: Novel (210 pages)
Publisher: Dreamspinner Press (2nd October 2018)
Heat Level: Explicit
Heart Rating: 💖💖💖💖💖 5 Hearts
Blurb: Can love survive the perils of MacGregor House?
The Supernatural Explorers are back and looking for their next big paranormal case. They might've found it in a plea from Payne, a mild-mannered librarian who has inherited the family mansion—MacGregor House. Since moving in a few months ago, Payne's exhausted the list of ghost hunters and experts in his quest for help. The Supers are his last chance.
So why does normally good-natured cameraman Will take an instant dislike to Payne? For that matter, why has he felt irritable and angry since they arrived at the site? It soon becomes clear that the answers they seek will be found in the basement—where nobody has gone since Payne was a little boy. As the haunting grows deadlier, things get sweeter between Will and Payne, but all hell's about to break loose when they breach the basement door.
Will they be ready?
ISBN: 978-1-64080-738-9
Product Link: Dreamspinner | Amazon US | Amazon UK
Reviewer: Prime
Review: The Librarian's Ghost is the second book in Sean Michael's The Supers series. I've been really looking forward to reading this one after really enjoying the first book, The Supers. Not only that, I've enjoyed a number of Sean Michael's books in the past and totally keen to give the author another go. I don't think you need to have read the first book to enjoy this one, but since I loved the first book I totally recommend reading it if you haven't already.
This is a fun story that reminds me something of a gothic romance. You got the big, old family estate that has more things that go bump in the night than you can poke a stick at. You have an almost recluse-type owner who inherited the place from his grandfather. Then you got the stranger who comes to help uncover the big mystery that is holding spirits to the home.
That's the key elements. Now for the MCs: one is the cameraman for The Supernatural Explorers, the group of friends who investigate haunted buildings, partly in the hope to make a television show. Will has been on enough cases to know that ghosts are real, but he still has a healthy skepticism.
Their client, Payne Macgregor, is a quiet librarian who likes to keep to himself and has painstakingly tried to renovate the rambling family mansion that he had inherited from his grandparents. His grandmother, who had recently died, hadn't exactly made it a secret that there were things that could hurt Payne in the home. However, it took Payne some time before he gave into the fact that he had ghosts. He just needed to find someone, or some people that could help him get rid of his angry housemates.
As I said before, the story is fun and I don't want to give too much away. This is a story that incorporates ghost hunting with family folklore. It's the stories from the Macgregor family's past that give the most important details. The problem is Payne doesn't know how to handle it all.
If you're not sure this is the type of book for you, I recommend this one for people that like watching supernatural investigations and would be intrigued in reading one where there is some great romance.