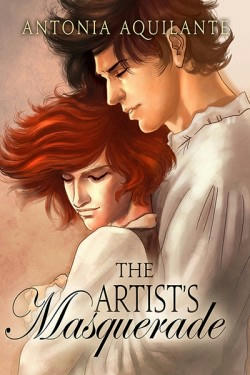 Title: The Artist's Masquerade
Series:  A Tale of Tournai 02
Author: Antonia Aquilante
Genre: High Fantasy, Fantasy
Length: Novel (300 pages)
Publisher: Dreamspinner Press (December 21, 2015)
Heat Level: Moderate
Heart Rating: ♥♥♥♥ 4 Hearts
Blurb: As the first-born son of the Duke of Tournai and cousin to the prince, Cathal has always tried to fulfill his duty to family and country, including following through with an arranged marriage to Velia, cousin to the emperor of Ardunn. But it's Velia's companion, Flavia, who fascinates Cathal. Cathal doesn't know that Flavia is really Flavian, a man masquerading as a woman to escape Ardunn, a restrictive place in which Flavian's preference for men is forbidden.
Even when Cathal discovers Flavian's true gender, he cannot fight his attraction to him. Flavian is intrigued by Cathal, but Cathal is still betrothed to Velia, and Flavian worries Cathal is more taken with his feminine illusion than the man beneath it. While both men battle their longings for each other, spies from Ardunn infiltrate the capital, attempting to uncover Tournai's weaknesses. They are also searching for Flavian, who possesses a magical Talent that allows him to see the truth of a person just by painting their portrait—a skill invaluable to Ardunn's emperor.
ISBN: 978-1-63476-749-1
Reviewer: Shorty
Product Link: Dreamspinner Press | Amazon UK | Amazon US
Review: This is the second book in A Tale of Tournai. The book starts out by Cathal accepting a betrothal set up by his father to Lady Velia.  I found it irritating that nothing was discussed with Cathal ahead of time; after all it is his life. As he's getting to know her he finds he's not attracted to her but to her companion Lady Flava, who is really a man masquerading as a woman.  
Etan, Cathal's brother, only wants his brother happy. So he wants him to follow his heart. Flavian wants to be allowed to love freely and it's the reason why he is Tournai as where he was wouldn't allow that. I really enjoyed the whole story. 
It was a really good book and I hope Etan gets his happy ever after at some point in the series. Wonderfully written story that draws you into a world where all is not as it seems. Love, honor and duty are important as well as deception are all throughout this story.
Great read.