Hi guys, we have Elin Gregory stopping by today with her new release The Bones of Our Fathers, we have a short interview with Elin, a great excerpt and a fantastic giveaway, so check out the post and click that giveaway link! <3 ~Pixie~
The Bones of Our Fathers
by
Elin Gregory
Malcolm Bright, brand new museum curator in a small Welsh Border town, is a little lonely until – acting as emergency archaeological consultant on a new housing development – he crosses the path of Rob Escley, aka Dirty Rob, who makes Mal's earth move in more ways than one.
Then Rob discovers something wonderful, and together they must combat greedy developers and a treasure hunter determined to get his hands on the find. Are desperate measures justified to save the bones of our fathers? Will Dirty Rob live up to his reputation? Do museum curators really do it meticulously?
Answers must be found for the sake of Mal's future, his happiness and his heart.
Interview with Elin Gregory!
Many thanks for hosting me today and allowing me to talk a little about how I set about writing stories. Because that's what they are to me – I have told stories to people for as long as I can remember, and started to write them down as soon as I could string words together. 
What part of writing a book comes the hardest for you?
I think it's probably the sheer slog of making time to get alone and quiet and concentrate. I really envy those people who can turn out decent prose with the TV on or music playing. I like my silence and that's very hard to come by. The next worst part is that awful feeling that hits me when I get about a third into the story where I lose all faith in it, and hate my characters and it's the worst apology for fiction EVER!!1! That there – usually about 35k words – was when I would abandon the story and start another one, or go back to the beginning and completely rewrite it from scratch, only to hit the same wall again. Now I grit my teeth and miserably churn out the dross until the feeling passes because I know that first drafts are always pants and there's very little a tough edit or four can't fix. Oh bit it's HARD, and I whine a lot to the dog about it.

What tool do you use to plan scenes? (such as index cards, white board, ouiji board, etc)
Ouiji board – heh, yes. It might be really handy when doing historicals. I can just imagine asking "Is there anyone there? Specifically anyone who can tell me what you had for breakfast in 1st century Londinium?" and being very frustrated because my spirit guide answered in Latin! But actually I am very fond of notebooks and have a happy ritual of starting a new one for each project. I favour spiral bound A5 ones with hard covers – they are about £1.50 from Wilkinsons – and choose pens that slot into the spiral spine without sticking out too much, for portability. Often my first draft goes in the notebook with copious notes and doodles and changes of mind. Once I feel a bit more confident what I'm doing I use Scrivener – sort of – to compile the scenes into a proper narrative. I was very daunted by Scrivener until someone told me to just use the bits of it that I found useful and worry about all the bells and whistles as I needed them. Once I think I'm done I compile the Scrivener project into a Word doc and give it a final scrub up before offering it to my betas.
I also draw maps and plans and sometimes draw the characters too. I love visual stimuli and have a Pinterest crammed with fabulous stuff to look at. I have to be careful though, because research can become a thing in its own right. Spend too much time trawling the net for interesting information and that book will never get written!

Do you take a break from a first draft to get distance from it, or dive right into editing, or edit heavily as you write?
Editing heavily as I wrote was one of the things that prevented me finishing anything. Now I fix easy stuff as I go along just for clarity – there's not much more frustrating than coming back to a piece after a break and finding a typo that makes a sentence completely unintelligible – but crack on and get the whole story done before going back and putting in the bits I missed out. Because I'm very action focussed, my first draft tends to be what actually happens. Subsequent drafts apply what everyone feels about it and how that impacts on their relationships. Sometimes that means changing what happens a bit but that's okay. It's a lot easier in Word than it was when it meant retyping or rewriting the whole Ms by hand.
Eventually I get it back from my betas – they are stars each and every one of them and I love them to bits – and do all the tweaks they suggest, which can be anything from "I don't think that word means what you think it means" to "You completely forgot to address this very important point and need three more chapters". 
Do you keep a file of plot ideas?
Not a file exactly. I have a special notebook where I write down the odd notions. Most of the ideas are very sketchy and most will never be written. I get story ideas at an average of 2 a day and very limited time to write so that ones about medieval stone masons building a castle in hostile territory, or motor racing at Brooklands, or shenanigans on a London to Sydney car rally in a Morris van will probably never be tackled. 
But sometimes I get an idea and it won't leave me alone. It bubbles away in the back of my mind until I have all of it, pretty much, and those are the ones who get their own notebook.

What was your inspiration for this story?
Partly my job – I've worked in a small local museum since 1982, on and off, in various capacities. One of the things we are often given are the reports and finds when alterations to an existing building, or a new development, or a road widening scheme turns up archaeological material. Sometimes it's just a few bits and pieces of bone and pottery, sometimes it's just a paper record and some photos. But on other occasions something special is found. Some years ago a company was putting in a huge gas pipe across miles of countryside and a metal detectorist got permission to scan the spoil heaps, right on the edge of the trench he found a previously unknown Roman burial consisting of a quantity of burned human bones and an almost perfect bronze mug with a leopard for a handle. These animal handled cups are known about from fragmentary finds and from mural paintings but this is the only intact sample from the whole of the Roman world. The leopard has silver spots and amber eyes and the whole thing is so fragile that it is kept in very controlled conditions in the National Museum of Wales. 
https://museum.wales/articles/2007-05-09/Exquisite-Roman-treasure-gives-up-its-secrets/
It's clear that there is still a great deal to be discovered so why not the scenario in my book? Who knows what's out there?

Excerpt!
Mal couldn't remember the last time he'd enjoyed an evening so much. Rob's frank appreciation, and that it was ignored by the others apart from a few gibes at Rob's expense, had filled Mal with a sense of confidence he didn't normally enjoy and he played his pool with a flair that surprised him and made Betty nod approvingly. He had even held his own when the banter became more general.
"I'm not letting you upset Betty," he'd said after an innocent question about her 'Peaches' nickname' prompted a story about a house party when they were sixteen and Betty's karaoke performance after a pint of peach flavoured schnapps.
"Knight in shinin' armour is it?" Sion said.
"No, I have to work with her tomorrow. Besides, don't some of the rest of you have nicknames? Dirty Rob, isn't it?"
There was one of those tense and silent moments. It can't have lasted more than a second, but it felt much longer and quite a lot happened. Rob's lips thinned, Sion glared at Betty who flushed a very ugly pink and Morris emitted an anxious whine. Mal realised he had said absolutely the wrong thing.
"I—um—was called Rainbow in school," he said. "Rainbow Brite? Like the cartoon."
"We used to watch that." Gary grinned. "Didn't we, Rob?"
"Dammit, Gary!" Rob's tone was aggrieved but his lips were easing into a smile. "Never out me as a Rainbow Brite fan, lapsed, when I'm trying to impress an attractive bloke."
[ … ]
As Mal trotted down the narrow stairs from the attic to the lower landing it suddenly occurred to him who might have been making Betty giggle and who she might trust enough to let them loose on the upper corridors of the museum. So he wasn't altogether surprised to glimpse a yellow hard hat through the wrought iron of the bannisters.
"Hey." Mal leaned over the rail and grinned as Rob looked up at him. "Didn't think I'd see you again so soon. No pool table but I can make you a coffee."
Rob gave him a beaming smile. "Tea and you're on," he said and followed Mal into the little room they had set aside as a staff kitchen.
Mal took a couple of mugs down from the cupboard and turned on the kettle. "I think I thanked you all for last Thursday, didn't I? It was good fun."
"Yeah," Rob's grin sounded in his voice but Mal turned to look at him anyway just for the pleasure of it. Rob had taken off his hard hat and put it on the window sill and was leaning against the edge of the window, hands in his pockets and looking out over the patch of grass and shrubs that was all the museum could afford of a garden these days. With his high vis jacket and coveralls undone to show a bright segment of printed tee shirt—Mal could see the "-oun-arm-lu" of "Young Farmer's Club" and a bit of a bull logo—and with long legs in rigger boots crossed casually at the ankle, he looked both wildly out of place and very much at home. Mal really envied his ease. Here was a man who knew exactly what he wanted and was confident of getting it.
"And what he wants right now – apart from tea – is me!" Mal found that a very satisfying thought.
The kettle whistled and Mal poured the boiling water into the mugs, soaking the special pyramidal bags that Sharon insisted made much better tea than any other variety. Mal stooped to open the fridge.
"Milk?" Malcolm asked. "Sugar?" Rob had stopped looking out of the window and was watching Mal. Mal could feel it.
"I never say no to a bit of sugar. Bit o' milk too. Just enough to take the edge off."
Mal grinned and made the tea then turned and offered Rob his mug.
"Thanks," Rob said then lifted the mug a bit to read the printing on the side. "Museum curators do it meticulously? Oh. My. God. I hope that's true."
Mal snorted. "It's part of the job to keep the paperwork in good order."
"That's not what I meant and you know it."
Mal just smiled his agreement. "Come through to my office," he suggested.

About Elin!
Elin Gregory lives in South Wales and works in a museum in a castle built on the edge of a Roman Fort! She reckons that's a pretty cool job.
Elin usually writes on historical subjects, and enjoys weaving the weird and wonderful facts she comes across in her research into her plots. She likes her heroes hard as nails but capable of tenderness when circumstances allow. Often they are in danger, frequently they have to make hard choices, but happy endings are always assured.
Current works in progress include one set during the Great War, another in WW2, one set in the Dark Ages and a series of contemporary romances set in a small town on the Welsh border.
Website | Facebook | Twitter | Blog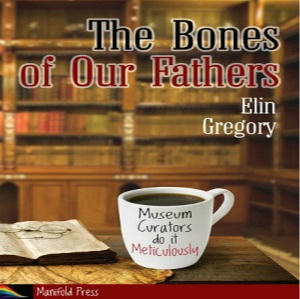 Giveaway!
Win a Paperback of The Bones Of Our Fathers!
(Just click the link below)
(Ends 13th September 2017)