Hi guys! We have Anna Martin popping in today with her new release The Color Of Summer, we have a great excerpt and a fantastic giveaway so check out the post and enter the giveaway! ❤ ~Pixie~
The Color of Summer
by
Anna Martin
Tattoo artist Max Marshall rushes into his hometown of Sweetwater, West Virginia—and is promptly pulled over for speeding. Max's luck isn't all bad, though, because he recognizes the deputy, Tyler Reed, Max's childhood best friend's older brother.
Reconnecting with Tyler helps Max settle back in, and it also leads to attraction. But when he tries to explore that connection at the grand opening of his tattoo studio—by kissing Tyler—awkwardness ensues. Max wants more, but has he misread Tyler's signals?
As a single father raising a six-year-old daughter, Tyler doesn't have much time to date. He's ignored his attraction to men for years, but he can't stop thinking about the kiss he shared with Max. If he can handle the complications of dating in a small town and the possible consequences to his career, this romance could blossom with all the colors of summer.

Excerpt!
THE SUN was just starting to set when Max passed the sign for Sweetwater, West Virginia. The sky was glowing over the top of the mountains with the pinks and blues and purples of the beautiful spring afternoon.
Max had been driving for most of the day, taking a circuitous route home with the most important of his possessions tied down in the bed of his truck. It was a recent purchase, the reliable Ford pickup; he'd traded in the shiny Mercedes he used to own. He figured there wasn't much use for a Mercedes in Sweetwater, and the truck was far more practical.
He whistled along to the radio, a station playing bluegrass, as the warm air whipped in through the open windows. The whole scene felt idyllic—right up until he got pulled over by a local cop.
Great. This was all he needed.
Max wriggled his wallet out of his jeans as the guy ambled over.
"License and insurance?"
"I don't have my insurance papers with me," Max said, handing his license through the open window.
The cop took the card and looked at it for a second.
"Holy shit, Max?"
"Yes?"
"It's Tyler. Tyler Reed." He took a step back so Max could see him properly, instead of just the middle of his tan shirt.
"Oh my God, Tyler," Max said with a laugh. He hadn't seen Tyler in years, which was strange now he thought about it, since Max had spent so much time around him as a kid. "How are you?"
"I'm good, man."
Max hopped out of the truck and pulled Tyler into a hug, realizing a moment too late that maybe it was too much. Tyler was a cop, after all.
Max had known Tyler Reed since he was five years old and Tyler was nine. Tyler was the big brother of Max's childhood best friend, Shaun. When Max was fourteen, Tyler went off to college, and he hadn't come back before Max left for Pittsburgh. Max was sure he and Shaun had been the worst pain in Tyler's ass, from their bratty childhood to awkward teenage years.
Tyler smacked his back in the perfect bro-hug, then stepped away again.
"I'm not sure I can give you a ticket now," Tyler joked. "Try not to speed past a cop car next time you come home, hmm?"
"Sorry," Max said, wincing. "How the hell did you end up working as a small-town cop?"
"Deputy," Tyler corrected. He pushed his sunglasses up onto his forehead, revealing heavy eyebrows and pretty gray eyes that crinkled at the corners.
Max's stomach fluttered. Not now, he admonished himself.
"Not like there's much else to do around here. Did Shaun not tell you?"
"He might have mentioned it."
Tyler shook his head and grinned. "Great. My own brother doesn't even talk about me. I didn't realize my life was that boring."
"I'm sure it's not," Max said. He leaned back against the truck and took in Tyler from top to toe. There was a lot to admire. Hoo, boy. "I'm moving back to Sweetwater. Did he tell you that?"
"What? No. Typical Shaun."
Max laughed. "It really is. I left Pittsburgh this morning, so my welcome party is officially being pulled over by a cop."
"There's a story for the grandkids."
Like Shaun and the rest of the Reed clan, Tyler had thick dark hair that he wore neatly styled. These days he was sporting facial hair that didn't seem to know if it was overgrown stubble or a full-on beard, but it framed his strong jaw nicely. Tyler's shoulders were broad and his biceps peeked out from under the short sleeves of his uniform shirt. Max forced himself not to stare at those arms. Tyler certainly gave him plenty to look at.
"It must have been…."
"Fifteen years?" Max offered.
"Not quite. I'm sure I saw you at Thanksgiving or Christmas one year."
"And there was that one summer I came home from college to work with John instead of staying in Pennsylvania."
"Right." Tyler nodded. "I joined the sheriff's department about six years ago. How's your mom, anyway?"
"I spoke to her last night, and she sounded good," Max said, touched that Tyler knew what had happened. "Her physical therapy is going well, and she's back at work."
"For a couple of days now," Tyler agreed. "So I heard. I offered to give her a ride because she can't drive again yet, but she said she could get a ride with John or her neighbors."
"Yeah." Max grinned. "It seems to be working out."
"I'm glad. You're looking good, man," Tyler said, crossing his arms over his chest. Max let his mind play out a pretty fantasy where Tyler was checking him out. Ha. No. Unlikely. "I like the tattoos."
"Thanks." Max was wearing a short-sleeved T-shirt, so the tattoos that went all the way down to his wrists were out on show. "I'm actually going to open my own shop."
"A tattoo shop? Here in Sweetwater?"
"That's the plan."
"Dude," Tyler drawled and shook his head. "You're going to have fun with that."
Max pressed his tongue into his cheek and raised his eyebrows. "I don't mind being controversial."
"I'm sure you don't." Tyler handed Max back his license. "I should get going."
"We should catch up sometime," Max said. "Go for a beer or something."
"That would be good," Tyler said, nodding slowly. "Here, let me give you my number."
Max pulled his phone from his pocket and unlocked it so Tyler could tap in his number. "I'll call you so you have mine."
"My phone's in the car, but I'll check it later. And I'll text you. That beer sounds good."
"See you around, Tyler," Max said.
"Yeah. See you around."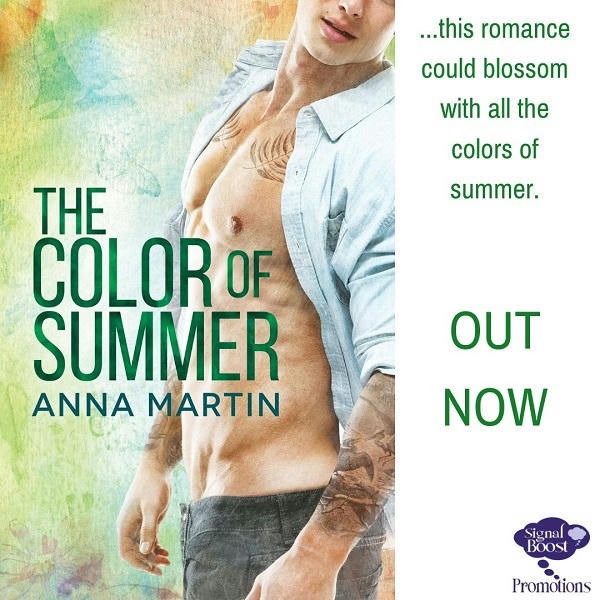 About Anna!
Anna Martin is from a picturesque seaside village in the southwest of England and now lives in the Bristol, a city that embraces her love for the arts. After spending most of her childhood making up stories, she studied English literature at university before attempting to turn her hand as a professional writer.
Apart from being physically dependent on her laptop, Anna is enthusiastic about writing and producing local grassroots theater (especially at the Edinburgh Fringe Festival, where she can be found every summer), going to visit friends in other countries, and reading anything thatís put under her nose.
Anna claims her entire career is due to the love, support, prereading, and creative ass kicking provided by her best friend Jennifer. Jennifer refuses to accept responsibility for anything Anna has written.
Website | Facebook | Pinterest | Instagram | Twitter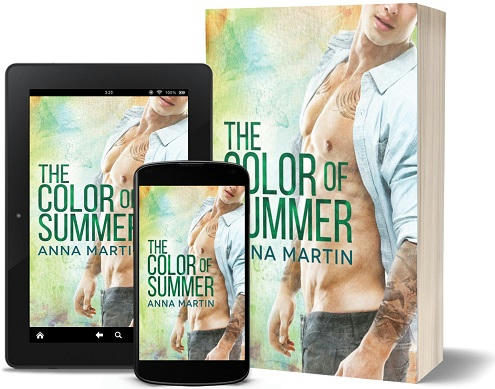 Giveaway!
Win an Ebook of The Color of Summer!