Hi peeps! We have Z.A. Maxfield stopping by today with her upcoming release Three Vlog Night, we have a brilliant guest post from Z.A.M., a great excerpt and a fantastic $20 Amazon GC giveaway so check out the post and enter the giveaway! ❤ ~Pixie~
Three Vlog Night
by
Z.A. Maxfield
Ajax Fairchild's online alter ego has caused him trouble before, but never like this. After multiple death threats, his loaded parents decide he needs an enforced digital vacation and the best bodyguard money can buy.
That would be Dmytro Kolisnychenko, former soldier, former hired muscle for the Ukrainian mob—until he lost his happy home life to an enemy with a homemade bomb. Now he wants only two things: to spend every precious second he can with his daughters, and to provide for them by protecting people who can't protect themselves—even entitled little asshats like Ajax Fairchild.
But Ajax doesn't fit into the spoiled little rich kid box as neatly as Dmytro would like. Dmytro doesn't have time for a romantic dalliance, and Ajax is a client, albeit one with unexpected depths. With one coincidence after another driving them to the sleepy seaside town of St. Nacho's and away from their planned safe house, they grow to trust each other and find that love follows trust. Now they must learn where the threat to Ajax is coming from and neutralize it… before it's too late for their happily ever after.

Z.A.M. Maxfield!
Hello to the readers at MM Good Book Reviews, we meet again! Thanks so much for letting me play here today.
I'm Z.A. Maxfield, and I'm passionate about books, sexy men, and road trips. My new release from Dreamspinner Press Three Vlog Night features a young man in trouble, the bodyguard who falls for him, and a sometimes funny, sometimes scary road trip that takes them from friends to lovers and more.
One of the best things I got to do in this book was revisit, in a very superficial way, the sleepy fictional beach town I created for the St. Nacho's series, Santo Ignacio. So for fans of the series, be sure to look for Carl, the owner of the Seaview Motel, and Muse, who I featured in Jacob's Ladder and The Book Of Daniel.
We've created a rafflecopter sweepstakes for this book tour. One lucky winner will get a $20 dollar Amazon gift card. Be sure and enter for a chance to win.
Excerpt!
Chapter 1
Ajax Freedom. Your time on this earth is at an end. Prepare to meet the God you denigrate. Prepare to pay for your sins. Prepare for the coming bloodbath.
Death threats came hourly to Ajax Freedom via his website, but you wouldn't know it from the slow, deliberate way he dressed. Like a stripper in reverse, he smirked at Dmytro, daring him to react to the bulge in the boxer briefs he wore beneath loose, soft jeans that hung open while he pulled a Henley on over his pale, well-muscled body. While he donned and zipped up a hooded sweatshirt.
Dmytro frowned into his phone. This was 2018. Did Ajax expect him to blush with maidenly modesty? Or offer some threat because despite the Ajax Freedom persona, the man behind the cavalierly bourgeois playboy was gay? The client was apparently dim.
That didn't stop the shockwave of intense physical attraction Dmytro experienced when he first saw him. Dmytro hid his grimace and said, "It's 7:57 p.m. Be ready to leave in three minutes."
"All right."
"All right," Dmytro echoed uselessly. If Ajax was waiting for a single sign of disapproval or homophobia or whatever—nope. Ajax had been walking around in a state of undress since they'd finally lured him out of his room, and if Dmytro were going to react, he'd have done it by now. He had years of practice hiding his emotions from the most dangerous men in the world. This pampered boy-man should be no problem. Probably.
The two people Dmytro cared about most texted him bright messages of love and wonder and wished him safe travels, and if he messed up on the job, those two people didn't eat.
Dmytro had to keep Ajax Freedom alive, so that made Ajax number three on his list of people to care about, if only until the job ended. Freedom could stay naked and swing from the chandeliers, flaunt himself in front of the men who protected him, or make crank calls to the White House for all Dmytro cared, so long as Dmytro got back to his girls intact.
He hid his smirk behind an impassive face to show that the display of pale, freckled skin wasn't getting Ajax anywhere, even though it was extremely creamy and looked velvety soft. Plus… freckles. A particular kink, but nothing he couldn't handle.
Ajax fussed noisily in the closet for a few seconds before turning to say, "Well? Are we going?"
Dmytro briefly lifted his gaze. "Has three minutes passed?"
With a huff, Ajax fussed in the closet some more. He muttered, "Suitcase, suitcase, sports bag, garment bag, messenger bag, backpack, laptop bag."
"Nuh-uh," Dmytro reminded him. "Laptop stays here."
Ajax appeared aghast. "I thought you were just saying that to jerk me around."
"When I jerk you around, it will be unmistakable. Leave the laptop." Dmytro had cloned Ajax's phone and pulled the batteries from it, disabled his desktop, and confiscated batteries for his laptop, his fitness tracker—anything that could be traced. They allowed the boy to keep his fancy dive watch but disabled its GPS. The rest of his many devices had been secured or would be stored. They'd checked his bags. "You're on an enforced digital time-out. Think of it as chance to go old-school and read a physical book."
Ajax frowned. "When was the last time you read a physical book?"
"None of your beeswax."
"Fine." Ajax handed over the bag.
"Please double-check you have everything." Dmytro scrolled through the drawing his daughter Sasha sent of Mrs. Whatsit. It was wonderful, although he could hardly stand to look at it. She'd made Whatsit's eyes glisten, and they seemed to follow him, no matter how he held his phone. He didn't know about art. Something about shading and negative space? She was going to be a real artist someday, sophisticated and subtle.
With a sigh, Dmytro texted that yes, he'd watch A Wrinkle in Time with Sasha and Pen again when he returned, although children's movies were going to destroy humanity. So much music and magic and mystery. You are more than you believe. Everyone hoped that was true, but no one actually was.
He eyed his client.
There was something intrinsically wrong with a job that took him away from his children to protect someone else's. He was good at what he did, but his method never deviated. Get in, protect the client long enough to keep him alive while Iphicles neutralized any threats, and get home.
Pen's drawing showed her love of geometric shapes and primary colors. There was nothing nuanced about Pen. He liked her drawings as much as her sister's. They both showed promise, to him. With that his after supper three-minute check-in came to a close.
He immersed himself fully in the job when he put his phone away and checked the peephole. Peter stood by the elevators, keeping watch on the hall.
"Time to go." When Dmytro moved, he moved quickly. He could spring from a twenty-minute power nap into a melee with no ramp-up time at all.
But now Ajax hesitated.
How Dmytro wished people wouldn't dither. He picked up Ajax's duffel and looped the shoulder straps over his neck. Next came the messenger bag, and finally the backpack and one of the suitcases. There was no point in arguing about the amount of luggage a client had. One simply found a way to carry it. Sometimes, if one had to, one carried the client as well.
"You take the wheeled Pullman. I've got the rest."
Ajax dropped a hand on the handle as if he didn't know how to work it. This man—this rather young man—seemed to be incapable of following basic commands.
He'd texted with his sister-in-law earlier. It's a shame for his parents. There is nothing to do here but squat in the safe house and keep him from doing something stupid until Peter tracks down each of the threats. He has a bag of toys, I think.
Peter? she'd asked, but he was sure she meant it as a joke.
The boy.
Mitya. She could lecture him about anything. You must treat even a stupid client with respect and kindness.
Of course, he'd replied with some asperity. When have you known me to be unkind?
"I'll take the Pullman too." Dmytro took its handle. "When we leave the room, stay behind me."
"Won't it be easier if they just kill me now so you won't bore me to death?"
"Don't say that." Dmytro concealed his irritation. "I'll keep you safe."
Freedom didn't look reassured. "Who'll keep you safe?"
"I keep myself safe." He pocketed his phone and glanced both ways before turning to Ajax. "We're going to pretend we're mice. Be quiet as you can."
"Okay." Ajax held up a "wait" finger. "Just a sec."
With a deep sigh, Dmytro closed and locked the door again. "This might be what I meant by do you have everything?"
About Z.A.M.!
About ZAM – Z.A. Maxfield started writing in 2007 on a dare from her children and never looked back.  Pathologically disorganized, and perennially optimistic, she writes as much as she can, reads as much as she dares, and enjoys her time with family and friends. Three things reverberate throughout all her stories: Unconditional love, redemption, and the belief that miracles happen when we least expect them.
If anyone asks her how a wife and mother of four can find time for a writing career, she'll answer, "It's amazing what you can accomplish when you give up housework."
Join ZAM's group, ZAM-Nation HERE, or visit her website, like her page on Facebook, or contact her through Twitter.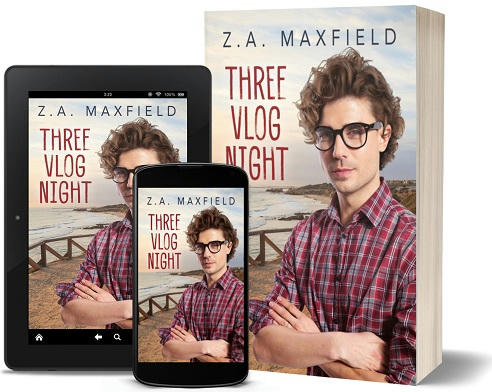 Giveaway!
Win a $20 Amazon GC!