Hi guys! We have Kethric Wilcox stopping by today with the tour for The Curse, we have a brilliant interview with Kethric, a great excerpt, a fantastic $10 Amazon GC giveaway and reviews from Shorty and myself, so check out the post and enter the giveaway! ❤ ~Pixie~
The Curse
(Origin of the Vampires 01)
by
Kethric Wilcox
Cain Slays Abel!
In this day and age, that's not an earth-shattering headline. We want headlines that scream of life-altering events.
Terrorists Nuke Peace Conference!
Wow! What a gripping headline. This is something to change the world. Oh, wait! The world did transform. This ran as the lead story a few hours before the beginning of The Upheaval. The current world birthed in nuclear fire and electromagnetic disruption. Gone are the nations I grew up with. My life altered again.
Cain Slays Abel!
The truth behind such a classic story is far more complicated than anyone could imagine.
The brothers' tale is a life-altering event, at least for me. Twice a report of murder transformed my life in an unpredictable way. I am Richard St. Martin, Master of Darkness. Before my story can be told, you need to learn the story of the first dark monster, Cain. My stepchildren call him Father Cain because he was the first. To find the actuality behind the myth, I recruited two talented mortals – Dr. Jeremiah Banks, Archaeologist, and Professor Juan Di Vargas, Theologian and Religious Scholar. Together they found the secret origin of the vampires:
The Curse!
Warnings: Could challenge religious beliefs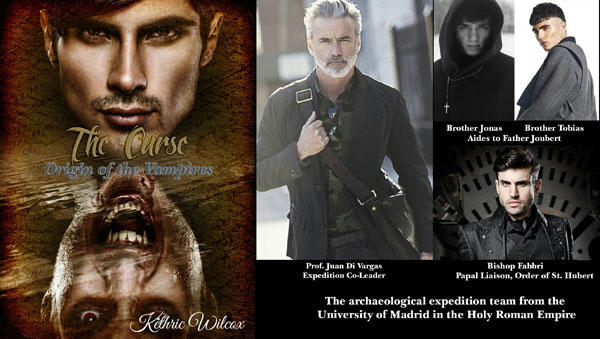 Kethric Wilcox Interview!
Q: When did you know you wanted to write, and when did you discover that you were good at it?
A: I knew I wanted to write back in my sophomore year in high school and was encouraged by my English teacher at the time. I didn't really discover how good I was at writing until I went back to college to finish my degree in graphic design in my mid-twenties and two of my English professors tried to redirect my focus from Art to English. One tried to encourage me pick up a minor in English along with my Art major, but I was already doing a History minor. I picked writing back up again in my forties doing church dramas/skits for my church. I had a great writing partner at the time and we were going to do a film script that her husband would produce. Unfortunately, her mother grew ill and she didn't have the time for things outside work and taking care of family. So, I decided to challenge myself to writing a book and seeing what happened. What happened was the creation of the Legend of the Silver Hunter trilogy and the start of a behind the scenes M/M writing life.
Q: If you could sit down with one other writer, living or dead, who would you choose, and what would you ask them?
A: I've actually been lucky enough to do this twice in real life. A number of years ago Katherine Kurtz attended a convention and mentioned that if anyone really wanted to get to know her they'd invite her for a drink. I don't think she expected anyone to take her up on it, but a friend of mine and I did just that. We had a wonderful time chatting with her about the home in Ireland she was restoring and about the process she used when developing her setting for the Deryni Chronicles. I've also had the chance to chat with Mercedes Lackey at a convention though it was a brief conversation as she autographed my copy of one of the Valdemar books.
Q: What fantasy realm would you choose to live in and why?
A: Mercedes Lackey's Valdemar. I fell in love the Companions, and Vanyel was the first gay character I'd ever read about. The world is full of texture and life, with interesting cultures and languages. I want to be a Herald-mage or a Hawkbrother Healer-Adept.
Q: Would you visit the future or the past, and why?
A: Hmm, a difficult choice when you're a huge Doctor Who geek. I think if I could hop in the TARDIS, I'd want to visit the past and pop into the court of Catherine the Great of Russia. I'd like to meet the woman brave enough to seize the Russian throne and also let herself be a test subject for a smallpox vaccine.
Q: As a child, what did you want to be when you grew up?
A: As a kid, I wanted to be a forest ranger because I wanted to be out in nature. Then Star Wars was released and I wanted to be a graphic artist working for Industrial Light and Magic. It took me a while and a few detours but I actually ended up in job that kind of combines doing both. I work as the museum exhibit specialist for my state's state park system. I get to design exhibits for all 52 of our parks ranging from simple informational wayside signage to complex exhibits including full-scale flatboats. When I do trailhead panels and waysides, I get to travel to the park and hike the trail I'm working on so that I can help our visitors get a feel for the trail and how it relates to the park's over all mission.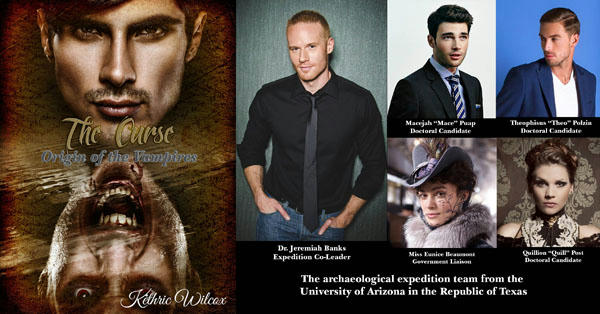 Excerpt!
JEREMIAH SURVEYED his clothing choices for the conference and grimaced. He hated suits, but Dr. Sinclair, the dean of his department, and Mrs. Pike, the dean's secretary and sort of a second mother, both insisted he dress in professional academic attire.
"You're representing the University of Arizona and the Republic of Texas, Dr. Banks. Think of the university's reputation. Don't appear like you are fresh off the boat following months in the field," Jeremiah recalled Dr. Sinclair saying as he handed him his clearance to travel. During a visit to her house, Mrs. Pike said similar things before she called her late husband's tailor and made an appointment to fit Jeremiah for new suits. Suits made Jeremiah uncomfortable, he preferred sturdy field clothing, but Dr. Sinclair held firm, no wild field archaeologist attire. Resigned to his fate, Jeremiah gave into almost all the dean's requirements, but refused when the request came to cutting his long copper locks. Jeremiah brushed through his hair, twisted, and slid the length into a sapphire-encrusted leather tube to hold everything in check.
The Emir, who oversaw his dig on behalf of the caliph's government, gave him the hair binder as a gift. The man developed a fascination with Jeremiah's copper hair and its silky texture. With his hair under control, Jeremiah dressed to impress in a navy-blue suit with a subtle white pinstripe. Sapphire cufflinks and tie tack finished the ensemble. The cufflinks came as a second present from the emir after a night of admiring Jeremiah's body in all its naked glory. The combination of Jeremiah's pale skin and fiery chest hair and pubic region, plus the impressive prick and balls in their natural state, fascinated the noble. The emir never touched him or asked for contact; the man wanted to check if the red hair remained the same color all the way down.
All three pieces of jewelry helped to highlight his bright blue eyes. Jeremiah checked himself in the mirror before picking up his notes and slides for his lecture and heading down to breakfast. During the evening, the staff worked their magic, transforming the ballroom from reception hall into a dining room. A waiter led Jeremiah to his assigned table and seat right next to Prof. O'Grady. The rest of the table filled with other scholars from universities in the Republic of Texas. He found Dr. Lanister's vacant seat next to his and opposite Prof. O'Grady. "Prof. O'Grady, I want to apologize for the rude comments last night at the reception."
"No, Dr. Banks, if anyone got out of line last night, I did, and should be doing the apologizing. Thank you for correcting my attitude towards Dr. Lanister. I spoke way out of line. I wanted to apologize to him in person, but the hotel informed me Dr. Lanister checked out late last night claiming illness and returned home."
"I'm sorry he departed. He stopped by my room last night reeking of alcohol, so I encouraged him to retire for the evening. I'm sorry to learn he caught something," came Jeremiah's reply as a waiter stopped and filled his coffee cup. "I wonder, are you familiar with Prof. Juan Di Vargas from the University of Madrid?"
"Only by reputation, Dr. Banks. I understand he's presenting today on how the story of the Flood developed in several early cultures," O'Grady remarked, signaling the waiter to take her plate. "Don't you present today as well, Dr. Banks?"
"Yes, about an hour after Prof. Di Vargas. I hope to catch a moment of his time between lectures. His latest paper mentioned the possibility of the biblical city of Enoch being in the Tigris-Euphrates Delta. I think Enoch might be part of the culture, which produced the tablets I found. I wish to compare research with him."
"Good luck in your endeavor. Di Vargas doesn't often deal with those who pursue the more physical aspects of their researches, at least according to his reputation. I can arrange for you to speak with a scholar of the period more open to using archaeology. Let me introduce you to Prof. Chevalier from the University of Paris."
She missed Jeremiah's grimace of distaste, which he hid behind a sip of coffee. Chevalier's research clashed with every line of the investigation he pursued while Di Vargas's headed in a similar direction from a different angle. Jeremiah wiped his hands with his napkin, picked up his notes and slides, and rose from the table.
"Thank you for the offer, Dr. O'Grady. Perhaps another time. Please excuse me. I need to make sure the media team receives enough time to arrange the presentation before lecturing. I'm confident we'll cross paths at dinner."
"I think they plan to mix things up tonight, but there will be other meetings during the conference. Such a pleasure to meet you again, Jeremiah, or I should say Dr. Banks. You stood out, one of my more promising students, and I'm proud of how well you blossomed under Adamson's direction." O'Grady offered Jeremiah her hand. "I'm eager for your lecture this afternoon."
Jeremiah shook her hand and left to track down the media team. He still needed to set up his slides before attending the lectures he wanted to listen to this morning.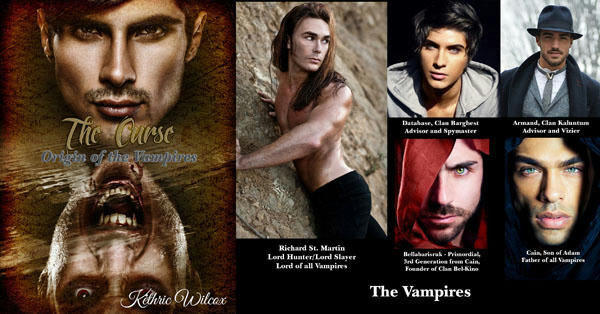 About Kethric!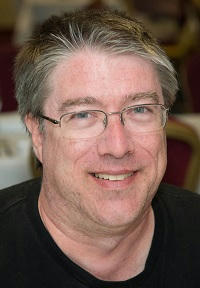 Kethric Wilcox began writing and publishing as a personal challenge to be creative in a new medium. He was attracted to the LGBT Romance genre after reading several paranormal romances where it seemed like the shape-shifters never faced dangers outside the relationship issues thrown at them by their authors. Thus was born the shifter hunting House of Beauty on the premise of a twisted fairy tale. What if Beauty and the Beast didn't end with happily ever after? Wilcox's Legend of the Silver Hunter trilogy looks at this question and then asks what happens if a member of this family falls in love with a descendant of the Beast, can they find happily ever after or are they doomed to repeat the tale. Born and raised in Massachusetts, Wilcox now lives and works in Little Rock, Arkansas in a house that he and his partner renovated. By day Wilcox is a graphic artist and exhibit designer, and at night an author of paranormal romances.
Wilcox currently has two new trilogies in progress: Origin of the Vampires (The Curse, Lord Hunter, and Lord Slayer) set in a dystopian future of the Silver Hunter world; and Legacy of the Silver Hunter (The Goldilocks Pledge, Ruby Wine, and Black Snow) which continues the story told in the Legend trilogy from the view points of other couples in Kieran and Cory's lives.
Website | Facebook (Personal) | Facebook (Author Page) | Twitter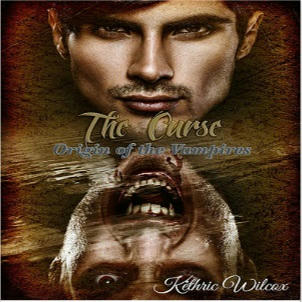 Giveaway!
One lucky winner will get a $10 Amazon gift card!
Review
Title: The Curse
Series: Origin of the Vampires
Author: Kethric Wilcox
Genre: Paranormal, Action & Adventure, Occult, Mythology, Futuristic
Length: Novel (443pgs)
Publisher: Keith R Martin (April 10, 2018)
Heat Level: Moderate
Heart Rating: ♥♥♥♥♥ 4 – 4 1/2 Hearts (combined)
Blurb: Cain Slays Abel!
In this day and age, that's not an earth-shattering headline. We want headlines that scream of life-altering events.
Terrorists Nuke Peace Conference!
That's what we want to read, or we would if we hadn't lived it in hours before the beginning of the Great Upheaval. The current world was born in nuclear fire and electromagnetic disruption. Most of the superpowers I knew in the early and mid 21st century were washed away.
Cain Slays Abel!
The truth behind that simple story is vastly more complicated than anyone could imagine. It is a life-altering headline, at least for me it was. Twice a simple tale of murder turned my life upside down. I am Richard St. Martin, Lord of all Vampires, but before my story can be told, you need to learn the story of the first Lord of all Vampires, Cain. My stepchildren call him Father Cain because he was the first. To ferret out the truth behind the tale, I had to recruit two talented mortals: Dr. Jeremiah Banks, Archaeologist, and Professor Juan Di Vargas, Theologian and Religious Scholar. Together they found the secret origin of the vampires:
The Curse!
ISBN: B07C4HVJZ6
Product Link: Amazon US | Amazon UK | B&N | iTunes | Kobo
Reviewer: Shorty & Pixie
Shorty's Review ♥♥♥♥♥ 4 1/2 Hearts
This is a story filled with many wonderful characters that brought the details of this story to life in startling clarity. Dr. Jeremiah Banks, is an esteemed archaelogist who attends a conference where he meets esteemed Professor Juan Di Vargas, Theologian and Religious Scholar who then begin a passionate night together. With the way the world is in the story they must be careful of being caught as times are certainly different that what the reader will be used to. It seemed that certain things went backwards instead of advancing forward and nations were divided.
Times are different in this tale. The religious aspects and journal entries regarding Richard St. Martin and Cain are fascinating. Though I'm not overly religious myself I was enthralled with the story as it progressed. This story takes us on a wild adventure to discover the truth of El-Abel and Enoch's whereabouts and the vampires that either protect the knowledge or want it for themselves.
Cain's tale is fascinating along with his brothers. But, the actual shocking part was the end as I never saw it coming. Twists and turns, mages, witches, vampires danger and traveling the globe on a quest are all in abundance in this intriguing story yet at times difficult to read for me. But overall awesome.
Pixie's Review ♥♥♥♥ 4 Hearts:
Well this was a story and a half! The world building was incredible, pulling us into a world where technology is a thing from the past, religion has it's hold on the world and in some areas slavery is legal. 
I will be honest and say it took me a while to get used to the writing style, and if it wasn't for the story being so interesting then I would have stopped reading it early on. I finally got the hang of the writing style about 25% in, and from then on it was a brilliant read that kept me turning each page to discover more.
The storyline itself was intriguing, the way that most of humanity turns back to religion in the face of disaster and the way that attitudes and behaviour  seem to reverse to the early 1800's, with bigotry rife and slavery enforced. Don't even get me started on sexuality! Damn if disaster ever does strike like this I hope humanity is better than returning to a time that oppressed so many.
We are treated to the developing relationship of Jeremiah and Juan, a May/December love story that has some D/s qualities, their relationship is stretched over time from their first meeting to the archaeology dig where they discover so much that had been hidden.
Then we have the vampires and the story of Cain, Richard St. Martin certainly shines through these moments as entries are littered throughout the story leading us to an ending that is shocking as the truth emerges about the true story of Cain and Able. 
At times this story is edge of the seat as Jeremiah and Juan clash with the people & vampires who are trying to keep them from discovering the truth about El-Abel and Enoch. We are treated to danger and adventure that has us excited for the next chapter, and as we approach the end of the book we are thrilled with what must be a showstopping ending. Well, don't hold your breath, because while the anticipation is built for a big blockbuster ending what we get is a lackluster fizz as the confrontation seems to collapse in on itself in such a way that we sit there gobsmacked and shaking your head thinking "over four hundred pages for that!". 
But while I had a deep sense of betrayal over the ending battle I have to admit that this is an excellent story that has many intriguing and exciting moments, it draws you in with the tasty tidbits from the Vampire Interludes, with the interesting world building and an ending that makes you want to stomp the book into oblivion and leaves you panting for the next book. 
So I recommend this story for those who love a great futuristic paranormal story that has a lot going on, with characters that pull you in, with danger and adventure and a happy ending for the MC's but which is just the beginning for the Vampires!