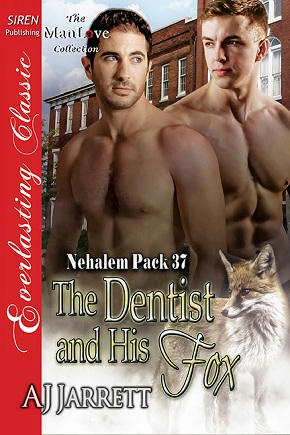 Title: The Dentist and His Fox
Series: Nehalem Pack #37
Author: A.J. Jarrett
Genre: Paranormal, Fantasy
Publisher: Siren Publishing (May 8, 2017)
Length: Novella (162 Pages)
Heat Level: Low
Heart Rating: ♥♥♥♥ 4 Hearts
Blurb: It's the start of a brand new life for Reed Ingram. He's just graduated dental school and is opening his own practice. With the encouragement of his brother and the Nehalem pack, he's making a home in Silver Creek. Little does he know, he's about to find so much more than a place to set down roots.
Love doesn't exist, and Dane Forum wants no part of it. He was raised by an absentee father and a mother who thought love was controlling everything and everyone. Dane isn't sure he believes that there is a mate out there for him…that is until he walks into Dr. Ingram's office. His life it flipped upside down and in a tailspin because now Dane is feeling so many emotions and dare he say it, love?
Life is short, and love doesn't come along often. Now, it's up to Reed to prove to Dane that love is real and worth fighting for.    
ISBN: 978-1-64010-326-9
Product Link: http://www.bookstrand.com/book/the-dentist-and-his-fox
Reviewer: Lisa
Review: Each book in the Nehalem Pack collection features a different romantic couple. To enjoy the overall story arc and crossover characters, I would recommend reading the series in sequential order. 
I got a kick out of the title for this story, but the cover was a bit boring.  Let's just say that if I wasn't a fan of quirky titles, and just went by what the cover looked like, I would have probably dismissed it.  Although the fox on the front was adorable.  Now that that is out of the way, let's get to the story itself.
I haven't read to many stories where dentist and dentistry are used.  It cracks me up each time and the characters are usually quirky.  However it also sounded to familiar to me.  However it did not take away from this story at all.  Reed is a human who has a shifter for a brother.  He is used to pack life and the way things move around.  In fact his big brother talked him into moving to Silver Creek right after graduating from dental school.  He just doesn't expect a sexy little fox shifter.
Dane is a very good dental assistant, who just wants to get away from his family.  His dad was never around and his mother is a first class bitch.  Everything is about look and prestige whereas Dane is about normal living and peace.  He also does not believe in love, so when he finds his mate, well let's just say sparks will fly.  
It is a fun filled and very quirky story that has its ups and downs.  I would have kicked his mother out a very long time ago.  I got a kick out of the guys and let's just say there doesn't really seem to be an alpha bone among them.  I liked the over protective big brother part.  Sometimes their way of life seems to be a lot calmer then the way real life is these days.  It would definitely be a world I would love to live in. 
I had fun with this story and I think you will too.