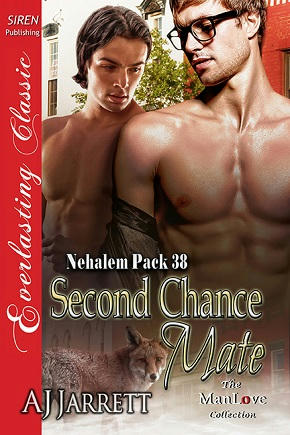 Title: Second Chance Mate
Series: Nehalem Pack #38
Author: A.J. Jarrett
Genre: Paranormal, Fantasy
Publisher: Siren-Bookstrand, Inc. (June 9, 2017)
Length: Novella (137 Pages)
Heat Level: Low
Heart Rating: ♥♥♥♥♥ 5 Hearts 
Blurb: Daniel Culver was devastated when his wife died. He was left alone to raise his daughter while trying to live with a broken heart. Each day is a struggle, and the fear of losing his family has Daniel pushing those he cares for away.
Archer Forum is running from his past and everything he thought was important to him. Being rich didn't bring him happiness and being the creator of a drug that is killing shifters has him filled with guilt. He wasn't sure that feeling would ever go away. All he wants is a fresh start, to make amends and just be happy.
Love doesn't come around often, and it's Archer's turn to seize the day. Daniel is his fated mate. It's up to him to convince Daniel that love is worth the risk before a ghost from Archer's past steals his hopes and dreams of a happily ever after away.  

ISBN: 978-1-64010-394-8
Product Link: Siren Publishing | Amazon UK | Amazon US
Reviewer: Lisa
Review: Each book in the Nehalem Pack collection features a new romantic couple. To enjoy the overall story arc and crossover characters, I would recommend reading the series in sequential order.
There is nothing better than a good paranormal romance with two gorgeous men involved.  They are entertaining and have just the right mix of feelings in them. There is also quite a bit of danger or excitement in it as well. This one caught my attention and kept it all the way to the very end.  I love the mixture of characters that this story and the other ones have in it.  Will always keep you entertained.
Daniel lost his wife to an accident, or should I say his mate and it had devastated him.  He was left alone to raise his cutie pie daughter and he wasn't doing a very good job at it.  He also needed some help, which with the help of his daughter came one very sexy man.  A man with a secret that could hurt them.  Also this man seemed to think that he was his mate.
Archer was a scientist and loved what he did.  That is until what he did was end up killing shifters from the poison he made.  Running sounded good, but you can only run so far.  To top it off he has found his mate and his mate had a daughter.    
I love the way this author puts together a story that not only draws you in but keeps you entertained as well. They have a serious tone to them, but there is a bit of humor floating around. I do get a kick out of the whole thing. I can't wait to read the next book.