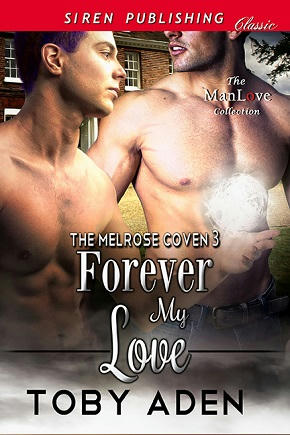 Title: Forever My Love
Series: The Melrose Coven  #3
Author: Toby Aden
Genre: Paranormal
Publisher: Siren-Bookstrand, Inc. (April 20, 2017)
Length: Novella (187 Pages)
Heat Level: Low
Heart Rating: ♥♥♥♥♥ 5 Hearts
Blurb: Alistair Costanova never thought he'd have a second chance at love until Sam Hayes blows into town and turns his world upside down. Shock sends him running away from the man wearing the face of his dead lover from several centuries ago, but circumstances and attractions keep drawing them closer.
Sam Hayes is a very complicated man. Impulsive and a total slut, but he has some measure of depth to him. He's a man with several layers and a deeply buried secret only a select few in his family line know about. A born wizard, Sam had no choice but to keep that part of himself separate from his public life among humans, even his best friend Dorian. Moving to Melrose Town was supposed to be an adventure and a new start for Sam. Nothing had prepared him to be surrounded by a town full of vampires, but a quick adjustment was in order, especially since witches stayed neutral from every other species.
Meeting Alistair sparks his interest and the aloof man brings out emotions he'd never felt before. For Alistair, staying away from Sam is more work than he thought possible, even if he needed to stay away for the man's own good. But with the increasing problem of made vampires and these two fighting the emotions they feel for each other, who will succumb first?
ISBN: 978-1-64010-285-9
Product Link: http://www.bookstrand.com/book/forever-my-love
Reviewer: Lisa
Review: Each book in The Melrose Coven collection features a new romantic couple. To enjoy the overall story arc and crossover characters, I would recommend reading the series in sequential order. There is nothing better than a good paranormal romance with two gorgeous men involved.  
I love the way this author can put together a book that not only fascinates you but draws you in. I had a blast reading this and look forward to reading more by this amazing author. This is one of those types that even after you have read the whole book you just want to go back and read it again.   
Many years ago Alistair's mate had been murdered right along with his baby brother.  He got his revenge, but he was now alone.  He left his position of a noble person and went to work with for the king of their people.  He had not expected to find another mate, one that was identical to the man he loved.  So what does his dumbass do, he runs.  Now Sam is a sweetie, but he does have his own secrets to hide.  When he went to see a friend, who was like a brother to him, he had not expected to be surrounded by vampires.  Going to shock Dorian when he finds out that Sam does know what they are that is for sure.  He just had not expected to find a sexy vampire of his own, now all he has to do is bide his time.  Either that or kick the man's ass.  If you really want to know, pick up the book.
I love how it has that serious tone to it but there is so much humor in it that your attention is captivated throughout it all. I loved the cover and that was what caught my attention first.  The characters are beautifully written with big hearts, however if you cross them, they have no problem putting you down. They will protect their mates with their entire lives. I had a blast reading this story.
This story is perfect for when you are trying to take a break or when you just need the sun to shine for you. It caught my attention from the moment I started reading and kept it all the way to the end. It also gave me everything I could want in a book. I can honestly tell you that this is going to be one of those types of series. One that I will have to read over and over.
I love the way all the feelings they felt was involved in this story. It was the perfect story for me and I loved it. I can't wait to read the next story.