Hi guys, we have Nya Rawlyns stopping by today with her audiobook of The Eagle and the Fox, we have a excerpt from the ebook so check out the post and enjoy!❤ ~Pixie~
The Eagle and the Fox
(A Snowy Range Mystery 01)
by
(Narrator ~ Nick J. Russo)
Nya Rawlyns
Josiah Foxglove is given a second chance when he takes over his family's spread in the shadow of the Snowy Range. A veteran of the Gulf War, he came back broken in body and spirit.
Marcus Colton buried his long-time lover and best friend three years ago. Lonely and still grieving, Marcus finds solace in protecting Petilune, a pretty girl with learning difficulties, who will surely become a victim of abuse and neglect without his help. But that doesn't help him get through the long, dark nights.
When violence wracks the small community of Centurion, WY, it's easy to place blame on Petilune's mysterious new boyfriend, Ojibwe teen Kit Golden Eagle. It looks open and shut, but for Josiah and Marcus the facts simply don't add up.
Something's rotten in Centurion, something that smacks of a hate crime…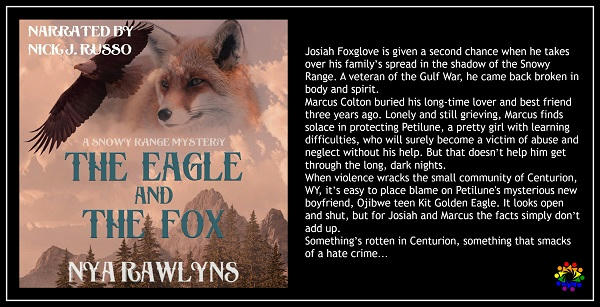 Excerpt
Marcus whispered. He wasn't sure why he did, but it seemed appropriate, although his idea of stakeouts was limited to what he'd seen on TV. The actors always complained it was boring. It wasn't, not if your stomach was tied into knots, and the whiskey you chugged in a fit of pique decided to revisit you in the form of acid reflux.
Josh hissed through the speaker, "Don't know if we missed him, or if I'm farting in a stiff breeze."
"Don't mention stiff, Foxglove."
Josh snorted, the sound rocketing through the cab and sending Marcus into a giggling jag. He'd barely gotten himself under control when Josh yelped, "Sunny bitch. I think I see the van. Damn fool's coming down that mountain dark. Jesus Christ."
Marcus warned, "Best not to start our engines until he's made the turn and gets ahead of us."
"Copy that. I'll take point. Stay back. I don't want you running up my ass if I have to stop fast."
"You're making it hard to concentrate, cowboy." They'd been teasing each other, slinging innuendo like hash at a country diner. It had helped diffuse the tension.
Josh murmured, "Here he comes." Marcus tensed, waiting. "What the hell?"
"What? What's going on?"
"He just flashed his left turn signal."
Marcus frowned, perplexed. "That's kind of dumb. Why'd he do that?"
"Signaling?"
"Signal? Who for crying out loud? We're the only idjits out here."
"Maybe we aren't."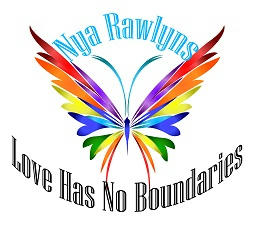 About Nya!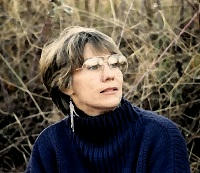 Nya Rawlyns writes a variety of genres – suspense/mystery, contemporary western, romance, romantic comedy, women's fiction, literary fiction and contemporary young adult fantasy.
A lifelong equestrienne, she has competed in dressage and distance riding. She lives in rural Pennsylvania with her daughter, horses, cats, and the hens from hell. She has a family of friends and supporters who provide not just inspiration but absolute belief in her characters and stories.
Audible | Blog | Website | Facebook  | Twitter  | Google+ | Pinterest