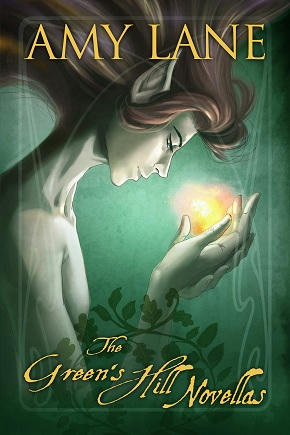 Title: The Green's Hill Novellas
Series:  A Green's Hill Collection | Companion to the Little Goddess Series
Author: Amy Lane
Genre: Fantasy, Paranormal
Length: Novel (220 pages)
Publisher: DSP Publications (June 14, 2016)
Heat Level: Moderate
Heart Rating: ♥♥♥♥♥ 4 ½ Hearts (Combined)
Blurb: Welcome to Green's Hill, a small, secret collective of the fey, furry, and undead, existing unnoticed in the California foothills for over a hundred and fifty years.  Whether your passion is exotic were-animals, angels, elves, or vampires, you can find them here—although things are changing on the hill.
Bound by love and honor, Cory, Green, and Adrian work to give their followers a home—but they have no idea that the effects of their true love will spread like ripples in a pond.  
Be prepared for the unexpected, and ready for enchantment—you never know who will be awakened to the romantic possibilities of a vampire, a sorceress, or a pansexual elf who finds power in the force of love.
This anthology includes:
Litha's Constant Whim
It is on Litha that Whim meets Charlie, and their vows to return next Litha and finish what they started launch a thirteen-year tradition of celebration.
1st Edition published by Dreamspinner Press, June 2010.
I Love You, Asshole! 
It's a good thing vampires live forever, because it might take Marcus that long to convince Phillip that gender lines are for the living.
1st Edition published by Dreamspinner Press, May 2011.
Guarding the Vampire's Ghost 
An accident of divine politics has put Adrian, a twice-dead vampire, in heaven and under the care of angels Shepherd and Jefischa.
1st Edition published by Dreamspinner Press, October 2010.
ISBN: 978-1-63476-019-5
Product Link: https://www.dsppublications.com/books/the-greens-hill-novellas-by-amy-lane-292-b
Reviewer: Shorty 
Review: Litha's Constant Whim Heart Rating: ♥♥♥♥ 4 Hearts
This is the story of Whim, a young Sidhe, and Charlie. An awakening of love between the two and the journey they take to be together. Sweet and entertaining.
I love You, Asshole! Heart Rating: ♥♥♥♥ 4 Hearts
Marcus seems strong and knows what he wants. Phillip seemed quite the opposite. He has insecurities and fears but with Marcus' help becomes the man he was meant to be. I really liked Phillip as he seemed real to me.
Guarding the Vampire's Ghost Heart Rating: ♥♥♥♥♥ 5 Hearts
This is my favorite book in this series as it shows despite watching his lovers move on that Adrian learns to live without them and is happy. It's about letting go and living again. The characters were wonderful in this series.
All in all it was an entertaining read with a whole cast of characters whose lives were intersected each other's. Sweet yet heart-breaking this series will make you smile yet tug at your heartstrings.
Great read.