Hi guys, we have Ava Hayden popping in today with the wonderful cover to her upcoming release, we have a short intro and a great excerpt, so check out the post and just love that stunning cover! <3 ~Pixie~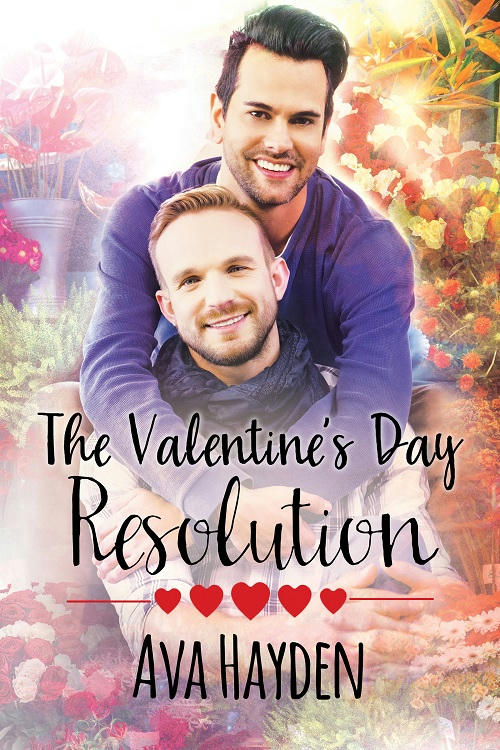 The Valentine's Day Resolution
by
Ava Hayden
Huxley carries invisible scars from a near-fatal car accident. He sleepwalks through a job at his father's company, marking time until he can quit and pursue his own dreams. Everything changes the moment he makes eye contact with a stranger while riding to work. It's as if he's been shaken out of his stupor, and Huxley vows to find the man.
Thanks to a thieving ex-lover, Paul's florist shop is on the brink of closing down. He needs to milk Valentine's Day for all it's worth—and the irony that a day dedicated to love might help undo the damage of a failed relationship is not lost on him.
When Huxley finds Paul at his shop, both men feel an instant attraction. Before long, they're falling hard, but Huxley holds back. If Paul knew all the baggage he's carrying, he might run.
Paul's gut tells him Huxley is hiding something. Huxley looks like a keeper, but Paul can't go through another disastrous romance.
When Valentine's Day arrives, will they have anything to celebrate?
Release date: 2nd August 2017
Pre-order: Dreamspinner Press
Ava Hayden!

Many thanks to MM Good Book Reviews for hosting The Valentine's Day Resolution cover release!
Alexandria Corza created the cover for The Valentine's Day Resolution, and I think she did a great job of capturing the spirit of the book (just as she did for The Timpanist and the Stagehand).
The Valentine's Day Resolution is a contemporary romance with lots of feels, but plenty of laughter to go along with them. Carson, Paul's best friend, has no filters, which made him a lot of fun to write. He's a cheerleader for Paul and Huxley's budding romance, and when Valentine's Day rolls around, Cupid has nothing on Carson.
When Huxley and Paul meet up, Huxley is still dealing with the consequences of a serious accident and Paul is fighting to save his business. Romance? Forget it. Huxley and Paul could use a GPS on the road to their HEA, but they'll get there in the end, despite the potholes and detours along the way.
Paul:
"So much for a light evening of chat and a no-pressure date. Oh well. If he and Huxley ended up together, this was the kind of story they could dine out on for years.
If we end up together…. When had he accepted fighting the attraction between them was a losing battle?"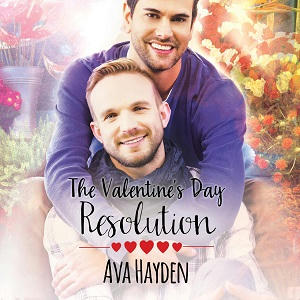 Excerpt!
This time Huxley had the taxi driver drop him at the corner, and he paid him to wait. One way or the other, this would be fast. He stepped down from the green-and-white Oilton Cabs minivan, his eyes watering in the January cold. He carried an oversized paper bag by its twisted paper handles. Push out the air. Let in the air.
When his heart rate slowed from "terrified sprint during zombie apocalypse" to "Mum almost caught you with a hand in your boxers and a copy of Men's Health," he twisted the brass knob and entered Floribunda, silvery chimes ringing out to announce his arrival.
Paul emerged from the back, wiping his hands on his apron.
"Hi—" Huxley's mouth felt like a desert. He licked his lips.
Paul gave him a cautious smile. "Was something wrong with your order?"
"Oh—no, not at all. I'm—I'm actually here to place another order." He lifted the stuffed paper bag onto the counter. "Well, if it's something you can do."
Paul raised his brows. "Go on."
"I want gift baskets like the ones on your website, but I need to have our company's products in the baskets. Can you do that?"
"Can I see the products?"
Huxley pulled out sugar-free cookies, candies, jam, baking mix, oat cakes, cranberry muesli, along with no-sugar-added pasta sauce and canned soups.
Paul picked up a box of sugar-free vanilla sandwich cookies and read the box. "Interesting."
"It's ugly packaging, I know." Was there a law that said food for people on restricted diets had to be hideous? You'd think so, going by their products.
Paul set the box down and hefted a jar of sauce, his expression thoughtful. "It's not so bad. The packaging shouldn't matter anyway, not if we do our job right. We can definitely do something with these. How many baskets?"
"Two for now. Maybe more down the road. These would need to be ready for pickup on Monday."
"No problem."
"That's great." Huxley took a breath. "I was wondering—it turns out—you mentioned the game—I actually have seats. I just forgot. Would you be interested in going?" He swallowed. "I know it's last-minute." Way to sound brain damaged.
Dead silence. Hope curdled. Paul was going to say he had a conflict or he'd invent a prior commitment.
Paul looked puzzled. "The Ospreys game?"
"Yes."
"I—well, yeah, that would be amazing."
"Great." Huxley swallowed. "Would you mind if we met somewhere and took OTIS to the stadium?" He had a feeling Paul would think a driver was pretentious, and he wasn't ready to explain why he had to have one.
"I wouldn't mind at all. Taking the train is a lot smarter than trying to park for a sold-out game."
They arranged to meet in front of the station closest to Floribunda, and Huxley returned to the waiting taxi in a daze. On the way back to the office, he texted his sister. We need to talk.

About Ava!
Ava Hayden lives and writes in Alberta, Canada. When not writing, she loves reading yaoi manga and gay romance, baking, seeing plays, hearing live music, and hiking (even though she once came face to face with two grizzlies on a trail). Most of the time her life isn't that exciting, and that's fine by her.
Website | Instagram | Pinterest
Alexandria Corza's Linkedin profile: Linkedin