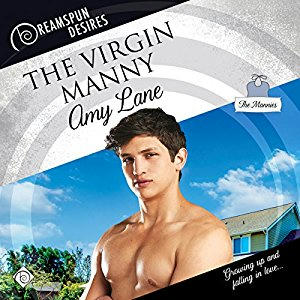 Title: The Virgin Manny
Series:  Dreamspun Desires 25 / The Mannies 01
Author: Amy Lane
Narrator: John Solo
Genre: Contemporary
Length: 6 hrs 14 mins
Publisher: Dreamspinner Press (14 Feb 2017)
Heat Level: Explicit
Heart Rating: ♥♥♥♥♥ 5 Hearts
Blurb: The Mannies
Growing up and falling in love….
Sometimes family is a blessing and a curse. When Tino Robbins is roped into helping his sister deliver her premade Italian dinners, when he should be studying for finals, he's pretty sure it's the latter! But one delivery might change everything.
Channing Lowell's charmed life changes when his sister dies and leaves him her seven-year-old son. He's committed to doing what's best for Sammy…but he's going to need a lot of help. When Tino lands on his porch, Channing is determined to recruit him to Team Sammy.
Tino plans to make his education count – even if that means avoiding a relationship – but as he falls harder and harder for his boss, he starts to wonder: Does he have to leave his newly forged family behind in order to live his promising tomorrow?
Product Link: Audible US | Audible UK  
Reviewer: Prime
Review: It's definitely no secret that I love the Dreamspun Desires series. If you're after sickly sweet romance, maybe a dash of insta-love and a passionate HEA, this line of books by Dreamspinner Press will, more often than not, give you just that. And in reading Dreamspun Desires I have definitely grown a massive appreciation for the work of Amy Lane – I am totally smitten with her writing.
Seriously, Dreamspun Desires are the best thing to listen to on flights. They have been my go to for when I make visits home to see the family, which started out totally for their convenient length.
The other thing that I attracted me to this book is that I can never resist a book with a manny! Hot guys and kids – everything could go wrong but I'm a sucker for this often predictable trope. Seriously: ovaries = blown.
The Virgin Manny of the title is Tino Robbins. He's an out of this world smart kind of guy, though he never shows that part of him, more often than not he is talking up how smart his younger sister Nica is. After all, Nica is 18 and already has a successful and growing business of delivering prepackaged meals she makes herself. But Tino himself has just finished up college and ready to tackle the world of business. One night she ropes Tino into taking a delivery to one of her regular clients and it changes Tino's life forever. At the home he delivers to he meets Channing and his nephew Sammy. Channing's sister has recently died, leaving Channing as Sammy's guardian. Channing needs a nanny, all he has is his sister's spiteful bitch of a housekeeper and Tino seems to be able to communicate with Sammy. Let's not forget that the guys have an instant attraction and let's face it, that attraction has to be the only basis for the entire story.
Ok, so the beginning is a bit shaky when it comes to Channing recruiting Tino (I really needed to keep my mind open for that), but really and truly the one criticism I have is that there was a brief mention of Sammy's biological father and fighting him for full parental rights. But that was it.
But the best, best part – I looked up the series and am currently doing a little happy dance (and not just because I'm watching Doctor Who) because book 2 is going to be coming out and centers on the same group of friends, just a few years in the future. Totally excited now. Actually I'm kinda giddy (but that could also be because of Doctor Who).