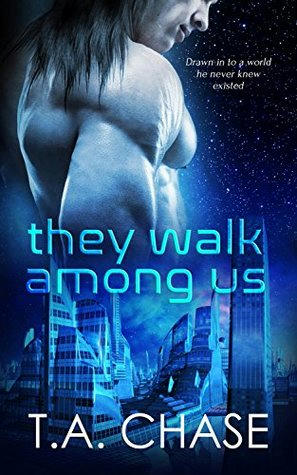 Title: They Walk Among Us (2nd edition)
Author: T.A. Chase
Genre: Futuristic, Science Fiction
Length: Novella (168 pages)
Publisher: Pride Publishing (7th February 2017)
Heat Level: Moderate
Heart Rating: ♥♥♥♥♥ 5 Hearts
Blurb: Zach agrees to help Raven and finds himself drawn into a world he never knew existed.
Zach Harleigh was a baby when the aliens arrived. He doesn't remember much about those months, except his parents fighting and his dad leaving. His father died, destroying the aliens, and his mother died when Zach graduated from medical school. He's alone in the world and working hard to get his career going leaves no time for any kind of relationship.
One night, a beautiful man is brought into the ER. Raven Sanderson has been severely beaten and seems unsocialized. Raven and Zach hit it off when Zach takes over his care. Raven can't speak but writes notes to Zach, letting him know the man is in the city to find his sister.
Zach agrees to help Raven and discovers a world he never knew existed. A world full of alien creatures that read minds and heal with a simple touch. He realizes there is more to the world around him, and the aliens he thought were destroyed weren't. Their offspring walk among us.
Publisher's Note: This book has previously been released elsewhere. It has been revised and re-edited for re-release with Pride Publishing.
ISBN: 978-1-78651-534-6
Product Link: https://www.pride-publishing.com/book/they-walk-among-us
Reviewer: Shorty 
Review: I loved this amazing story from start to finish. Spine-tingling and exciting this story takes the reader into a journey about finding the truth, facing danger and overcoming almost unstoppable odds. Zach, a doctor, treats Raven, a man brought in beaten severely. Raven is untrustworthy of everyone but Zach with good reason. 
As the story continues we discover a sinister plan to eradicate all those who oppose the government regarding the aliens. The aliens themselves broke my heart as they have not done anything wrong. They are only trying to get home. But since the government told all that the original invasion, which was not an invasion, was taken care of they have to find the remaining alien children left behind and do away with them.
Raven intrigue me from the start. He was unique in some of abilities and I found him fascinating. Zach was definitely a huge payer in helping the aliens as he was fighting for the truth. When all is finally revealed I was awestruck at the deception the government went to. 
You have to read this story it was so good. I could not put it down until the very end. Highly recommended.