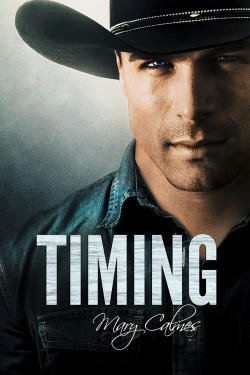 Title: Timing (2nd Edition)
Series: Timing 01
Author: Mary Calmes
Genre: Contemporary 
Length: Novel (204 Pages)
Publisher: Dreamspinner Press (19th October 2016)     
Heat Level: Moderate  
Heart Rating: ♥♥♥♥ 4 Hearts
Blurb: Stefan Joss just can't win. Not only does he have to go to Texas in the middle of summer to be the man of honor in his best friend Charlotte's wedding, but he's expected to negotiate a million-dollar business deal at the same time. Worst of all, he's thrown for a loop when he arrives to see the one man Charlotte promised wouldn't be there: her brother, Rand Holloway. 
Stefan and Rand have been mortal enemies since the day they met, so Stefan is shocked when a temporary cease-fire sees the usual hostility replaced by instant chemistry. Though leery of the unexpected feelings, Stefan is swayed by a sincere revelation from Rand, and he decides to give Rand a chance. 
But their budding romance is threatened when Stefan's business deal goes wrong: the owner of the last ranch he needs to secure for the company is murdered. Stefan's in for the surprise of his life as he finds himself in danger as well.
ISBN: 978-1-63477-712-4
Product Link: https://www.dreamspinnerpress.com/books/timing-by-mary-calmes-7652-b
Reviewer: Lisa
Review:  I have read a few of this authors work and have always been fascinated by the worlds she creates for her guys.  Although I have to admit that I have my favorites out of them though.  This one was a very catchy little story and will tell you right off the bat that the cover rocked.  It was definitely a very quirky looking cover.  
I love how there is humor mixed in with a serious tone to them, which for me is a plus. I can't stand a story that is long, drawn out and no humor.  Now for me the murder was very strange and easy to figure out.  However it was still pretty damn good, not to mention the sexy men who started out at war and soon found love.  Sounds a bit cheesy to me but for is always fun to watch.
Wow, you get a sexy cowboy and a very strange hipster type guy in this. They are at war with each other, and when asked to come to the wedding, well let's just say there are a few shocks.  Stefan's best friend swears her brother isn't coming, and well you guessed it.  To top it off Stefan's deal is not going the way it is supposed to.  And then the murder happens, well you will just have to read the story.
I had a great time reading it, although I have to admit that it was just a bit drawn out, but the humor made it work.  Now what made this work even more for me, is it wasn't a sexual heat over the wedding but it took them some time to see what the other is to them.  I am never one for cowboy type stories but the murder made it perfect for me.  I enjoyed the book and will start reading the next book as soon as I finish this review. 
I would recommend reading this and let you fall in love with these two.