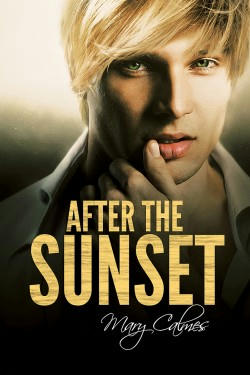 Title: After the Sunset (2nd Edition)
Series: Timing 02
Author: Mary Calmes
Genre: Contemporary 
Length: Novella (169 Pages)
Publisher: Dreamspinner Press (2nd November 2016)     
Heat Level: Moderate  
Heart Rating: ♥♥♥♥ 4 Hearts
Blurb: Two years after riding off into the sunset with ranch owner Rand Holloway, Stefan Joss has made a tentative peace with his new life, teaching at a community college. But the course of true love never does run smooth. Rand wants him home on the ranch; Stef wants an exit strategy in case Rand ever decides to throw him out. Finally, after recognizing how unfair he's being, Stef makes a commitment, and Rand is over the moon.
When Stef gets the chance to prove his devotion, he doesn't hesitate—despite the risk to his health—and Rand takes the opportunity to show everyone that sometimes life's best surprises come after the sunset.
ISBN: 978-1-63477-713-1
Product Link: https://www.dreamspinnerpress.com/books/after-the-sunset-by-mary-calmes-7707-b
Reviewer: Lisa
Review:  Well our sexy men have been together for two years and I have to say that you need to read this series in order.  You will find out about their fighting and how they just seemed to click.  Trust me you need to read the first book.
Now Stefan has his head up his ass when it comes to Rand.  Rand wants him to move in at the ranch, but Stefan just doesn't trust their love to withstand such a move.  The man needs a good swift kick in the ass.  However you can see that it is what he wants to do.  Now if you want the juicy details, well you are just going to have to read the story.  
The more you look at these two men; you can feel the heat coming from them.  Here you have a man that is smart as hell when it comes to business but the rest of his life, well he is just a man.  Rand is so damn alpha that it will make you just hot from watching him rope in his man.  The family dynamics that they are dealing with just make it seem more real.  
I do love the humor that is mixed in with the serious tone.  I can't really stand a boring story with no humor, and this one was anything but boring.  Now I for one do not really care for cowboys and what comes with them but damn if this author doesn't change my mind.  I definitely do love the rodeo and Stefan's clever idea that will probably get his ass kicked.  I also would just shoot Rand's family, but then again that is me. 
Trust me on this; you have got to read this book.  Love trumps family all the way around.