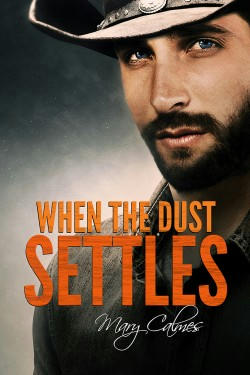 Title: When the Dust Settles
Series: Timing 03
Author: Mary Calmes
Genre: Contemporary 
Length: Novella (107 Pages)
Publisher: Dreamspinner Press (November 16, 2016)
Heat Level: Moderate  
Heart Rating: ♥♥♥♥ 4 Hearts
Blurb: Glenn Holloway's predictable life ended the day he confessed his homosexuality to his family. As if that wasn't enough, he then poured salt in the wound by walking away from the ranch he'd grown up on, to open the restaurant he'd always dreamed of. Without support from his father and brother, and too proud to accept assistance from anyone else, he had to start from scratch. Over time things worked out: Glenn successfully built a strong business, created a new home, and forged a life he could be proud of.
Despite his success, his estrangement from the Holloways is still a sore spot he can't quite heal, and a called-in favor becomes Glenn's worst nightmare. Caught in a promise, Glenn returns to his roots to deal with Rand Holloway and comes face-to-face with Mac Gentry, a man far too appealing for Glenn's own good. It could all lead to disaster—disaster for his tenuous reconnection with his family and for the desire he didn't know he held in his heart.
ISBN: 978-1-61372-092-9
Product Link: https://www.dreamspinnerpress.com/books/when-the-dust-settles-by-mary-calmes-7779-b
Reviewer: Lisa
Review:  Now even though this is book three in the series, I do believe that you can read it by itself.  However I would suggest reading the books in order, because there are just a few spots that can get confusing without knowing a bit more about the other stories.  However once again it is not needed though.
It has a serious tone to it but the humor is even matched.  The story is fully developed and the characters were a blast.  For such a shorter story then I have seen from this author, I was quite pleased with just how full it seemed to be.  It was not drawn out and very nicely paced for her readers.  The guys made it seem even better to me.  I was also glad to see Stefan and Rand again.
Stefan calls Glenn for just a bit of help.  His eyes set on Mac and let's just say you can feel the heat coming from these two.  Glenn has his life the way he wants it, with success with his restaurant and life is going good.  He was just missing that special someone in his life, and Mac is it for him.  However if you want to see the chemistry, you must read the book.  Let's just say, smoking hot.
Now as much as I loved the first two, this one gave me a bit more even though it is a smaller story.  I was very glad to have found that it was going to be about a new character and not the same ones from the first two books.  I don't really care for characters that are the main thing from one book to the next.  So for me this new couple rocked it perfectly.  However you must read the book if you want to find out just how hot these two were.  I have to admit that I would have loved to have both guys POV's, however Mary wrote it just right. 
It was a lot of fun to read and can't wait for another one.