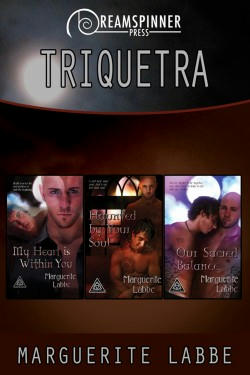 Title: Triquetra Trilogy
Series:  Triquetra Trilogy One – Three
Author: Marguerite Labbe
Genre: Vampires
Length: Novel (772 pages)
Publisher: Dreamspinner Press (September 30, 2016)
Heat Level: Moderate
Heart Rating: ♥♥♥♥♥ 4 ¾ Hearts (combined rating)
Blurb: When vampire Kristair binds his heart and soul to a human vessel in an ancient ritual, he never expects to fall in love with Jacob Corvin as well. As The Syndicate moves in to discover the secrets Kristair hold, the bonded pair will discover that not even death can separate them. Unfortunately, it won't stop their enemies from coming after them, either.
ISBN-13:  978-1-63477-624-0
Product Link: https://www.dreamspinnerpress.com/books/triquetra-by-marguerite-labbe-7572-b
Reviewer: Shorty 
Review:
My Heart is Within You. Heart Rating: ♥♥♥♥♥ 5 Hearts
Kristair is an ancient vampire looking for a body for his heart to inhabit before he deteriorates. He hears voices though he's not sure they are real. He sees Jacob at a football game and becomes immediately entranced with the young man. He takes to learning everything he can about him. Jacob knows someone has been following him. When he finally meets the man he has dreamed of the attraction is instant. When he learns of who Kristair is is he worried? Of course, but that does stop him from wanting him? No. 
I loved this story. It flowed seamlessly and wrapped the reader in a layer of mystery. I am assuming the story will continue in the next book as there are questions that were not answered in this one. Nevertheless I loved it.
Haunted by Your Soul. Heart Rating: ♥♥♥♥♥ 5 Hearts
A lot went on in this powerful continuation. Kristair has been killed. But before he was he transferred a piece of his soul and all his memories to Jacob. Jacob wants revenge on the poor hungry vampires for the torment the put Kristair through but Kristair's memories force him to see reason. The syndicate is after Jacob so Jacob finds an ally in Tony who came back from the collective and then killed again.
It's a fascinating story that takes you deeper into the vampires world. I thought the collective was a brilliant addition. I loved that the theory is that souls are around each other not just drifting aimlessly. This is where Kristair ended up while trying to get back to Jacob.
Our Sacred Balance. Heart Rating: ♥♥♥♥ 4 Hearts
This book was vastly different from the first two. The main thing being Kristair is human in this one. So he is adjusting to what humans can and cannot do after spending thousands of years as a vampire. While it might seem simple, it was not. I much preferred him as a vampire myself. Along with that change comes the fact that someone is killing vampires and Kristair feels he must look into it despite no longer being paranormal himself. 
There were tense scenes and hot ones but I felt the book was seriously lacking as opposed to the first two in the series.
0verall:
All in all this bundle was a great read with plenty of hot action, mystery, suspense that takes the reader on a roller coaster ride of two people's lives and what they must endure to be together.