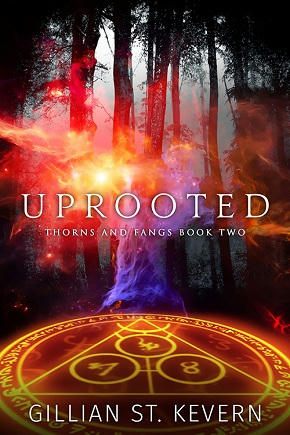 Title: Uprooted
Series: Thorns and Fangs #2
Author: Gillian St. Kevern
Genre: Paranormal, Fantasy
Publisher: NineStar Press (December 26, 2016)
Length: Novel (232pgs)
Heat Level: Low
Heart Rating:  ♥♥♥♥♥ 5 Hearts
Blurb: Recovering vampire Ben is discovering that life after death is hard work. It will take more than a reflection to impress his boyfriend Nate's religious mother. And Nate's twin brother, Ethan, openly resents Ben's presence at the family farm. Nate is confident they can build a normal life together, but Ben's not even sure he knows what normal is. He can't face his reflection, let alone his past, while Nate refuses to divulge his family's supernatural secret. Can they build a future on such shaky foundations?
When a supernatural hunter is found dead on the family farm, Ethan becomes the main suspect in a murder investigation that puts Ben and Nate at odds. Nate wants to protect his family and stay silent about what he is, but Ben knows no one is safe until the demonic agent responsible for a string of murders is caught. Defying Nate to investigate alone, Ben can't let the demon claim another victim. But as his investigation continues, he discovers links to a past he thought he'd buried—and a past Nate refuses to acknowledge. With a desperate killer on a deadline, Ben must face the literal demons in his past if he wants to have any chance of saving himself and Nate from a fate worse than death. 
ISBN: 978-1-945952-41-8
Product Link: https://ninestarpress.com/product/uprooted/
Reviewer:  Lisa
Review: It has been several months since I read the first book in this series, so it was like a new experience for me.  This particular story is about the two main characters in book one and where they are now that Ben is not a vampire any longer.  When I read the blurb, it said recovering vampire, but in truth he is now human once more.  The characters are a bit off to me, but still pretty sweet.  In this story you find out more about Nate and let's just say it is one big surprise.
Nate has talked Ben into coming back to his home town with him.  It is supposed to give him a break from what he had known before.  Ben gets to meet Nate's brother Ethan and their mom.  Now that is one wacky family.  It also explains quite a bit about Nate.  The problem was there was a murder and Ethan is the main suspect.  
Now the whole town is just down right creepy.  They are one of the most religious place's ever and just because someone is off, it makes them evil.  And when there is evil around, you can figure out the type of people living there will react.  Ethan is a lover of plants, and is damn good at growing them.  He is closed off and really weird, but his brother is the exact opposite.  Nate is out going and funny as hell, in a way.  This murder might link back to, well I will let you find out when you read the story.  Let's just say you are in for a big surprise.
It is a very long winded tale that I have to admit didn't keep my attention like it should have.  I am afraid that I had to take a break from it for a bit.  It has a lot of description and details in it that just didn't help me along.  It actually took several chapters before I got interested in finding out what else happens.  Other than that this book was a bigger hit with me then the first one was.  I do like the characters quite a bit and can't wait to see what this author comes up with for the next book.