Hi guys, we have Alexa Milne popping in today with the tour for her new release While You See A Chance, we have a great new excerpt and a brilliant giveaway, so check out the post and click that giveaway link! <3 ~Pixie~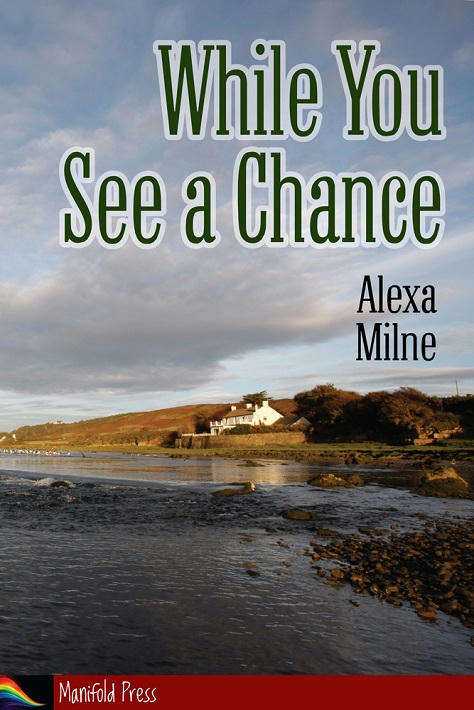 While You See A Chance
by
Alexa Milne
As children growing up in South Wales, Sion, Phil and Helen were known as the Three Musketeers, always together and never apart – but time moves on. Sion left to lecture in history at Yale. Phil married Helen because it seemed the obvious thing to do, and they settled down to life in Manchester.
Now all three are approaching sixty. After the death of his partner, and wanting to solve a family mystery, Sion returns to his childhood home to start again. When Helen announces she wants a divorce, Phil also returns home, to a new teaching job, and to renovate the ruin of a house he and Sion once dreamed of living in.
Neither man knows the other is back. Neither man knows how the other feels. With so much unsaid, and so many years apart, can Sion and Phil finally face the truth and take a chance on finding happiness together?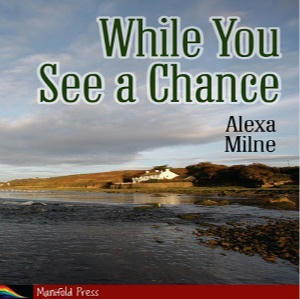 Excerpt!
Phil dropped the bag next to his secretary's desk.
"Did you get everything?" Jenny asked, peering up from her computer.
"Yes, and thanks for staying on to help tonight. I'll be in my office if anyone wants me."
"You're supposed to be seeing Iain Scott about the funding for the repairs to the classrooms at two thirty." She handed him a file. Phil sighed. Seeing that idiot was all he needed.
A few minutes later, Jenny entered his office with a mug of tea, and found him with his head in his hands. All Phil could think about was Sion. The file for the meeting remained unopened in front of him.
Jenny hovered. "Are you all right, Mr Price? You seem to be a little … distracted." Although they'd worked together for the last four years, Jenny always called him Mr Price, never Phil, even when they were on their own.
"Sorry. I guess I got out of bed the wrong side this morning. With the weather forecast predicting snow, I'm worried the flat roof over class four might collapse before we get the money to fix it." He picked up the mug, warming his hands. "Thanks for this." He opened the file to the first page. "I'm going to read through the information, then go through the pupil reports to make sure I know enough if we have any problems tonight – not that I'm expecting any."
She gave him a sympathetic smile. "I'll buzz you when Mr Scott arrives."
Jenny left him alone, but he didn't begin to read. Instead, he turned round in his chair and took a mouthful of tea, sighing heavily as he did. The sky looked grey and full of snow. He couldn't imagine why Sion would have left America to return to this part of the world. So many memories threatened to crash into his head, and he had trouble keeping tears at bay. Even now, thirty years later, the sight of Sion Goff had reduced his insides to mush, though he would still deny it, even to himself. There had been hardly a day he hadn't thought about him. Sion had been a constant confusing presence in his marriage. What was it Helen had said the day she'd left him? Her words might as well have been inscribed on his heart; he remembered them exactly.
"I've never been in love with you, Phil, not like I should have been. You were always second best. I made do because I couldn't have him. Oh, I tried, believe me. I practically threw myself at him before he went to Oxford, but he told me to cover myself up and, that although he loved me, he would never be in love with me because he didn't fancy women."
Of course, by then Phil had known Sion was gay. His novels sat on their shelves. Phil hadn't attempted to stop Helen leaving. He hadn't said anything much, except to ask her if she'd told their children.
She'd stood there and stared at him, with her hands placed firmly on her hips. "Nothing to say, Phil? Typical. You're such a cold fish. It's no wonder I had to go elsewhere to get someone to pay me attention." Every word had shredded his heart, but he'd stayed silent, knowing she had right on her side.
"I'm leaving you before I'm too old to find someone who wants me. I've no idea why you married me in the first place. It's like you're dead inside, and I don't intend to be buried alive with you any more!"
When she left, he couldn't find it in his heart to care. They should have stayed as friends and nothing more, but he'd been so afraid of not being normal, and at least he'd liked her. She'd been right about him being dead inside. That feeling had ended an hour ago when he saw Sion's face and heard his voice for the first time in over thirty years.
If only he'd said something before Sion left for Oxford, his life might have been so different. I'm a sixty-year-old father of two, a primary school head teacher, and I'm too old for all this. How do you come out when you're sixty, especially when you're not sure who, or what you are? And why would he even want me? Do I believe in second chances?
Seagulls swooped across the darkening sky, fighting over scraps of food they'd found nearby. He turned round, not wanting to see himself reflected in the glass any longer. He needed to read the file. The school needed those repairs. He needed to do his job. Pull yourself together and stop being so pathetic. It's no use dreaming of a different life. You made your bed all those years ago, and it's too late to change now, isn't it?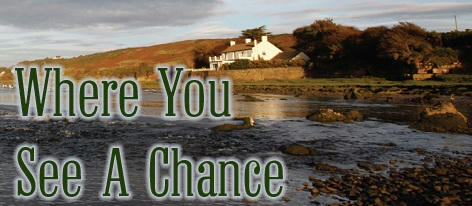 About Alexa!
Originally from South Wales, Alexa has lived for over thirty years in the North West of England. Now retired, after a long career in teaching, she devotes her time to her obsessions. Alexa began writing when her favourite character was killed in her favourite show. After producing a lot of fanfiction she ventured into original writing. She is currently owned by a mad cat and spends her time writing about the men in her head, watching her favourite television programmes and usually crying over her favourite football team.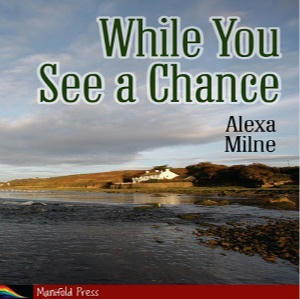 Giveaway!
Win an ebook of While You See A Chance!
(Just click the link below)

Check out the other blogs on the tour!