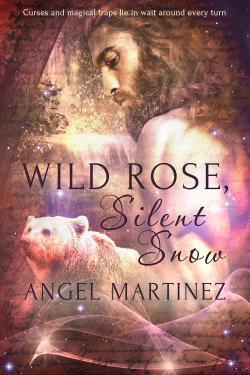 Title: Wild Rose, Silent Snow
Author: Angel Martinez
Genre: Fantasy and Fairytales
Length: Novella (124 pages)
Publisher: Pride Publishing (November 18, 2016)
Heat Level: Moderate
Heart Rating: ♥♥♥♥♥ 5 Hearts
Blurb: A huge bear at the door, a handsome, naked stranger in the snow, magic fish, enchanted beards—and Rowan thought his life was odd before.
Content with the quiet isolation of their lake house, Snowden and Rowan Hadley survive on summer jobs and winter hunting, unable to move on since their parents died. Their peace is shattered by a strange, human-acclimated bear who insists on following Rowan like a giant hunting dog and again by the discovery of a naked, surly stranger in the snow.
Both bear and man lead the Hadley brothers into a strange, surreal world where sorcery and RPG software intertwine. Curses and magical traps lie in wait around every turn. Rowan and Snowden will need to adjust their view of how the world works, and quickly, if they want to live through rescuing their enchanted princes.
Publisher's Note: This book has been previously released elsewhere. It has been revised and re-edited for re-release with Pride Publishing.
ISBN: 978-1-78651-500-1
Product Link: https://www.pride-publishing.com/book/wild-rose-silent-snow
Reviewer: Shorty 
Review: Another fantastic fairy-tale inspired book. I loved the impaired twins, Snowden and Rowan. The bear that follows Rowan home and slowly takes his place among them was no real shock to me as I guessed he was more than he seemed. I was happy I was right. Amid the closeness that happens between bear and Rowan lies an undercurrent of mystery in the form of a stranger with a beard.
A magical tale full of twists and turns that leave you spellbound and intrigued to the very end. I truly enjoyed the entire book and hope that Snowden will get his own story as well to see what awaits him. Fantastic read.
Highly recommended.