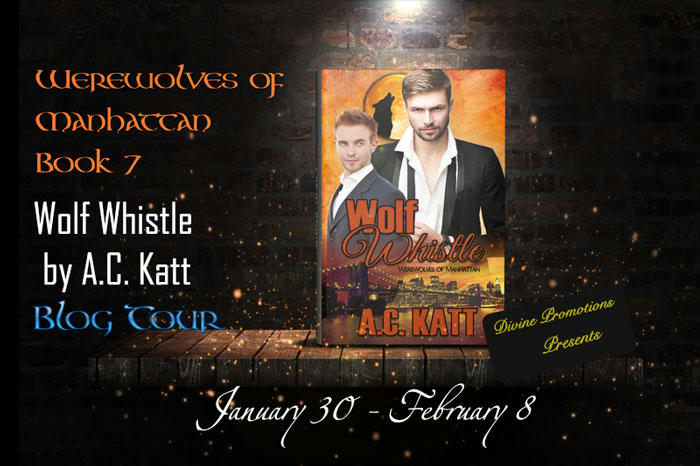 Hi guys, we have A.C. Katt popping in today with the tour for her new release Wolf Whistle, we have A.C. answering a couple of questions about her character Richard, a great new excerpt and a fabulous giveaway, so check out the post and click that giveaway link! <3 ~Pixie~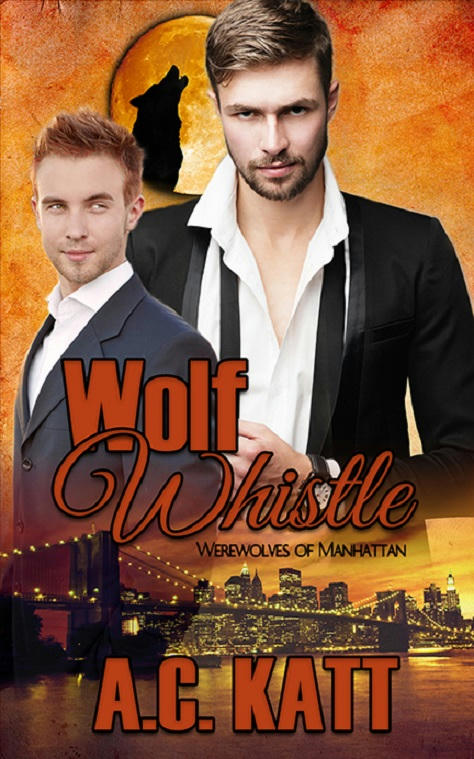 Wolf Whistle
(Werewolves of Manhatten 07)
by
A.C. Katt
Can a whistleblower find a new future with a wolf while being chased by a corrupt cop and the Serbian mob?
Richard Kerrigan is on the verge of losing hope. Fired from his job for blowing the whistle on a defect that would harm service members if used as designed, he is now blacklisted in the Chicago area. A local Serbian mobster wants Richard and won't take no for an answer.
Garou Industries, the loup garou privately owned company, has been searching for Richard to offer him a position in the company as they value having someone with his integrity on staff. Richard relocates to Manhattan to begin his new job and stays with Julien Bellaire, his mentor, who is also Richard's Mate.
Before they can settle in, the Serbian mobster turns up dead and a corrupt cop who secretly works for the Serbians comes to New York with trumped up charges to pin the murder on Richard. With over eighty witnesses to Richard being on an airplane at the time of the murder, the cop abandons trying to frame Richard and instead plots to murder him. The loup garou request assistance from the Italian mob to protect Richard which comes with some interesting consequences.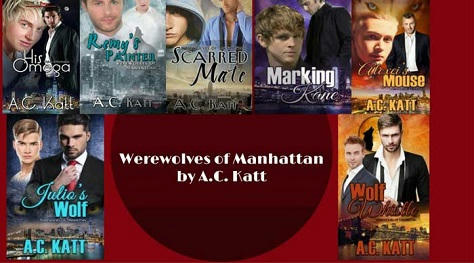 Fun Questions!
When your character thinks of their childhood kitchen, what smell do they associate with it? Sauerkraut? Oatmeal cookies? Paint? Why is that smell so resonant for them? Mom's PB&J Sandwiches eaten while playing video games.
It's Saturday at noon. What is your character doing? Give details. If they're eating breakfast, what exactly do they eat? If they're stretching out in the backyard to sun, what kind of blanket or towel does they lie on? Richard lives in a furnished apartment. His linens are his own and are of decent quality. They are almost the only things in the apartment that are.
Your character is getting ready for a night out. Where will they be going? What do they wear? Who will they be with? Richard has two jobs. He doesn't do night's out. At night he bartends at a dive bar near his apartment.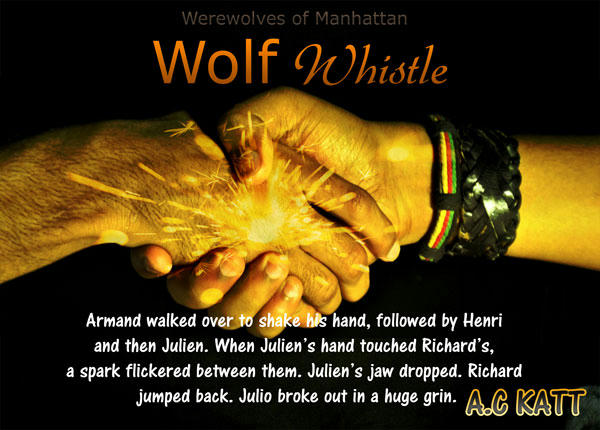 Excerpt
Chapter One
Wednesday, Second Week in June
Present Day
Red Oaks
It was Richard's night off from the bar. He had taken his computer to Kinko's to print out additional resumes. He got off the bus at his stop and walked the two blocks to his studio. A well-dressed man stepped out of a limousine and spoke to him as he began to enter the building. "Are you Richard Kerrigan?"
"Yes, I'm Richard Kerrigan, but I want nothing to do with Mr. Kasun, so please leave me alone."
The man blew out a breath. "I don't know a Mr. Kasun. I represent Mr. Etienne Daurensbourg, who has recently married Mr. Julio Reyes. I am Gilbert Renaud. My employer asked me to find you as a wedding present for his husband."
"Julio? I haven't heard his name in ten years. Is he okay?" Astonished, Richard's jaw dropped open.
"Mr. Reyes will only be in town until tomorrow morning. If you come with me, you can see him for yourself. I will arrange for your transportation home after the visit."
"I thought you worked for Davilor Kasun, but Kasun wouldn't know about Julio." Mr. Renaud opened the door of the limousine. Richard hesitated, but after a few minutes got into the backseat. He missed Julio, even after all these years. He was the only friend Richard ever had that didn't have an agenda.
After thirty minutes, the limo rounded the circular driveway of a house that had to be over thirty thousand square feet. Gilbert stopped the limo at the entrance. There were cars parked everywhere.
"Eh…Gilbert, where are we?"
"This is Mr. Daurensbourg's home in Highland Park. I am one of his assistants. If you follow me, I'll bring Julio to you." Mr. Renaud brought Richard to what seemed like a breakfast room and asked him to sit and wait. Richard scanned the room. Strangely, he smelled peaches. There must be a bowl of the ripe fruit on the kitchen counter.
***
Gilbert signaled Etienne. What are those two up to? Julio wondered.
Etienne nodded and turned to Julio. "I have another wedding present for you." He wore a secretive, pleased smile.
Julio scolded, "You shouldn't have bought me anything else. I have everything I need, right here." He hugged his husband. Etienne motioned Gilbert forward.
Gilbert approached him smiling. "Alpha Mate, we found Richard Kerrigan. He's waiting for you in the breakfast room."
Julio broke out into a huge smile. "Thank you Etienne, Gilbert, I can't believe you did this for me! Come with me and I'll introduce you to Richard; besides, I couldn't find my way in this barn anyway."
Etienne laughed and put his arm around Julio's shoulders, and they made their way to the breakfast room.
Julio gasped. Richard's head was visible from the entrance to the room. His red hair had turned to a darker auburn. It called him like a beacon. Julio stopped and frowned. He knew that posture from when they were kids. Something was very wrong in Richard's world. He sent a message to his Mate: Richard is in some kind of trouble. I recognize those lines on his forehead.
Maybe we can help, Etienne offered.
Julio flashed his Mate a brilliant smile. Maybe we can. He held out his hand.
"Richard, by the gods, I thought I'd never see you again," Julio greeted his old friend.
Richard stood, ran to Julio and gave him a hug. Etienne emitted a low growl, and Julio sent him a terse message over the Mate link. Don't be stupid. I told you we were childhood friends. It would be like screwing my brother.
Etienne backed down gracefully by holding his hand out to Richard. "I'm Etienne Daurensbourg, Julio's husband."
Richard glanced around the room then back at Etienne, smiling. "Julio, with your determination, I always knew you'd do well."
He cocked his head. "Until recently, not as well as you think, but tell me about you. Why are you still in Chicago? I would have thought that Silicon Valley called your name years ago. Sit down with us so we can talk. Gilbert, do we have any Coke?"
"Most certainly. I'll bring you two cold cans right away. Etienne, would you like a beer?"
"I'm sorry, Richard. Would you like a beer instead?" Julio asked.
"No, I still don't like the taste. Remember that day when we were thirteen, and we stole the six pack from your father's garage refrigerator and proceeded to get wasted? I was so sick. I haven't touched a beer since." Richard grinned then became earnest. "It's so good to see you. My parents called Social Services and tried to find you, but they wouldn't tell us where you were because we weren't relatives. Mom and Dad offered to foster you, but the state said they weren't qualified, and they couldn't have you anyway since we were moving out of state. I must have sent you more than two dozen letters the first two years, but when you didn't reply, I thought you didn't want to hear from me."
"I wanted to see you. Social Services wouldn't let me contact anyone since I was a minor and a ward of the state. They put me in a group home because I was gay and then promptly forgot about me." Julio sniffed.
"We wouldn't have abandoned you. We couldn't find you." Richard's brow furrowed. "What happened to you?" he asked.
"Nothing good. That's a long story better left for another time. It's nice to know that your family attempted to help. What about you? Did you ever get into MIT?"
"Yes, and I graduated summa cum laude, first in my class." Richard's eyes misted. "I received many job offers, one I especially wanted to take, but Dad died of a heart attack in my junior year in college. Just after that, Mom developed breast cancer, so I accepted a job with Switched Power Designs in Chicago."
"Isn't that the company that was in the news for defective power supplies for the Cougar II?" One of Etienne's eyebrows arched.
"Yes, it was. The power supply was my design." Richard clenched his fist, and his eyes narrowed. "It wasn't designed that way. I specified Charter components with a high heat tolerance. When it went into production, the production manager decided to use Minster components instead. I tested the design with Minster components because they were an approved vendor, but it ran too hot. I wrote several reports describing the problem and complained all the way up to the president of the company. When I saw they wouldn't budge, I went to my congressman. It cost me my job. I could have sued, but I didn't have the money because I spent my savings on a decent hospice for Mom."
"Were you able to get a job somewhere else?" Etienne asked.
Richard shook his head. "Switched Power said I was fired for insubordination and poor performance. They blamed me for the Cougar fiasco and gave me a poor reference, even though I had signed documentation saying that changing out the components made the design faulty and downright dangerous."
Etienne's fist came down on the table. "Many of our people serve. It's bad enough there is the danger of explosion from an enemy planted IED, but to have your vehicle catch fire because of a defective part is untenable. Especially if the manufacturer knew about the issue beforehand and refused to fix it."
Richard hung his head. "They blamed me and therefore I'm toxic. Now I work as a clerk at a small grocery store, and I bartend at night. The two jobs pay my college loans, my rent, and my phone, but they don't leave me with money for much else." He took a deep breath and blew it out in exasperation. "I know I did the right thing, but I'm paying for it."
Gilbert returned with the sodas for Julio and Richard and a beer for Etienne. Alpha, he had his computer and a folder with him when I picked him up. Maybe the folder contained resumes. Garou could…
"But enough of my sad story. I'm still sending out resumes, although I know what happens as soon as they check my work history." Richard shrugged. "Even though I was fired, I'm glad I did what I did. They said a failure rate of a little more than five percent was acceptable. To me it meant five out of every hundred vehicles would catch fire and immolate the troops using it for transport. That wasn't right, and I couldn't let it stand. It was my design."
"You have proof of this?" Etienne asked, jaw clenched.
"Yes, on my computer I have time-stamped emails and reports that I sent to management. I also have the specs for the original design with an explanation of why I didn't use our preferred vendor, Minster, and specified Charter instead."
Etienne's lips thinned. "They're not supposed to be able to fire a whistleblower."
"No, they're not but there was nothing I could do to stop them.
Julio gazed up at his Mate with firm purpose. "Etienne, Garou has divisions that use engineers…Maybe we could…"
"Garou?" Richard asked, his eyes growing big. "Garou is the top employer in North America for engineers, known for treating their employees with respect, and providing excellent compensation."
Julio grabbed Richard's hand. "Most of the people here today are on the board of Garou Industries. Do you have a resume with you?"
"I have thirty copies. I just came back from Kinko's when Mr. Renaud caught me on the stoop. Do you think they'd read it?"
"I can guarantee it." Julio peered over Richard's head at Etienne and let go of his friend's hand.
"Of course, we'll read your resume, if only because you're a friend of Julio's and our family loves him." Etienne kissed the top of Julio's head.
Richard's hands were shaking. "I have them here in my satchel." After he sat down, he opened his bag, carefully removed his computer and pulled out the folders that contained his resumes. He handed one to Etienne, along with copies of personal letters of recommendation from his professors. He also retrieved both the reports he'd sent to management and the sheets containing the test results with the Minster and Charter components.
Etienne read the documents.
"For what I want to do, I should have a master's. I wanted to continue on to get it, but Mom was sick, so I had to make some money to keep her comfortable for her last few months."
"Gilbert, please go upstairs and bring Armand, Julien, and Henri down to meet Richard."
"Please, Mr. Daurensbourg, I didn't come to tell my story, I came to find out how Julio was doing."
"First, call me Etienne. You're Julio's friend. Of course, I'll help, if I can. To be honest, Garou searched for you after the congressional hearings. We want to hire engineers of your expertise and integrity. At Garou, you would have been promoted for doing what you did."
Julio grinned at the flabbergasted expression on Richard's face.
Armand came down the stairs, followed by Henri and then Julien.
Etienne swept out his arm as he made the introductions. "Armand La Marche, Julien Bellaire and Henri Giraud, this is Richard Kerrigan, the young man who exposed the power supply fiasco at Switched Power Designs. He and Julio grew up together before Julio's parents drowned."
Richard stood to meet Julio's friends.
Julio took over. "Richard, Armand is the Chief Executive Officer of Garou Industries, Henri is the Director of Security, and Julien is the Director of Production and Quality Assurance."
Armand walked over to shake his hand, followed by Henri and then Julien. When Julien's hand touched Richard's, a spark flickered between them. Julien's jaw dropped. Richard jumped back. Julio broke out in a huge grin.
Henri excused himself. "I'll bring the others down," he said sadly and went back up the stairs to get the other members of the board.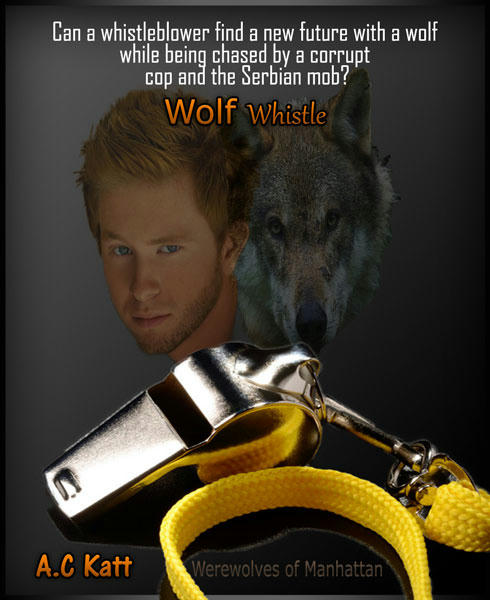 About A.C.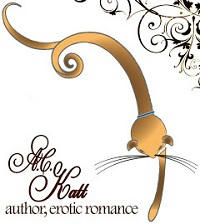 AC Katt was born in New York City's Greenwich Village. She remembers sitting at the fountain in Washington Square Park listening to folk music while they passed the hat.  At nine, her parents dragged her to New Jersey where she grew up, married and raised four children and became a voracious reader of romantic fiction. At one time she owned over two thousand novels, until she and her husband took themselves and the cat to New Mexico for their health and its great beauty.
Now, most of AC's books are electronic (although she still keeps six bookcases of hardcovers), so she never has to give away another book. AC is a late bloomer, however, she claims to have found her niche writing LGBT romance.
She hangs out at ACKatt.com and ackattsjournal.com; where she keeps her blog.  To get snippets of new releases and Works in Progress subscribe to AC Katt's Kattery by sending an e-mail to mlhansel@gmail.com.
Where to find the author:
Facebook | Twitter | Pinterest | Website | Blog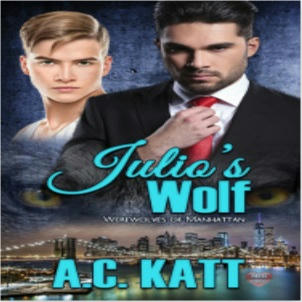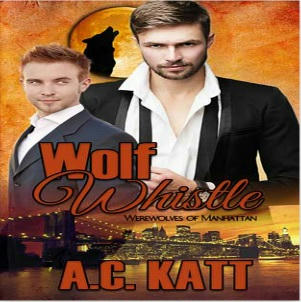 Giveaway!
Win an E-Copy of Wolf Whistle and Julio's Wolf!
(Just click the link below)
(Ends 10th February 2017)