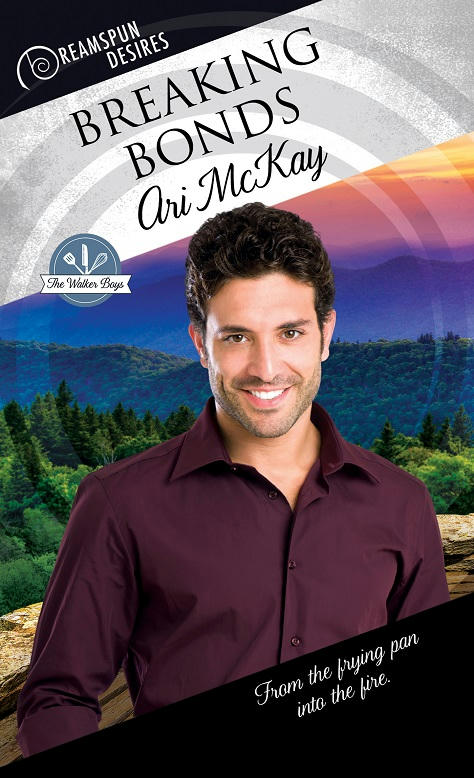 Title:  Breaking Bonds
Series: Walker Boys 02 / Dreamspun Desires 35
Author: Ari McKay
Genre: Contemporary
Length: Novel (190 pages)
Publisher: Dreamspinner Press (1 June 2017)
Heat Level: Moderate
Heart Rating: ♥♥♥♥ 4 Hearts
Blurb: From the frying pan into the fire.
After a critic's review attacks both Chef Liam Walker's culinary skills and his personal life, Liam can no longer take the heat of the cutthroat New York City restaurant scene. He needs to get out of the kitchen—at least long enough to cool down and regroup.
At the Overlook Resort in North Carolina, Liam meets owner Carter Galloway. Carter has a passion for the hospitality business to rival Liam's own, and it's not hard to see where their shared interests—and attraction—could lead. But Carter has no interest in a fling, and Liam has no intention of walking away from the career he fought so hard for. If they want a taste of happiness together, they'll have to find the courage to break the bonds threatening to pull them apart.
ISBN:  978-1-63533-151-6
Product Link: https://www.dreamspinnerpress.com/books/breaking-bonds-by-ari-mckay-8447-b
Reviewer: Prime
Review: Before I get started on Breaking Bonds, just a quick note – this is the second in Ari McKay's charming series the Walker Boys. They are only related in so much that one MC (the Walker boys) from each both books are actually cousins. You don't necessarily need to go back except for a thoroughly enjoyable story which I liked a lot.
Breaking Bonds is a highly enjoyable story – a little predictable and had me thinking of rating this only 3.5/5 but in the end I couldn't do it. In the end this is lovely and sweet romance that holds up its own and like the first book it's a good read for fellow Food Channel addicts.
The story's MCs are Liam Walker and Carter Galloway. Liam Walker had made his career in New York City in the, forgive the pun, cut throat cooking/restaurant industry. Liam is a world of difference away from Liam. He owns and runs a North Carolina resort. Like Liam is passionate about food, Carter is passionate about hospitality. It's not difficult to see why the sparks fly when Liam offers Carter some much needed help to get his resort's restaurant up to scratch. It's also perfectly charming to see Liam come to a number of realizations about what makes him passionate about his job as he gets to know Carter more.
As I said, I had initially thought the book a tad bit predictable – in so far that I conjured up a few books I've read in the past and thought this was a good mix of them. But ultimately, these guys have a wonderful chemistry which is what really stuck with the most from this book. They are definitely the reason why I fell in love with the story, which in the end, isn't that exactly what an author strives for when they write a story.