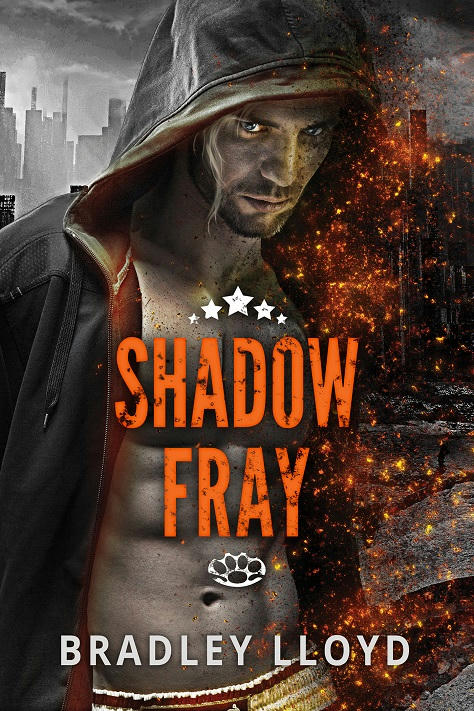 Title: Shadow Fray
Series:  Shadow Fray Round # 1
Author: Bradley Lloyd
Genre: Science Fiction
Length: Novel (284 pages)
Publisher: DSP Publications (May 30, 2017)
Heat Level: Low
Heart Rating: ♥♥♥♥♥ 5 Hearts
Blurb: Family is worth fighting for—and family doesn't always mean blood.
No one knows what calamity poisoned the earth and decimated the human population, but living close to the toxic ground means illness and death. Justin is determined to keep his twin sister and younger brother from that fate—no matter what he has to do. To earn enough to keep his family safe in a high-rise, Justin enlists in a deadly sport called Shadow Fray. He quickly finds himself in over his head, especially when he is scheduled to face the most dangerous player.
Hale—who competes as Black Jim—knows he won't be on top forever, despite his skills. He fights for a better life for his daughter, but his time is running out as Shadow Fray becomes increasingly lethal. Something about the newest fighter intrigues him, but does he dare defy his masters to investigate? Justin and Hale will clash in the ring, while beyond it the powerful elite and the crumbling world seem determined to keep them apart. If they can find common ground, they might have a chance to fight for their futures.
ISBN-13: 978-1-63533-360-2
Product Link: https://www.dsppublications.com/books/shadow-fray-by-bradley-lloyd-379-b
Reviewer: Shorty 
Review: This book was intense. It has fighting to the extreme in it. So be advised of that. It's brutal and gory. 
Shadow Fray is a no holds bar fight ring that never stays in one place. Fighters are anonymous when they fight. The bosses do not care if they die in the ring either. I found that even though this story is no so much a romance as it is a survival in a time when things are not so great.
The main character's, Hale, who fights as Black Jim and is known in the fighting world for his impressive winning streak fights for his daughters wellbeing. Justin, a beginner to the scene, has aligned himself with the wrong handler who really does not care anything about him except the money he brings in. But Justin is fighting for his family to have a better life.
I really liked the explanation of the epidemic that tore the wold apart and found it intriguing that no one could actually walk on the ground due to the contamination. As a result all the population that is left has to live in high rises. 
I don't want to give away too much but I will say I loved the plot as it was more than fights. The rules to this new earth are downright scary. At times it seemed that civilization went backwards instead of forward. The mystery surrounding the bosses was intriguing. It's truly a well written story about two men trying to survive any and all dangers. 
Fantastic read.