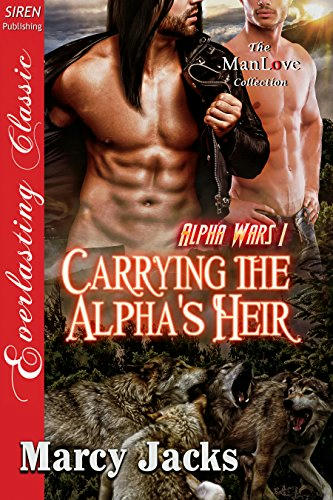 Title: Carrying the Alpha's Heir
Series: Alpha Wars 01
Author: Marcy Jacks
Genre: Fantasy, Paranormal
Length: Novella (101pgs)
Publisher: Siren-Bookstrand, Inc. (3rd November 2017)
Heat Level: Moderate – Explicit
Heart Rating: 💖💖💖 3 Hearts
Blurb: Jake Kelly didn't expect the world's most gorgeous man to walk into the cafe where he worked. But what are the odds he would be gay, or interested in a skinny, overstressed barista who was clearly out of that man's league? So he's shocked when Glendon introduces himself and asks him out on a date.
Jake has never been happier, until his boss dumps an extra shift on him, forcing him to cancel, and a creature attacks him while taking out the trash. FML, can this night get any worse?
When all hope seems lost, a huge wolf comes to his rescue, and transforms into Glendon. He's an alpha werewolf, and he's in a thousand year war between the vampires and werewolves.
Now that Glendon found his mate, the vampires will stop at nothing to get what they want from him, including killing Jake, and coming after the unborn child Glendon has every intention of putting inside him.
ISBN: 978-1-64010-753-3
Product Link: Siren-BookStrand | Amazon US | Amazon UK
Reviewer: Shorty
Review: When Jake meets Glendon he thinks his life is turning out better than he expected until he is attacked after work. Coming to in a house he is unfamiliar with sets his nerves on edge until Glendon explains some things.
This story introduces us to a whole cast of characters and how things are in this world of vampires and werewolves. Although I liked the story it felt as though information was missing and the story felt rushed. I have already read the next book and even though it is connected there is a huge gap between this book and the next.
I wanted more details into the planning of the war with the vampire queen and none of that happened. Jakes friend is also in this story along with Fergus who had to bite him to save him from a vampire bite. These two are at odds with each other.