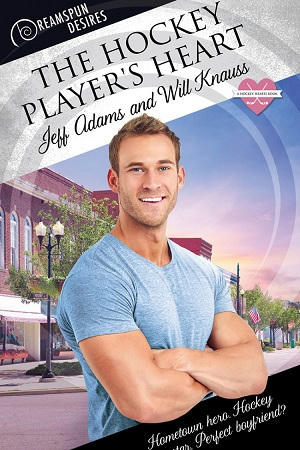 Title: The Hockey Players Heart
Series: Dreamspun Desires 50 / Hockey Hearts 01
Author: Jeff Adams and Will Knauss
Genre: Contemporary
Length: Novel (226 pages)
Publisher: Dreamspinner Press (16th January 2018)
Heat Level: Moderate
Heart Rating: 💖💖💖💖💖 5 Hearts
Blurb: Hometown hero. Hockey superstar. Perfect boyfriend?
When hockey star Caleb Carter returns to his hometown to recover from an injury, the only thing he's interested in is a little R&R. He never expects to run into his onetime crush at a grade school fund-raiser. Seeing Aaron Price hits him hard, like being checked into the boards. The attraction is still there, even after all these years, and Caleb decides to make a play for the schoolteacher. You miss 100 percent of the shots you never take, right?
Aaron has been burned by love before and can't imagine what a celebrity like Caleb could possibly see in a guy like him. Their differences are just too great. But as Aaron spends more time with Caleb, he begins to wonder if he might have what it takes to win the hockey player's heart.
ISBN: 978-1-64080-240-7
Product Link: Dreamspinner | Amazon US | Amazon UK
Reviewer: Prime
Review: The Hockey Player's Hearts is a sweet friends to lovers book story that involves a professional, out and proud, NHL player and an equally out and proud small town school teacher. It's a wonderfully refreshing set up for a romance that I knew I would enjoy. Neither author was known to me before this book, but the pro sport angle hooked me, also I did cheat a little and listen to the audio of this one first.
The story sends professional NHL player who is the Captain of the New York Rangers, and one of few out and proud hockey players (including his best friend and team mate Dimitri), Caleb Carter back to his small hometown in upstate New York. He broke his ankle on the ice and desperately wants out of New York so he can recuperate in peace. While his parents are away on a around the world tour, he gets to spend time with his big sister, who is now the principal of the elementary school they attended. Tagging along, helping his sister he encounters her best friend and Caleb's school crush. Aaron Price.
Aaron is portrayed as a nerd. When they were kids, Aaron helped Caleb pass math by tutoring him. It was what gave Aaron his passion to become a teacher. College had taken him to California, where he could be himself (i.e. explore his sexuality). He had stayed in LA until a failed relationship with a closeted baseball player and then losing his job, but luck was on his side when his best friend, the principal of his hometown elementary school and Caleb's sister, handed him a lifeline with a job at the school. Aaron has a lot of baggage from his time in LA and renewing a friendship that could lead to more with Caleb forces Aaron if he takes the time to examine his feelings.
Over all this was a fun story. I loved the hockey aspect of the story, it was weaved perfectly throughout and not just used as incidental background information. Caleb and Aaron have a lot of history together, yet these guys developed a lot throughout the story. The only criticism I have is that I occasionally found Aaron's need to protect his heart because Caleb is a pro athlete a little frustrating and I wanted to shake him.
I'm really looking forward to more stories in this series. I'm especially hoping that Caleb's best friend, Dimitri, will have his own story next!