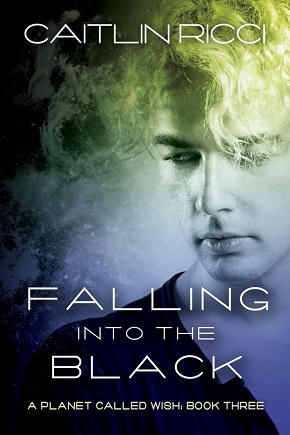 Title: Falling Into the Black 
Series:  A Planet Called Wish # 3
Author: Caitlin Ricci
Genre: Science Fiction
Length: Novella (145 pages)
Publisher: Dreamspinner Press (March 17, 2017)
Heat Level: ?
Heart Rating: ♥♥ 2 Hearts
Blurb: Sometimes there's a difference between duty and doing what's right. And sometimes doing what's right comes with a high price.
Every aspasian at Asiq adores the handsome peacekeeper Resan—all except for Arin. While the other workers vie for Resan's attention, Arin avoids him at all costs, which rouses Resan's suspicion. When he discovers Arin is a runaway slave, Resan is bound by law to return him to his master. It is only later that Resan realizes what he's done. Arin's owner bought him at twelve, married him, and not only violated Arin himself, but loaned him out to his friends. Resan has returned him to a life of rape and abuse, and now he must make a decision: free Arin and abandon the oaths he swore as a peacekeeper, or leave him to languish and abandon his own conscience and heart.
ISBN-13:  978-1-63533-489-0
Product Link: https://www.dreamspinnerpress.com/books/falling-into-the-black-by-caitlin-ricci-8287-b
Reviewer: Shorty 
Review: I don't know quite how to begin this review. I'll start with the characters themselves. Resan is a peacekeeper and believes one hundred percent in upholding the law no matter the circumstances. He's arrogant and I honestly could not stand him until the very end. 
Arin works at Asiq and tries his best to stay away from the peacekeeper due to the fact he is runaway slave of a deplorable man. Resan fins out and gets in touch with Arin's master to give him back. When the meeting happens he learns Arin was sold to man at twelve years old and has been raped repeatedly since by the man and his friends. This is where I actually got sick to my stomach.
I hate stories with any child rape in them especially when said story mentions it over and over again. Trust me I got the message the first time it was said. It was hard to believe Rasen did a one eighty and wanted to help Arin I did not believe it in the least. The whole story seemed as though it was forced and at times was confusing in its explanations. 
I cannot fathom in a situation where someone forced someone back into a life where they are being abused, then to start to trust the individual responsible for putting them back into the situation? Not in the world I live in it doesn't happen. So naturally I did not believe a relationship would form other than hate at being put into the situation after having escaped it to begin with.
I still cannot wrap my mind around this story, nor do I want to. Just glad it's over.
I absolutely did not like anything about this story.