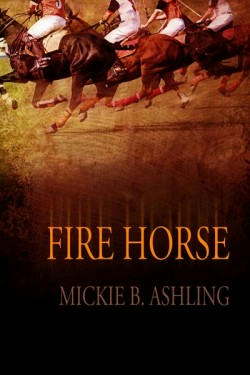 Title:  Fire Horse
Series: Polo 01
Author: Mickie B. Ashling
Genre: Contemporary, Sports
Length: Novel (256 pages)
Publisher: Dreamspinner Press (12th April 2013)
Heat Level: Moderate
Heart Rating: ♥♥♥♥♥ 5 Hearts
Blurb: Preston Fawkes is ten the first time he meets fifteen-year-old Konrad Schnell at the San Antonio Polo Club. Captivated by the mystique surrounding the sport of kings, Pres vows to learn the game at the hands of his newly acquired friend and mentor. The hero worship soon grows into something deeper, but the friends are separated when Preston goes off to boarding school in England.
The relationship that follows is riddled with challenges―their age gap, physical distance, and parental pressure taking precedence over feelings yet to be explored. Although their bond goes deep, they deal with the reality of their situation differently: Preston is open and fearless while Konrad is reticent and all too aware of the social implications of making a public stand.
Their paths intersect and twine, binding them as tightly as a cowboy's lasso, but fate may alter their plans. How will love overcome the divots in the turf as they gallop toward the future—one where obstacles no longer stand in their way?
ISBN: 978-1-62380-578-4
Product Link: https://www.dreamspinnerpress.com/books/fire-horse-by-mickie-b-ashling-5157-b
Reviewer: Prime
Review: If you're into a soap opera style melodrama and highly driven sport personalities, offset with some cowboy humour and some stiff, English upper lip, this is the book for you. For the sake of honestly, I will admit that I've read a couple books by Mickie B. Ashling in the past and they were a struggle for me to get through. Fire Horse, however, is just a fun adventure that swept me away from the get go.
We start with Preston Fawkes, he's a world class polo player who grew up on a Texas ranch with a not-so-nice father, but with a deep English connection through his mother. His story is a sad one. He has been a lonely guy for a long time – he is openly bisexual with a son and daughter from 2 marriages to prove it. But he has never got over his first love, who had also been a polo player but disappeared over Eastern Europe in the 80s while working for the air force.
Now in his forties, Preston has suffered a potentially career ending fall, waking up to a doctor with a personality that is as acerbic as his own. With the help of his best friend (Ned) who he met at an English boarding school as ten year olds, Preston is on the road to recovery. But there is so much going on and unfolding!
I have to admit, the big twist of the book, I saw coming a mile away, but that didn't mean I loved it when it finally happened. Regardless, I'm not saying a peep here. Just read the bloody book and enjoy the drama and the sports!