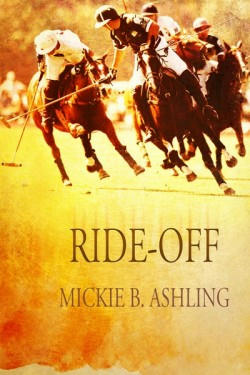 Title: Ride-Off
Series: Polo 02
Author: Mickie B. Ashling
Genre: Contemporary, Sports
Length: Novel (240 pages)
Publisher: Dreamspinner Press (18 Oct 2013)
Heat Level: Explicit
Heart Rating: ♥♥♥♥ 4 Hearts
Blurb: Finally reunited, Preston Fawkes and Konrad Schnell put family and obligations aside, preferring to remain in seclusion on Ned s estate to get reacquainted. Unfortunately, reality can only be held off for so long, and they return to Texas to reclaim the life they put on pause. Trying to strike the right balance between business, family, and romance requires ongoing effort, and the challenges begin shortly after they arrive.
At the top of the list is Bandi, Konrad s son, and his desire to play polo. A close second is Conrad Sasha Fawkes, Preston s actor son who s struggling to succeed on Broadway. And last, but certainly not least, is Paloma, the fiery Argentinean beauty Preston sired after a passionate tango.
Blending the interests and needs of three grown children is difficult at best and almost impossible when agendas collide and old secrets are unearthed. The situation comes to a head when the family gathers in San Antonio for Thanksgiving, throwing Preston and Konrad into a maelstrom they must weather as best they can, or they ll face a major ride-off that could throw the game before it even starts.
ISBN: 978-1-62798-263-4
Product Link: https://www.dreamspinnerpress.com/books/ride-off-by-mickie-b-ashling-598-b
Reviewer: Prime
Review: Ride-Off is book 2 of Mickie B Ashling's Polo series. It you really need to read the first book to understand all the overarching plot details as this sequel picks up where book 1 left off. I loved this book, almost as much as I loved Fire Horse. However, for some reason that I can't quite fathom, I don't think that this one was as strong as the first book.
We meet up with Preston and Konrad again – they were sweethearts separated by time and amnesia but are finally back together again. It is totally sweet. But this is a soap opera, for the most part. There are a whole host of other characters that we meet or have met in the first book.
The guys, though, take a bit of a back to seat and we get to follow the stories of their sons, Konrad's son Bandi and Preston's son Conrad. Preston still has a tense relationship with his ex-wife, Monica, who is Conrad's mother, but since Konrad's resurrection things seem less tense. This is all despite the fact that Preston had married his sweetheart's sister after mourning his loss. Yeah, it's complicated, but as I said, it's a bit of a soapie.
Here, we get to follow Bandi's relationship with Ned, Preston's best friend. We met the couple in the first book but now we get the gritty details and how the guys deal with the age difference. We also follow young Conrad, Preston's son, who lives in New York and is an aspiring actor. When in NY, he likes to be known as Sasha and goes professionally by his middle name, Alexander. Sasha feels left out of his father's new life for the past two years, but here we see all the characters deal with the issues.
One thing that bugged me was that Kondrad (i.e. Dead Man Walking) diagnosis of PTSD was mentioned and rather overlooked. I know it was a means to an end, something significant to provide an excuse for Preston being a rather distant father for 2 years, but I would have liked it to matter more than to explain that one plot point.
So, there's a lot going on and I refuse to spoil any of it! If you enjoyed the first one, you need to read this. If you haven't read the first book, you need to read it but the blurb and my review kinda spoils things for you.
And best of all: book 3 is up next!