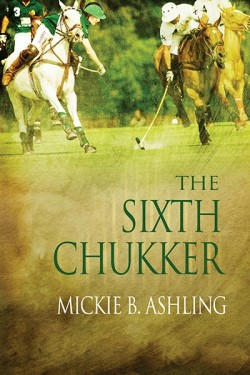 Title: The Sixth Chukker
Series: Polo 03
Author:  Mickie B. Ashling
Genre: Contemporary, Sports
Length:  Novel (200 pages)
Publisher: Dreamspinner Press (8 April 2016)
Heat Level: Moderate
Heart Rating: ♥♥♥♥ 4 Hearts
Blurb: Retired polo players Preston Fawkes and Konrad Schnell have finally found the happiness that eluded them for years. Their stud farm is a big success, and their marriage couldn't be healthier. Unfortunately, this idyllic life is disrupted by several unexpected sources.
Paloma, Preston's twenty-one-year-old daughter, is determined to be a 10 goal player before she turns thirty. Bandi, Konrad's son, dreams of starting a family with his husband, Ned Temple. Paloma offers to surrogate if her father and stepfather come out of retirement and team up with her for one season.
Preston and Konrad would do anything to make their children happy, but they're confronted with a stumbling block. Trauma specialist Dr. Rayne Carlisle refuses to sign off on the necessary paperwork unless Preston agrees to be his submissive for one week.
Caught between the proverbial rock and hard place, Preston and Konrad deal with disgruntled former lovers, demanding children, and old enemies in this sequel to Ride-Off.
ISBN: 978-1-63477-025-5
Product Link: https://www.dreamspinnerpress.com/books/the-sixth-chukker-by-mickie-b-ashling-5418-b
Reviewer: Prime
Review: The Sixth Chukkur is the third installment of Mickie B. Ashling's Polo series. You need to have read books 1 and 2 in order to understand the continuous plot lines carried on between books. While I think that this book, much like book 2, is not as strong as book 1 (Fire Horse), it is an utterly enjoyable read and fans of books 1 and 2 will not be disappointed.
We once again meet up with Preston and Konrad – the guys are a bit more prominent in this book, which is nice. We also get to see more of Ned and Bandi, as well as Sasha and Jeremy. But then there is Paloma, Preston's daughter. She is the female copy of her father in every way and much like Preston's stubbornness drives the plot, her stubbornness is just as bad. She wants to be a champion polo player like her father. We even get to see more of Sasha's (young Conrad) mother, who is also Preston's ex-wife and older Konrad's sister. Hell, there is even the potential for a murder mystery, which was really a mystery assault. All in all, it was nice seeing all the end begin to tie up nicely, even if we have to get through more of Preston's hot temper.
I have to admit, the key event to this entire book- blackmail from Dr Rayne Carlisle (who we will remember from book 1 as Preston's acerbic doctor) just did not sit well for me. The fact that the doctor is a Dom didn't really seem like an important part of the story either. What happens (as said in the blurb) is that the good doctor proposes to show to Preston that competing in polo is too dangerous after his last horrific accident by saying he will only sign off on the paperwork for Pres to compete again. It's complicated and seemed too contrived. But it did its function and the event triggers off a number of plot lines for the book.