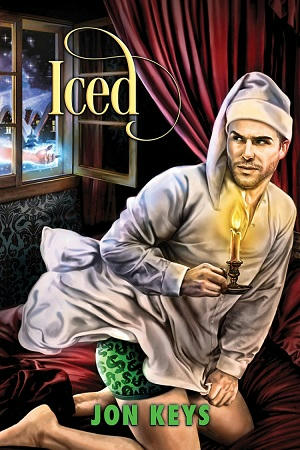 Title: Iced
Series: Dreamspinner Press 2016 Advent Calendar Bah Humbug.
Author: Jon Keys
Genre: Holiday, Contemporary
Length: Short Story (46 pages)
Publisher: Dreamspinner Press (21st December 2016)
Heat Level: Moderate
Heart Rating: ♥♥♥♥ 4 hearts
Blurb: Keith Walker, a mall bookstore employee, is struggling to get through another miserable holiday season while trying to preserve a crumbling long-term relationship. One of his few comforts is his morning coffee made by a good-looking, younger barista. Austin Novak felt an attraction when Keith started frequenting the coffee shop, but he doesn't think the older man has any interest in him or his graphic novel collection.
A Christmas week snowstorm buries the city and locks Keith's car into its parking spot. Keith decides to show Austin his gratitude for helping free the car from the ice with a dinner invitation. The meal becomes complicated when Austin meets Keith's boyfriend, Shawn, and things go downhill from there when Shawn announces he's heading to Cancún with his coworkers. Keith is caught between keeping his boyfriend happy and keeping his job. But Keith might not need a plane ticket to find the happiness that's been missing from his life.
ISBN: 978-1-63533-183-7
Product Link: https://www.dreamspinnerpress.com/books/iced-by-jon-keys-7977-b
Reviewer: Veronica
Review: Keith Walker is NOT a fan of Christmas, and he's in a relationship where his Boyfriend has a negative look on everything to do with Keith. The only thing that makes Keith's days bearable, is getting his coffee and seeing Austin. His coffee Barista.
Leaving work early one day to go home, completely changes Keith's life in a way that he never expected. This is the first story from this author and I absolutely love this short story. I however felt like thumping Keith's boyfriend for the emotional abuse that he gave Keith.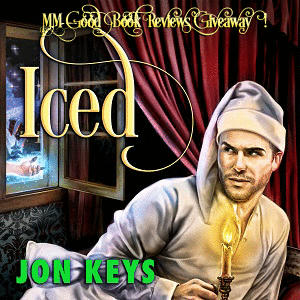 1st prize $100 DSP credits!
2nd prize $50 DSP credits!
3rd prize $25 DSP credits!
4th prize $25 DSP credits!
Jon's Question!
What are the animals Ethan raises that give Peter no end of trouble? (Hint: Home Grown)
(Just leave a comment with the answer on this post)
Catch up with the previous questions: MMGBR Bah Humbug Giveaway!
(Winners will be picked by a dart on 1st January 2017)