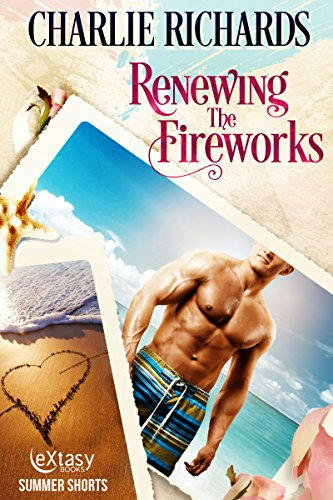 Title: Renewing the Fireworks
Series: Wolves of Stone Ridge 41.5
Author: Charlie Richards
Genre: Paranormal
Length: Short Story (22 Pages)
Publisher: eXtasy Books (July 27, 2017)
Heat Level: High
Heart Rating: 💖💖💖💖💖 5 Hearts
Blurb: Out of the Cage: Renewing the fireworks can get a little crazy.
Jared Templeton has settled down with his wolf shifter mate, Carson Angeni. For the most part, he's given up his life as an assassin, but he finds other ways to fill his time. When he comes home with the scent of another male on him, Carson shows Jared that he hasn't forgotten what he gave up to be with him.
ISBN: 978-1-4874-1115-2
Product Link: eXtasy Books | Amazon US | Amazon UK
Reviewer: Lisa
Review: Each book in the Wolves of Stone Ridge collection features a different romantic couple. To enjoy the overall story arc and crossover characters, I would recommend reading the series in sequential order. This series has a few branch off that you might want to read also.
Just a sweet little story to rock your world. Added spice I would say to Jared and Carson's love life. Like those two need any help. Jared is helping a kid and Carson smells him on him. Guess what happens next.
I get a kick out of these guys and I love the little stories with them in it. They sure do know how to heat up the sheets. What a wonderful little surprise to the day. Perfect for that break that needed some spice to it.