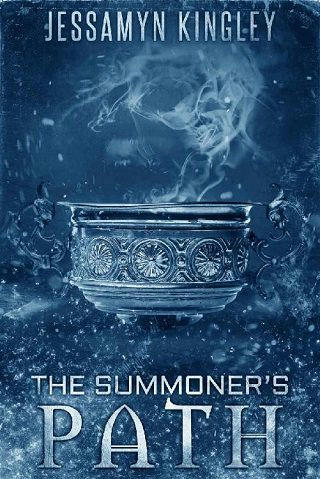 Title: The Summoner's Path
Series: D'Vaire 10
Author: Jessamyn Kingley
Genre: Paranormal, Fantasy, Urban Fantasy
Length: Novel (316pgs)
Publisher: Jessamyn Kingley (January 17, 2019)
Heat Level: Moderate
Heart Rating: 💖💖💖💖💖 5 Hearts
Blurb: Grand Summoner Dre'Kariston D'Vaire understands firsthand the brutal reality of war. Barely surviving a gruesome battle, he is one of the few remaining warlocks. After recovering from his wounds, he returns to the castle of his birth only to find his entire race annihilated. For centuries he disguises his power and appearance, refusing to be another victim. When he reunites with his twin, his life changes from barren to beautiful. For years he follows his brother's example of scrying for his mate, but it is not until they join their power that Fate answers, leading him to Court Ethelin.
Prince Somerly Ethelindraconis is stunned as he races to an appointment and runs into a crowned sorcerer standing on his father's land. His only parent hates magickind and keeps them far from home, but Somerly cannot deny the attractive man his name and number. King Ethelin has his son's life planned out for him, and Somerly is willing to sacrifice his freedom to help his court—until he falls for Dre'Kariston. He is soon caught between the promises he's made and what his heart desires. There's no way to please everyone, and Somerly finds himself teetering on a precipice that forces him to decide where his future lies.
With infinite paths twisting ahead, Dre'Kariston and Somerly must follow the truth in their hearts to make the right choices if they wish to forge an enduring love. Fate brought them together, but will they run out of chances before it's too late to save their matebond?
ISBN: B07MCPZX18
Product Link: Amazon US | Amazon UK 
Reviewer: Shorty
Review: Grand Summoner Dre'Kariston D'Vaire with the help of his twin finds out a name for his mate and where he is. On learning they have to travel to Court Ethelin and Prince Somerly. But alas this will not be an easy road for Dre'Kariston. With his familiar, Derwin so angry all the time, a dragon king who is an ass and only looking out for himself not to mention his mate has secrets that when revealed could tear the two apart it was a wonder that Dre'Kariston was sane as I would have been extremely angry at the way Somerly treated him.
I loved this story so much. There was drama, heartache, love and the support of the D'Vaire clan with every step of the story. The search still continues for a way to make Carvallius and his daughter (when they find her) pay for their crimes as well as new members that arrive and one is a surprise I never saw coming.
It's best to read these amazing stories in order as they are connected and pick up where the last book leaves off so to speak. I love immersing myself in the D'Vaire series with it's wide range of characters, attitudes, mystery, suspense and adventure.
Simply a brilliantly written story that holds your attention from start to finish with every book.
Fantastic addition as always and highly recommended. Looking forward to the next book in the series.