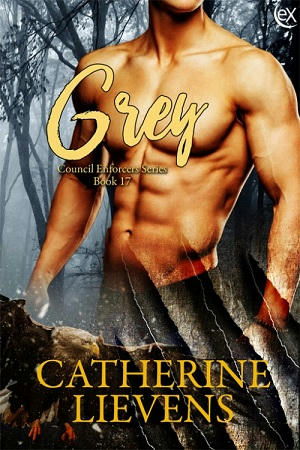 Title: Grey
Series: Council Enforcers 17
Author: Catherine Lievens
Genre: Paranormal, Fantasy
Length: Novella (118 Pages)
Publisher: eXtasy Books (December 14, 2018)
Heat level: Low
Heart Rating: 💖💖💖💖 4 Hearts
Blurb: Sometimes the best moment of your life becomes the worst.
Grey's boyfriend just broke up with him—again. Grey's love life has been a long trail of failed relationships, and he decides drowning his sorrows in alcohol might be a good idea. Turns out it is, although not the way he'd thought.
Patrick was supposed to spend the evening with his son, his ex-wife, and her new husband, but Rose's daughter is sick, so he makes his way to the bar instead. There, he meets his mate when he rescues him from a pushy man trying to pick him up.
Patrick and Grey spend the night together, and Grey knows his life is about to change. He'd never have imagined how much, though. The day after he and Patrick meet, the body of a man with Grey's name carved into his chest is found at the entrance of pack territory. Another body appears a few days later, making it clear someone is after Grey, especially after he realizes he'd hooked up with both the victims in the past.
Grey has no idea who the killer is, and Patrick feels at a loss. He's a detective for the Gillham Police Department, but the only thing he cares about is keeping his mate safe. Will Patrick succeed, or will the killer manage to get his hands on Grey before anyone can stop him?
ISBN: 978-1-64243-5856
Product Link: eXtasy Books | Amazon US | Amazon UK
Reviewer: Lisa
Review: Each book in the Council Enforcers collection features a new romantic couple. To enjoy the overall story arc and crossover characters, I would recommend reading the series in sequential order.
Grey is not only an eagle shifter but one of the council enforcers that protects the pact and those who need protecting. However it would seem that now he is the one that might need protecting. When men start showing up not only dead but his name carved on him, he needs not only protect himself but those who have had relations with him. He also must protect his newly found mate.
That mate can also kick some ass even though he is human. Patrick is a detective for the police force and can protect those around him. He must work with his mate to find out who is behind this.
I love the stories written by this author and can honestly admit that she is on my automatic buy list. However I have noticed with this one, that it came off as being rushed and missing some good parts. I also knew who the killer was before I even got passed the first chapter. While the guys are hot together, they came together easier then I had expected. The story just felt like it was missing some good highlights that would have made the series stand out more. Also I wished the ending was more.
Other than that it was still an amazing story that will be read many times over. I just hate to admit that it is becoming old in more ways then one. There was just no spark to it. Now as for the characters, well they were hot as usual. And damn if they are not protective of each other. But even they were missing the heat that they should have had.
I did enjoy reading it and would recommend it.