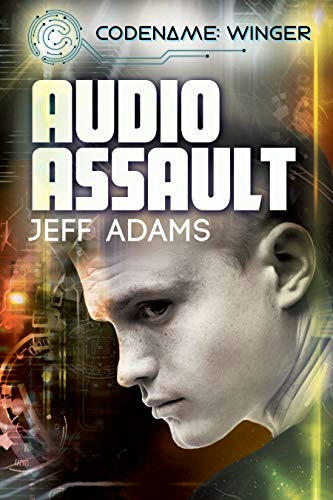 Title: Audio Assault
Series: Codename: Winger 03
Author: Jeff Adams
Genre: Mystery, Suspense, Teen Fiction
Length: Novel (190pgs)
Publisher: Dreamspinner Press (November 27, 2018)
Heat Level: Low
Heart Rating: 💖💖💖💖💖 5 Hearts
Blurb: For teenage secret agent Theo Reese, summer break isn't a time to relax. In addition to his duties for Tactical Operational Support, Theo's got a school project and, more than anything, wants to spend time with his boyfriend, Eddie.
A family trip to New York City is the last thing Theo needs.
But a friend of Theo's father is in need of the Reese family's special skills. Oliver Glenwood heads a music empire, and his daughter, Sofia, is a rising pop star—one who'd drawn the attention of kidnappers.
During the investigation, Theo discovers the threat poses more danger than originally suspected. Someone has planted code in Glenwood Music's songs that can steal information from any personal device—or play a tone that can rouse uncontrollable rage. The consequences will be disastrous if the infected songs are downloaded by the public. Preventing worldwide catastrophe becomes even more difficult when Eddie arrives in the city, hoping to spend some quality time with Theo.
No one ever said being a covert agent would be easy.
ISBN-13: 978-1-64080-675-7
Product Link: Harmony Ink | Dreamspinner | Amazon US | Amazon UK
Reviewer: Shorty
Review: This was an amazing story with a twist I never saw coming.
Theo and his parents set out for New York to help a friend of his dad's who is a talented songwriter among other things. Attempted kidnappings and unusual music manipulations lead Theo into a discovery that changes everything for him.
My heart went out to Theo as the story ended. I so loved the mystery, the investigation and the details in how the team discovers what is going on as well as how they stop the culprits from advancing any further. Great action scenes had me on the edge of my seat.
I love this series as we see how Theo interacts with others as well as how he adjusts when the call goes out for a mission. I do not want to give away anything about the book further than I already have.
Fantastic read and highly recommended.