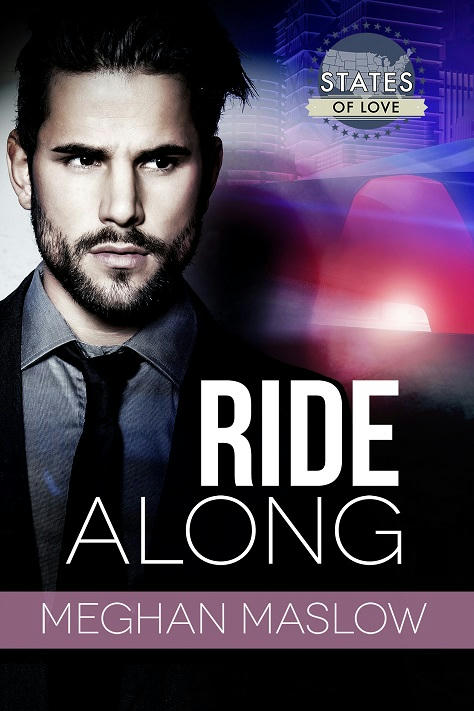 Title: Ride Along
Series: States of Love 27: Maryland
Author: Meghan Maslow
Genre: Contemporary 
Publisher: Dreamspinner Press (June 14, 2017)
Length: Novella (122 Pages)
Heat Level: Low
Heart Rating: ♥♥♥♥♥ 5 Hearts
Blurb: Drew Nolan is a loud-and-proud mystery writer with a brutal case of writer's block. He needs practical experience with the Baltimore police beat to get his latest manuscript to his publisher on time. When he wins a ride-along at a writer's conference, he thinks he's hit the jackpot… until he meets his partner.
Closeted cop Josh de Oliveira lost his family, his partner, and the respect of his unit—all for doing the right thing. Recently busted back down to patrol, he's relieved to get a cushy assignment at the Author's Police Institute where he'll take one lucky writer on a ride-along. Unfortunately, his author looks like he belongs in the backseat of Josh's squad car—long, ginger dreadlocks, piercings, and an "I would bottom you so hard" T-shirt. But there's something about Drew Josh is having a hard time resisting. 
It's going to be a long night and one hell of a ride as opposites attract and realize they share a lot in common beneath the surface. As animosity becomes desire, they realize they can help each other out—in more ways than one. 
ISBN: 978-1- 63533-523-1
Product Link:  https://www.dreamspinnerpress.com/books/ride-along-by-meghan-maslow-8568-b
Reviewer: Lisa 
Review:  This story is part of the State of Love, which spans every corner of the United States. 
This is the first book by this author that I have read and I have to say it will not be the last.  I have not had the pleasure of reading any stories by this author and I will have to catch up with her other books now.
At first I wasn't too sure if I was going to like it but let's just say that my mind was changed.  Drew wrote a story that won him an award, but now he had writers block and needed to fix it.  So he decided to try to win the ride-along with a police officer at a writer's conference.  Too bad the cop has a bad attitude.  Then he finds out that Josh was just wasn't having a good life.  Josh had thought himself in love with his partner but then had to do the right thing and report his partner to their boss.  Now he was getting it from the other officers, not to mention his family disowned him.  Things slowly heat up between these two, but Drew didn't want to be someone's dirty secret.  
I enjoyed watching these two guys getting it right.  At first I was stuck on the fact that police officers would really turn on one of theirs just because he did the right thing.  They came off as cowards to me, but in the end they stood behind Josh. I enjoyed reading this book and can't wait to check out the rest of this author's work. 
This is one book I would definitely recommend.