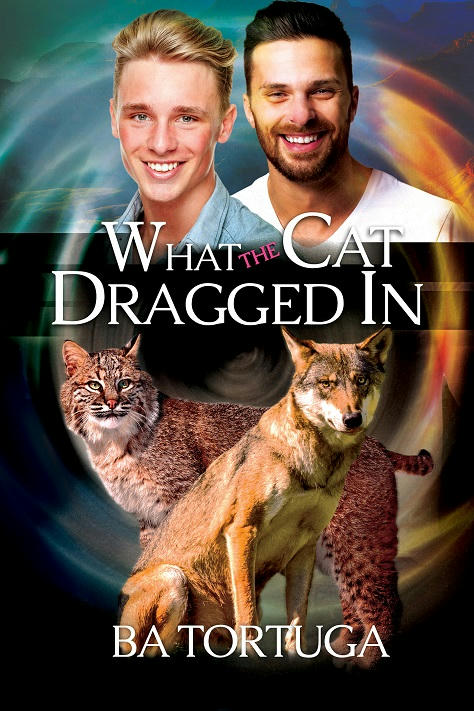 Title: What the Cat Dragged In
Series: Sanctuary 02
Author: B.A. Tortuga
Genre: Paranormal
Publisher: Dreamspinner Press (June 16, 2017)
Length: Novel (204 Pages)
Heat Level: Low
Heart Rating: ♥♥♥♥♥ 5 Hearts
Blurb: Don't people know that cats and dogs don't mix?
Connor Ragbone finds things. Sometimes it's gold, sometimes jewels, sometimes people. Set in his hippie ways, he never thought he'd find a pack, but with Sam and Gus and their goofy shifter family, he fits right in. Then he finds Brock.
Shifter Brock Herman is undercover alone, working to break up a poaching ring. The last thing he needs is for Connor to wreck his sting. And now the crazy bobcat just won't go away!
The poachers lead Brock and Connor on a merry chase all over Western Colorado, looking for shifter bears, but it's a lost pup who brings them back to Nevada and the pack Sam and Gus are building. That's when Brock has to decide whether he still travels alone or if Connor and his crazy family are where his heart belongs. 
ISBN: 978-1-63533-549-1
Product Link: https://www.dreamspinnerpress.com/books/what-the-cat-dragged-in-by-ba-tortuga-8576-b
Reviewer: Lisa 
Review: Each book in the Sanctuary collection features a new romantic couple. To enjoy the overall story arc and crossover characters, I would recommend reading the series in sequential order.  
Just like the first book, I looked at the title and new I had to check it out.  Then I read the blurb and new I had to read it.  It has a serious tone to it but it is mixed perfectly with the humorous side to it as well.  There is nothing better than a book with a lot of humor in it, especially if it is about two very sexy shifters.  I love the idea of a cat and dog as mates.
Connor is a blast and funny as hell.  He has this gift that he uses to find things and people that are lost.  There is just something about him that makes you want to grab him up and hug him tight.  He got the call to find someone lost and it leads him to Brock.  
Brock is a wolf shifter who goes undercover to break up poaching rings.  Right now the focus is on bears.  At first he finds this bobcat shifter with dread locks who just won't leave him alone.  Tells him that he must stay with him till he gets him to where he truly belongs.  Connor and the poachers sure do take him on a twisty adventure.  
I love the twists that this story has going on.  Connor is a character that I would not have expected.  He looks like a hippy and the way he talks is so damn funny.  Brock is more of a serious guy, but you mix these two up and you are in for one hell of a good time. 
I enjoyed reading this book and cannot wait to find out what is in store for them all.