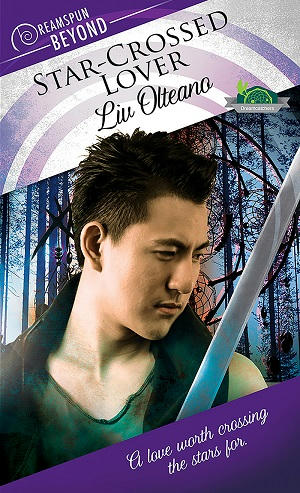 Title: Star-Crossed Lover
Series: Dreamcatchers 02 / Dreamspun Beyond 25
Author: Liv Olteano
Genre: Paranormal, Spirits, Demons
Length: Novel (210 pages)
Publisher: Dreamspinner Press (7th August 2018)
Heat Level: Moderate
Heart Rating: 💖💖💖 3 Hearts
Blurb: A love worth crossing the stars for.
Taka has been a dreamcatcher and part of Team 32 for over six decades, but nobody has tempted him like Ginger—a dancer at club Zee. Too bad dreamcatchers aren't allowed to have meaningful relationships with regular people. His willpower proves a finite resource, though, when a mission at the club means spending much more time around Ginger.
Ginger's infatuation with Taka is unwavering. When he proves to have some paranormal skills of his own, he earns himself a place on the team—if he wants it. His decision will change his life—not to mention Taka's—irrevocably.
But living in the now could prove an issue for a man who has as much history as Taka. Can Ginger's determination help him make his way into Taka's heart?
ISBN: 978-1-64080-620-7
Product Link: Dreamspinner | Amazon US | Amazon UK
Reviewer: Prime
Review: After reading and enjoying book 1 in Liv Olteano's Dreamcatchers series, I was quite looking forward to reading Taka's story. This is now the second book by Olteano that I've read, and while I don't find the flow of writing engaging for every moment of the book, I still rather enjoyed the story and found myself more than a little invested in the fate of the characters.
Star-Crossed Lover is the second book in Olteano's Dreamcatchers series, based around the men of Team 32 finding their true loves in between keeping Seattle safe from a spate of demon (spaga) attacks. Spaga are demons that normally drain people's life force when they sleep, however, things are getting out of hand. The team need to figure out who or what is causing the increase in attacks. What I like about this is that these men aren't necessarily the usual alpha, strong type of shape-shifter, vampire, etc. They are rather ordinary men who have honed their powers and have been selected to form the teams they are with.
This book continues the mystery of the increasing attacks on humans by spaga, and so unless you've read the first book, the finer details of the overarching plot could be extremely confusing.
Star Crossed Lover is the story of Taka, one of the dreamcatchers on Team 32 and one of the longest serving member of the current team. While Taka is passionate about his work, he is world weary and so a dose of romance and a true love is exactly what strong, alpha male needs. Taka has no idea what is coming his way. At a club he encounters, Ginger, who works at the club and, like many romance heroes, he has a sad back story.
Ginger no longer answers to his real name and he has had to build himself up from nothing. At the club where he works Ginger lays eyes on Taka and is instantly taken. He knows Taka is for him, but between the spaga and Taka refusing to entertain the idea of any type of romance, Ginger has his work cut out for him.
If you enjoyed the first book, this is a bit of a change in pace. I do think that this one wasn't quite as good as the first book. However, I'd say that that was because throughout the book as delve further into the spaga plot line, I found myself more interested in what happens to the characters of the next book which is out in December 2018.