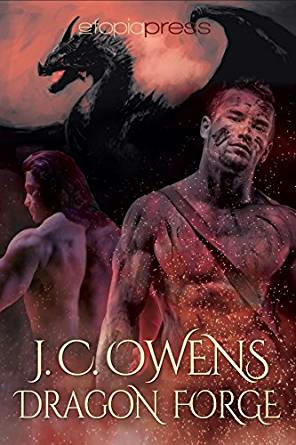 Title: Dragon Forge
Author: J. C. Owens
Genre: Fantasy
Length: Novel (224pgs)
Publisher: Etopia Press (March 24, 2017)
Heat Level: Low
Heart Rating: ♥♥♥♥ 3.75 Hearts
Blurb: The dragons are dying. Now a talented blacksmith and a betrayed prince must find a way to save them…while saving each other.
Bren, a blacksmith in a small town, longs to escape his drunken, abusive father. His world is turned upside down when legendary dragon riders arrive and discover Bren is a chosen one. He's taken to the great mountain fortress to imprint one of the new hatchlings by none other than Kyralian, the dragon prince. After the hatching goes terribly wrong, Bren struggles to recover by losing himself in his metalwork, taking on apprentices, and ignoring all dragons. But he soon realizes that Kyralian, seemingly so powerful, is in real trouble. The prince and his male dragon are treated like property, mated as a prize at the end of a yearly chase. Bren will do anything to keep the prince and his dragon safe…even if it costs him everything.
Kyralian is desperate to save the dragons of his colony. He's searching for answers to the failing dragon lines, but the ruling council only wants to use his dragon for breeding. He can't defy them because he's bound by duty and his love for his people. Yet he's never felt more alone, more caged by his obligations to the colony. Now his growing feelings for the blacksmith have endangered both their freedom and their lives. The prince's dragon is the last male in the fortress, his value beyond price, and there are enemies who will do anything to make the prince submit…
ISBN: 978-1-944138-89-9
Product Link: http://www.etopiapress.com/dragon-forge/
Reviewer: Shorty 
Review: I have no idea what to write in this review. I'm emotionally drained from all the ups (which were few) to the downs. I loved Bren. He was kind, sweet and determined to help Ky despite Ky being what I consider aloof a lot.
I realize that both characters have been through traumatic events. One even going through physical abuse and rape most of his life. But the way Ky just seemed to distance himself from Bren but expected him to still be there pissed me off to no end.
As a result of Ky's actions I ended up not liking him at all. Bren was always there for Ky no matter what. I did feel bad for both but at the same time felt Ky really offered nothing to the relationship expect depression and misery.
It was an o.k. read. Warning Emotional, physical, mental abuse as well as rape (which was off page but you still know).