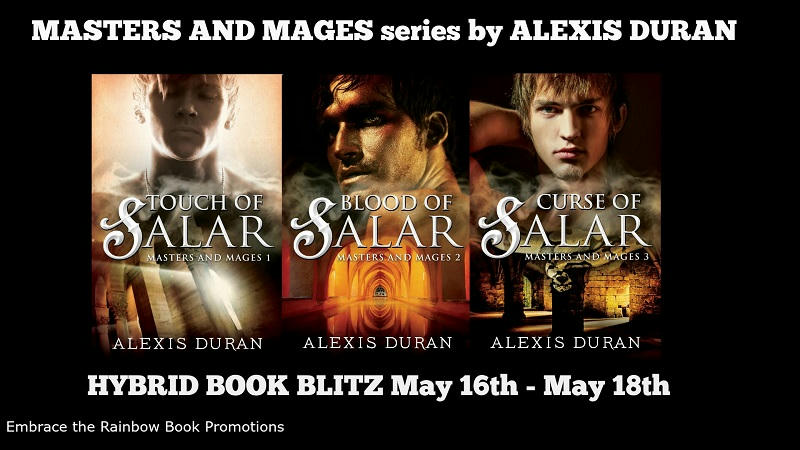 Hi guys! We have Alexis Duran with the re-release of her brilliant series Masters and Mages, we have a great exclusive excerpt, a fantastic $10 Amazon GC and Shorty's reviews so check out the post and enter the giveaway! ❤ ~Pixie~
Touch of Salar
by
Alexis Duran
In a world ruled by tyrannical kings and fickle gods, the young monk M'lan finds himself at the center of royal intrigue as his healing powers attract the attention of his superiors. When he learns the handsome warrior whose body he's tending to is not only a noble, but a king's assassin, any attachment to him might prove fatal. Despite the danger, he can't stop himself from falling in love. Can he risk the abandon of passion when a slip of the tongue might force his lover to execute him?
Major Jamil Jarka comes to the temple with one intention—heal his wounds so he can return to the fight against the rebellion. When the monk assigned to him turns out to be stunningly attractive, he sees this as a pleasant distraction, no more. But soon he finds himself becoming obsessed with M'lan and is torn between the fear of betrayal and the lure of love.
Sinister forces strive to turn the monk and the warrior against each other—a conflict neither will survive if they cannot trust their lives to love and the healing power of Salar.
Amazon US | Amazon UK
**FREE on AMAZON until May 18th** Available on Kindle Unlimited
Blood of Salar
M'lan, headmaster of the order of Ka'alar, and Jamil Jarka, king's assassin, find their impossible love challenged to the utmost as a rebellion sweeps them apart, sending Jamil on a dangerous mission to assassinate the rebel leader, General Charvat. Unknown to anyone, Charvat is on his way to the temple to exploit the headmaster's magical abilities.
When the rebel army arrives, M'lan is thrust into a struggle against political and personal dominance as Charvat attempts to break his resistance. Violence and death mount, awakening within M'lan both the powers of destruction and the desire for revenge.
On the trail of his prey, Jamil begins to question his devotion to M'lan as his once innocent lover transforms into a mage and invades the assassin's thoughts and dreams. The closer Jamil draws to M'lan, the more he puts his life and his very soul at risk. Jamil soon realizes that his lover might prove to be more deadly than the man he was sent to kill.
A final confrontation between assassin and monk might destroy them both, but Jamil is relentless in his determination to rescue M'lan, knowing that only his love can master the mage. 
Curse of Salar
In the kingdom of Jahar, the rule of mages has been overthrown. Prince Dezra Luzan is being held prisoner in the ancestral palace. In order to stay alive, he pretends to be a drug-addicted wastrel, trusting no one, not even his lovers. Into his lonely existence comes a man who should be his sworn enemy; Captain Rayn Nevar. Dezra is irresistibly drawn to the rough soldier and his longing for a simple sexual encounter quickly builds into a dangerous obsession.
Captain Rayn Nevar knows he should stay away from Prince Dezra, but his desire for the beautiful young man overrides all common sense. Rayn soon finds himself protecting the prince from a plot to destroy the last of the mages. When treachery leads to Dezra's escape, he is at last free to unlock his long repressed powers. Only the arrival of a mysterious monk with powers greater than Dezra's stops the prince from using sorcery to destroy all who stand in his way, including Rayn.
As Jahar edges toward another war between masters and mages, Rayn must question his devotion to his increasingly deadly lover while Dezra must decide if ultimate power is worth the ultimate sacrifice.