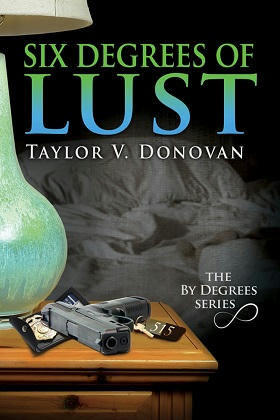 Title: Six Degrees of Lust, (2nd Edition)
Series: By Degrees #1
Author: Taylor V. Donovan
Genre: Contemporary
Length: Novel (350 Pages)
Publisher: Dreamspinner Press (January 2, 2017)
Heat Level: Low  
Heart Rating: ♥♥♥♥ 4 Hearts
Blurb: New York City FBI team leader Samuel Shaughnessy lives for his immediate family and his job. After a marriage gone wrong, he sticks to a firm rule when it comes to relationships: he doesn't have them. Sexually active and emotionally unavailable keeps him satisfied, especially now that he is in hot pursuit of a serial killer targeting gay men.
Former firefighter Machlan O'Bannon now manages a successful sports bar in Houston, and after years of waiting, he's ready to stand up and be the man he always wanted to be: out, proud, and drama-free. His politically aligned family wants to keep him locked in the closet, but Mac just wants to meet the man of his dreams.
One man is as high-strung as the other is laid-back. A chance meeting brings them together, and one night of passion ignites a fire neither can fight. Their lives are not only miles apart, but as different as day and night. They don't want to get involved, but they might not be able to keep apart.
ISBN: 978-1-63533-517-0
Product Link: https://www.dreamspinnerpress.com/books/six-degrees-of-lust-by-taylor-v-donovan-7958-b
Reviewer: Lisa
Review: When I picked this book up it was because of the blurb.  I love mysteries and if the characters are gay then it is a hit with me.  Although I have to say that going from different points of views was a bit confusing and drawn out.  The plot of the story was my main focus but it had so many twists to it that I actually lost focus and that is never a good thing for me.
Sam is a federal agent who is trying to find out who is killing gay men.  He had been married for less than a year and lost a baby girl.  His marriage was a mistake from the beginning.  He is bi-sexual but men do it for him more than women.  However after his divorce he stuck to the one night stand plan, that is until he met Mac.  Now Sam is a hardass, pretty much a jerk and not one of my favorite characters, he was hard to like and that is saying something.  Although he is a great uncle and friend to those around him, his ex-wife is a major bitch.  
Mac was a fire fighter from Texas till he decided he would rather manage a sports bar instead.  He has been in the closet for most of his life, but a run in with a sexy man has him looking at coming out.  He is sweet as hell, protective and very laid back in my eyes.  
I found that the story focused more on them then the actual murders which was a major downfall for me.  Now these two meet at the airport, take one look at each other and then after one night, which nothing happened, things get a bit strange for me.  Sam wants a friends with benefits and Mac agrees, but you can tell that Mac wants something more.  
Now it felt like these two had friends who knew each other and were interlinked.  The large cast of characters were hard to follow for me and took away from the story itself.  Although if you want the truth the action between our two sexy men took away from the mystery.  Then to top it off the story just stops.  You have to read the second book just to find out if they catch the killer, which you already know who it is.  
So overall the mystery is not solved by the good guys, the characters are still friends with benefits, and the story just went downhill for me.  I wanted a good mystery with a side of romance and got the opposite.  Which I have to say is a bit strange for me because who doesn't want some hot sex, but they don't go anywhere.  It is like they are stuck in limbo with their relationship and the murders.  I hate to admit that the story held such promise but failed to deliver for me.  That is just me though; I guess I will have to read the next book to find out what happens next.