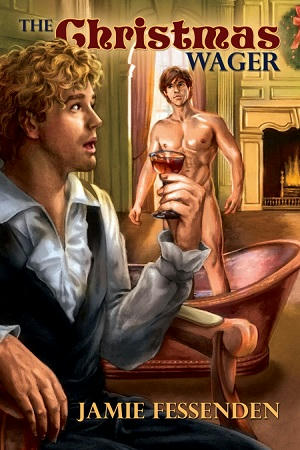 Title: The Christmas Wager (2nd Edition)
Author: Jamie Fessenden
Genre: Historical European, Holiday 
Length: Novella (149 Pages)
Publisher: Dreamspinner Press (December 14, 2012)
Heat Level: Low
Heart Rating: ♥♥♥ 3 Hearts
Blurb: Lord Thomas Pendleton, second son of the Duke of Branmoor, needs to discharge a debt to his friend Andrew Nash. In doing so, he must return to the family estate he fled six years earlier after refusing to marry the woman his father had chosen. To Thomas's dismay, Branmoor Hall is no longer the joyful home he remembers from his childhood, and his four-year-old niece has no idea what Christmas is.
Determined to bring some seasonal cheer back to the gloomy estate, Thomas must confront his tyrannical father, salvage a brother lost in his own misery, and attempt to fight off his father's machinations.
As Christmas Day draws near, Thomas and his friend Andrew begin to realize they are more than merely close friends… and those feelings are not only a threat to their social positions, but, in Victorian England, to their lives as well. 
ISBN: 978-1-63477-906-7
Product Link: https://www.dreamspinnerpress.com/books/the-christmas-wager-by-jamie-fessenden-7891-b
Reviewer: Lisa
Review:  I need to pay attention to certain things when picking out a story or letting a friend pick out my stories.  I have never really been a fan of historicals in any country although the cover is cute.  It is the time period itself that I just don't get and never probably will get.  When people can't be who they truly are meant to be.
Thomas has come home to fulfil a debt to his best friend.  When he does he realizes that his home has become something else.  His own niece has no idea what Christmas is let alone what it's about.  She was still morning the mother she never really knew.  Then there is the fact that he is starting to have feelings for Andrew.  He is slowly realizing who he truly is.
I am afraid that I only really skimmed this story.  I just couldn't get into it and that was my fault for not realizing it was a historical romance and times were different.  Times when it could cost them everything if they chose to be with each other.  Now other than it not being for me, the story is a very catchy love story about finding out who they are in a sense.  I did enjoy the end of the story though and how Thomas's father even if it was through manipulation was also an olive branch. 
I would definitely recommend this story if you love a good historical romance.