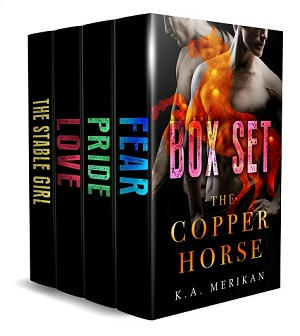 Title: The Copper Horse Boxed Set
Series:  The Copper Horse
Author: K.A. Merikan
Genre: Victorian, Historical, Fantasy
Length: Novel (590 pages)
Publisher: Acerbi & Villani Ltd. (November 21, 2016)
Heat Level: Moderate
Heart Rating: ♥♥♥♥ 4 Hearts (Combined)
Blurb: London
1907, twenty years into the zombie Plague
Reuben is a baker living in the slums of London, sharing a room with his father and an extended family of cockroaches. Poor, uneducated, and repressing all his sexual desires, he leads a life of misery, only sometimes sprinkled with gin and a rough tumble in a filthy back alley.
But when he is abducted into Bylondon to be the slave of a wealthy crime family member named Erik Dal, his values are put to the test. His new master is obsessed with all things equestrian, and Reuben soon learns that if he obeys and performs well as Erik's horse, he might just get everything he yearns for: pampering, foods he never even dreamed of, and shameless sex with a demonically handsome young man in leather riding boots.
As Copper, Erik's treasured dun stallion, Reuben must submit to his new master's obscene fancy of possessing another man completely. That is, if he yearns for treats and not the lick of a riding crop. Fake tails, harnesses, and a new haircut to his ginger mane help Reuben transform into Copper, but the fear of losing his dignity in the eyes of society might just prove to be a bigger restraint than any bit, bridle, or handcuffs.
All that for the small price of his freedom. Though at times, Reuben feels it's his soul that Erik is after instead.
Genre: m/m erotic romance, bdsm
Themes: class differences, slavery, steampunk, alternative lifestyle, Victorian, master/servant, captivity, ponyplay, animalization, kink, organized crime, violence
ISBN: B01N55SOUC
Product Link: https://www.amazon.com/Copper-Ponyplay-Stablegirl-erotic-romance-ebook/dp/B01N55SOUC
Reviewer: Shorty 
Review: Copper Horse: Fear ♥♥♥♥ 3.75 Hearts
I really did not know how to feel about this story of Reuben, a poor baker, who is taken advantage of by a manipulative man, Erik, who makes him his pet horse. This was serious business not just some role play scenario. I found myself angry on Reuben's behalf and wondered what Erik's problem was.
We see throughout Reuben's introduction on being a pony with all that entails.
The Copper Horse: Pride ♥♥♥♥ 4 Hearts
Erik is fighting his feelings for Reuben as Reuben is trying to be better than he was in the first book. I felt that Erik was changing for the better. I liked him more in this book than I did in the previous story. The mens feelings for one another become more pronounced in this addition.
Jack's Punishment ♥♥♥♥♥ 5 Hearts
Jack's punishment for helping Copper try to escape is being sent to the kitchen in Mr. Fry's hands. Unbeknownst to Jack Mr. Fry has wanted Jack since he saw him. Jack feels the same. 
It was a hot little read with plenty of steam. I really loved how these two seemed to melt the other.
The Copper Horse: Love ♥♥♥♥♥ 4 ½ Hearts
Erik is betrayed and so flees with Reuben to London. With both of their lives uprooted both do some heavy soul searching and come to terms with their new lives. Erik has to put his trust into people who are friends but is still leery of them and rightly so after what happened. Reuben is confronted with the fact that Erik lied to him.
Emotional yet engaging I truly liked this story. I really felt for these two men and felt their emotions throughout.
All in all it was an interesting boxed set although I did not read the m/f story.