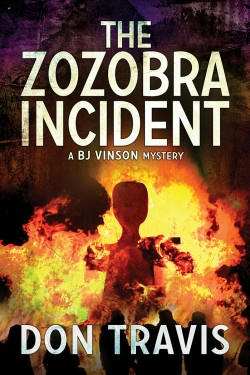 Title: The Zozobra Incident
Series: A BJ Vinson Mystery #1
Author: Don Travis
Genre: Mystery
Length: Novel (290pgs)
Publisher: DSP Publications (November 15, 2016)
Heat Level: Low
Heart Rating:  ♥♥♥♥ 3.5 Hearts
Blurb:  B J Vinson, a former Albuquerque police detective turned confidential investigator, hesitates when ex-lover and now prominent attorney Del Dahlman appeals to him for help in recovering some incriminating photographs of him and the hustler who broke up their relationship. BJ reluctantly agrees to find Emilio Prada, the handsome gigolo who's been using the photographs to impress his clientele-men and women from all strata of Albuquerque society-thinking he'll put the case to rest in a matter of days. However, things turn deadly with a high-profile murder at the Burning of Zozobra on the opening night of the Santa Fe Fiesta, and B J becomes embroiled in a search for missing negatives, a ruthless murderer, and a way to save himself from being next on the killer's list.
ISBN:  978-1-93707-008-3
Product Link: https://www.dsppublications.com/books/the-zozobra-incident-by-don-travis-328-b
Reviewer: Lisa
Review:  I am never sure of what to expect from an author I have never read before so I am always a bit leery of reading them.  The title is what caught my attention, but only so far as I had no clue what Zozobra actually meant.  As for the story itself let's just say it was not what I expect.
I do have to say that I do love a good detective story or should I say a sexy man with a gun.  It is a unique story with some very interesting characters.  Although I am not sure if I actually liked it or not.  BJ was shot two years ago, which was the same time Del dumped his ass.  It would seem Del couldn't handle blood and wounds like a true man could.  He had needs which led him to Emilio.  Emilio was a gigolo who took some very sexy pictures, and now Del needed them back.  So he goes to the one man who could help him.  Which was weird that BJ took the assignment.
Now his secretary was not one of my favorite characters but only because she didn't much care for his lifestyle.  Complex plots, interesting story lines, and crazy characters were just a bit of what is expected from this story.  The story itself was a bit dry for me and not as entertaining as it should have been.  I hate to admit that I skimmed quite a bit from it.  
I am afraid that this story just didn't flow right for me.  It was a bit on the slow side of things and didn't really do much for my attention span.  I am afraid that this book sounded pretty good but when I started reading it I just couldn't get into it.  It has great potential but failed to deliver.  I just hope the next book is a bit more entertaining.  As for this one, it just wasn't really for me.