Hi peeps, we have Leta Blake stopping by with her newest installment of Wake Up Married, Will & Patrick's Endless Honeymoon, we have a great excerpt and a fantastic giveaway, so enjoy the post and enter the giveaway <3 ~Pixie~
Will & Patrick's Endless Honeymoon
by
Leta Blake
Genius brain surgeon Patrick McCloud never thought he'd fall in love, let alone get married. He and Will Patterson are two years overdue for their honeymoon, and although romance doesn't come naturally to Patrick, he's determined to make it perfect.
Will works himself to the bone helping others and dealing with his family, who bring the drama nonstop. A tropical getaway without the usual shenanigans is just what the doctor ordered. But can Will's family leave them in peace? Knowing the Patterson-Molinaro clan, it's not likely…
Will and Patrick's Endless Honeymoon by Leta Blake continues the soapy, sexy fun of the original six part Wake Up Married serial. In Healing, South Dakota, marriage is never boring!

Excerpt!
Will kisses the top of Patrick's head and it's sweet and perfect. Their warm, naked bodies tangle together, and all they need to do is turn off the lights and drift away.
So, of course his phone picks this moment to start vibrating. And worse, playing a very specific ringtone—Drake's "Bitch Is Crazy."
 Will groans. "I thought I told you to change that."
"And I ignored you."
Will grabs his own phone from the nightstand, habitually set to silent after nine at night to try to avoid family drama. Too bad the entire Patterson-Molinaro clan has Patrick's phone number now. None of them are afraid to use it. And Patrick's a neurosurgeon, so he can't turn his off on a whim like Will can.
Will groans. "Three missed calls from her. It's almost midnight. What could she want?"
Patrick rolls away from Will before passing his vibrating, Drake-playing iPhone over to him. "You answer. She's your mother."
Will heaves up to sitting and tugs the blankets to cover his nakedness like Kimberly is going to somehow see him all flushed and satisfied.
"Mom, it's late."
Patrick can hear Kimberly's voice clear as a bell from his side of the bed. Either she's talking loudly or he needs to turn the volume down on his phone. Regardless, she's annoying. He already misses the perfection of just a few seconds ago.
"William Patterson, don't take that tone with me. This is an emergency!"
Will's breath quickens and he sits up even straighter. "Is it Connor? Olivia? Are you at the hospital?"
"It's Caitlin," she moans.
"What's happened?" Will starts to stand, but Patrick jerks him back down to the bed, shaking his head. "Do I need to come?"
Now that she's roped Will in, Kimberly drops her faux-angst down to mere soap-opera levels.  "She's leaving for college tomorrow. Tomorrow! What will I do without her?"
Will rubs his eyes. "Mom, we can talk about this over coffee in the morning at Brown Gargle. I'll meet you at eight-thirty, all right?"
"No, it is not all right, Will!"
Patrick really hates Kimberly sometimes. She always knows how to get Will wound up. He taps his fingers against the cover and listens as Will does his thing and tries to calm her down.
"I know it's hard to let go of us kids. But it's part of the circle of—"
"It complicates everything, baby. Who's going to watch Connor after school? Who's going to take Olivia to her piano lessons?"
Patrick rolls his eyes.
Will takes a long, slow breath in, obviously gathering his patience. "Olivia hates piano, Mom. Let her quit."
"Olivia needs to learn how to play an instrument."
"Why?"
"Because she lacks any discipline in her life."
"Wait, what?" Will's nostrils flare. "You're talking about discipline?"
"Yes, I am!" Kimberly's on fire now. Patrick's never going to get to sleep. "And why shouldn't she learn? Patrick plays piano and look where he is in life. He's a neurosurgeon."
Patrick rolls his eyes. Again. About time he finally gets some credit from his mother-in-law for being a whiz-bang, mega-awesome, crack-open-the-skull doctor for cripes sake, but this conversation still needs to be nipped in the bud.
He nudges Will's leg and shakes his head. "Off topic."
Will sighs and tries a firmer voice. "Mom, we can and will solve these problems, okay? Together. But not right now. Patrick has early surgery in the morning and you woke us up."
Patrick snorts as Kimberly wails. "Will, how am I supposed to get any rest tonight when I'm not sure how I'll manage—"
Patrick grabs the phone from Will's hand. "Goodnight, Kimberly. Don't call back. Your inane crisis can wait." He disconnects the call and quickly blocks her number. He'll unblock her again in the morning and they can endure her wrath then.
Endure, ignore. Same difference.
There are many days he wishes he could be done with Kimberly Patterson forever, but, for better or worse, Will and his family are a package deal.
"There. Handled." Patrick tosses his phone back on the nightstand. "Bedtime now."
Will's lips work and Patrick thinks he's about to be told off for being an asshole. Instead, Will bursts into laughter. "Seriously, she's impossible."
"If only. Alas, she's entirely possible. Proof is rendered daily."
Will groans. "I can't wait for our honeymoon trip next week. We've put it off too long. I love my family—I do—but it'll be good to get away from them. Very far away, hopefully."
"We could get away from them forever if you just say the word." Patrick ignores the subtle dig for info on their trip and guides Will back down in the bed. "I'm tired. Be the pillow."
Will opens his arms and Patrick snuggles in close. "You'd never leave Healing, Patrick. You love your unit and Jenny and Dylan. And my family."
"I love the kids. Your mother? Not so much." Patrick kisses Will's chest and closes his eyes. "Now go to sleep."
Will flips out the light on the nightstand and strokes Patrick's shoulder lightly. The glug-glug of Will's steady heartbeat and the susurration of his breath lull Patrick into dreams.
And before he knows it, the alarm is going off and he hits the ground running for another day as Healing, South Dakota's superhero neurosurgeon, while his sexy sidekick dresses for his day of dynamic do-gooding.
Their lives are hectic, but, in Patrick's estimation, great. He wouldn't change a thing. Much.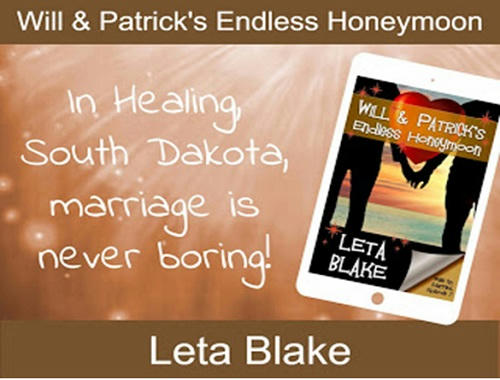 About Leta!
Author of the bestselling book Smoky Mountain Dreams and the fan favorite Training Season, Leta Blake's educational and professional background is in psychology and finance, respectively. However, her passion has always been for writing. She enjoys crafting romance stories and exploring the psyches of made up people. At home in the Southern U.S., Leta works hard at achieving balance between her day job, her writing, and her family.
You can find out more about her by following her online:
 Website | Facebook | Twitter | Patreon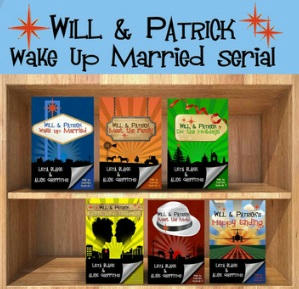 Giveaway!
Win an Ebook of Wake Up Married Series 1 – 6!